Sriracha-Marinated Roast Chicken With Root Vegetables
Sriracha adds fragrance and heat to the chicken and vegetables as they roast in the oven for an easy family-sized meal. Serve with couscous to soak up the pan juices.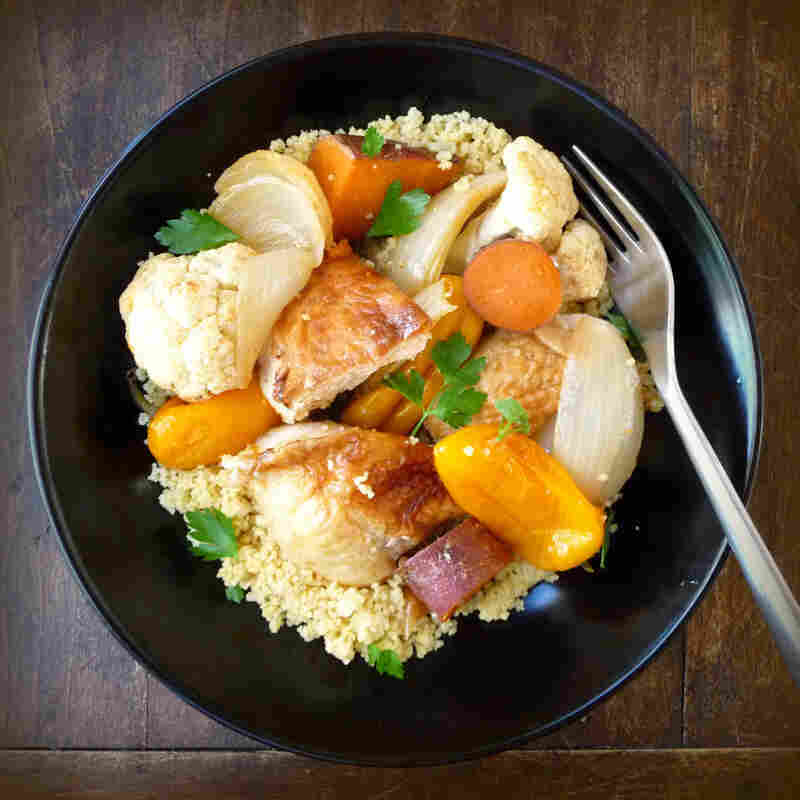 Makes 6 servings
For The Marinade
1/4 cup soy sauce
1/4 cup sriracha
2 tablespoons extra-virgin olive oil
2 tablespoons freshly squeezed lemon juice
1 tablespoon Dijon mustard
1 tablespoon light brown sugar
1 teaspoon salt
1 teaspoon freshly ground black pepper
For The Roast
1 3-4 pound chicken
8 baby sweet peppers, or 2 bell peppers, cut in ¾-inch strips
4 garlic cloves, smashed
2 medium yellow onions, quartered
2 medium sweet potatoes, cut in 1½-inch pieces
1 small cauliflower, broken into 1½-inch florets
2 tablespoons extra-virgin olive oil
1 teaspoon salt
1 teaspoon freshly ground black pepper
Whisk all of the marinade ingredients together in a small bowl and set aside.
Preheat oven to 400 degrees.
Rinse the chicken and pat dry inside and out with paper towels. Place in a large bowl. Pour the marinade over the chicken. Coat all over the chicken, including inside the cavity and between the skin and breast meat. Transfer chicken to a roasting pan, breast-side up, leaving any excess marinade in the bowl. Add vegetables, olive oil, salt and pepper to the same bowl. Toss to coat. Scatter the vegetables around the chicken in the roasting pan. Bake in oven 30 minutes.
Remove pan and, using tongs, carefully turn chicken over in pan, breast-side down. Continue roasting 20 minutes. Remove pan and turn chicken over once again, breast-side up. Continue roasting until thoroughly cooked and juices run clear from thigh when pierced with a knife, about 20 minutes.
Remove from oven and transfer chicken to cutting board. Tent loosely with foil and let rest 15 minutes before carving. Stir vegetables in the pan with the juices and keep warm. Serve chicken with vegetables and reserved juices.