Black Bean, Sausage And Butternut Squash Chili
Full of spice with the added kick of heat from sriracha, this chili is a hearty, healthful one-dish dinner or a festive accompaniment to grilled food. If you can stand it, let the chili refrigerate overnight before serving, to allow the flavors to develop.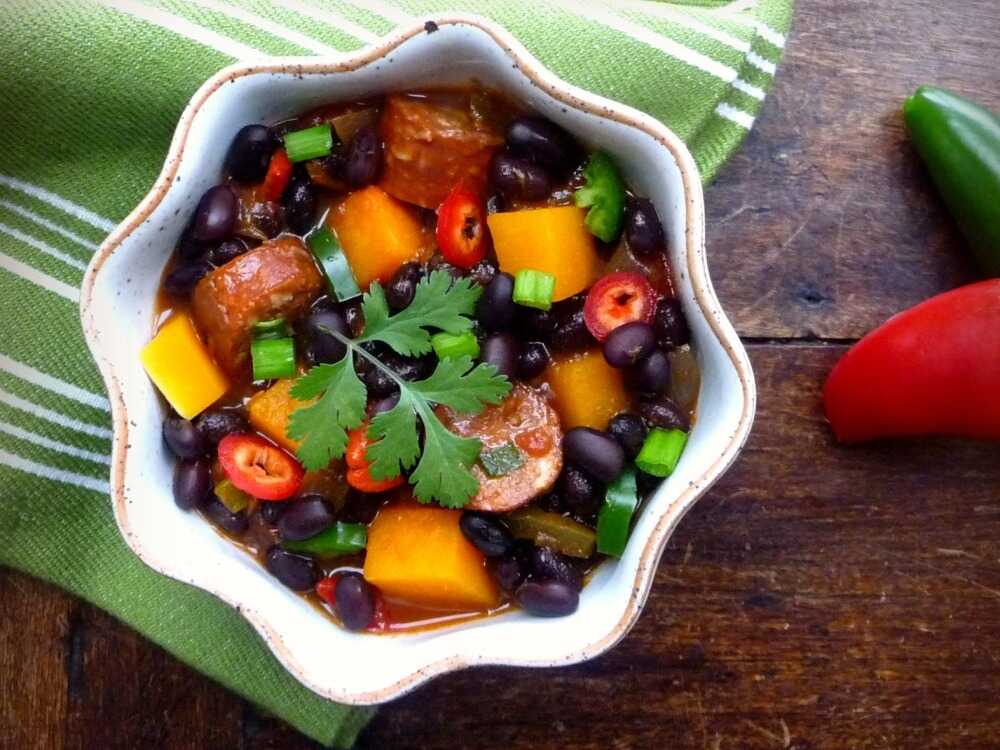 Makes 6 to 8 servings
1 tablespoon olive oil
3/4 pound chorizo or hot Italian sausage
1 large yellow onion, chopped
2 cups butternut squash cubes cut in ½-inch squares
3 garlic cloves, minced
1 poblano pepper, membranes and seeds removed, cut in ½-inch pieces
1 jalapeno pepper, seeded, finely chopped
2 teaspoons ground cumin
2 teaspoons chili powder
1 teaspoon ground coriander
28-ounce can Italian plum tomatoes
1 1/2 cups chicken stock
2 tablespoons tomato paste
1 tablespoon sriracha, plus extra for serving
1 bay leaf
2 cups cooked black beans
2 teaspoons salt
1 teaspoon freshly ground black pepper
¼ cup chopped cilantro leaves, plus extra for garnish
Chopped fresh avocado for garnish
Heat olive oil in a stockpot or deep skillet over medium heat. Add sausages and brown on all sides. Transfer to a plate lined with a paper towel. When cool enough to handle, cut in ¼-inch slices.
Add onion to pot and saute until softened, 3-4 minutes. Add squash, garlic and peppers. Saute 3 minutes. Add dry spices and cook, stirring, 1 minute. Add tomatoes, chicken stock, tomato paste, sriracha and bay leaf. Simmer until squash is tender, about 20 minutes. Stir in black beans, sausage, salt and pepper. Simmer 10 more minutes. Taste to adjust seasoning.
Before serving, add cilantro. Serve in bowls garnished with additional cilantro, chopped avocado and a drizzle of sriracha.
(Chili may be made up to 24 hours in advance. Cool, cover and refrigerate. Re-warm over medium heat to serve.)