Geri Allen Trio: Live At The Village Vanguard
Geri Allen Trio: Live At The Village Vanguard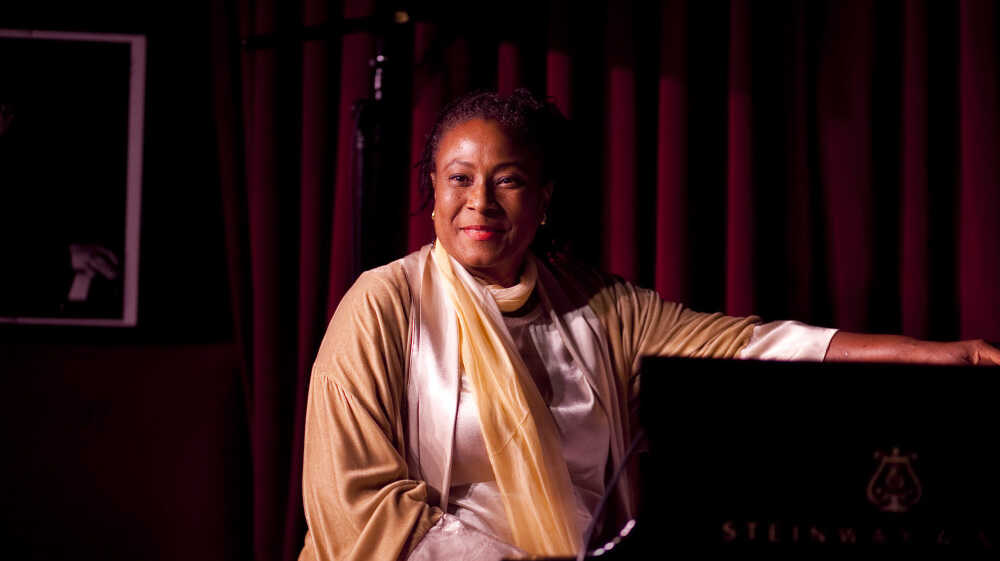 John Rogers for NPR/johnrogersnyc.com
For some, jazz is a form of music defined by innovation. It's a language of hybrid invention, about a relentless quest for a new style, a new movement, a new expression. Alternately, there's a powerful argument for jazz as a tradition: a language of core values, worthy of a lifetime of respectful study, representative of a century of African-American cultural achievement. As the prevailing aesthetic outlook has it, both are equally valid; jazz is tradition and innovation, at once.
Over the last 30 years, it's hard to think of anyone who embodies this duality better than composer and pianist Geri Allen. As often as she's been lionized for the freshness of her playing, she's also been admired for the respect she's shown for its living history. WBGO and NPR Music featured the Geri Allen Trio in the Live at the Village Vanguard series of live on-air radio/online video broadcasts on Wednesday, Sept. 7.
Allen is known for her immense musical vocabulary. A recent example: In 2010, she released two distinct albums. One was the enveloping solo piano record Flying Toward the Sound, a suite of original, somewhat abstract works inspired by Herbie Hancock, McCoy Tyner and Cecil Taylor. The other was Geri Allen and Timeline Live, a quartet recording with a new twist which is actually an old one: One band member is a percussive tap dancer. Her bassist for this trio hit, Kenny Davis, serves as lieutenant in several of her bands, including Timeline. And drummer Jeff "Tain" Watts played with Allen even before he played on breakout recordings with Wynton and Branford Marsalis.
Like many successful musicians from Detroit, Allen was mentored by trumpeter Marcus Belgrave, and attended Cass Technical High School, the city's magnet institution for performing arts. She also did some study in Washington, D.C., and Pittsburgh, but her career as a performer took off when she moved to New York. That's where she began to attract the attention of peers and elders alike: Her C.V. includes work with Ornette Coleman, Betty Carter, Paul Motian and Charlie Haden, Charles Lloyd, Mary Wilson of The Supremes, members of the Black Rock Coalition and many of the players who helped develop the M-Base philosophy.
Now 54, Allen has put together a discography nearing 20 records as a leader alone, and she is currently a professor at the University of Michigan. But she still tours often, and the Village Vanguard is a regular destination for her. She cut a live trio record there in December 1990, which means she's been playing the downtown Manhattan club for at least 20 years.
Set List
"Tears Of A Clown" (Wonder/Robinson)
"GW" (Dolphy)
"A Flower Is A Lovesome Thing" (Strayhorn)
"Flower Of May/Unconditional Love" (Allen)
"Goldaze" (Watts)
"Drummer's Song" (Allen)
"Elviry" (Davis)
"Joe Btfsplk" (Byron)
"Lucky To Be Me" (Bernstein)
"Our Lady" (Allen)
Personnel
Geri Allen, piano
Kenny Davis, bass
Jeff "Tain" Watts, drums
Credits
Josh Jackson, producer and host
David Tallacksen, mix engineer
Michael Downes, assistant
Lara Pellegrinelli, moderator