Finding Redemption (And New Moves) In 'Shaolin'
Shaolin
Director: Benny Chan
Genres: Action, Melodrama
Running Time: 131 minutes
Not rated; violence
In Mandarin with English subtitles
After more than two hours of kicking, punching and slashing on the part of Shaolin monks — including some real ones in supporting roles — Shaolin ends with a disclaimer: The movie "should not be construed religiously for the understanding and appreciation of the Buddhist faith."
Watch Clips
From 'Shaolin' - 'I Wish To Stay Here'
'I Wish To Stay Here'
From 'Shaolin' - 'I'm Dizzy'
'I'm Dizzy'

From 'Shaolin' - Stirring The Pot
Stirring The Pot
From 'Shaolin' - 'Train With Us'
'Train With Us'
In other words, kung fu fans: Do as the badass monks say, not as they do.
Shaolin monks are a staple of Chinese-Hong Kong co-productions, of course, but director Benny Chan's melodrama treats them more seriously than most. Perhaps because the fabled monastery cooperated with this particular enterprise, the filmmakers have crafted an action scenario that's fairly ... well, Buddhist. Shaolin is a tale of monstrous evil, spiritual transformation and ultimate self-sacrifice, all rendered in a subdued, misty palette.
If the movie is grimmer than most battling-monk flicks, that's partially because it's set in the 1920s. Railroads, machine guns and electricity — all presented as ominous — have arrived in China; several scenes depicting mass graves foreshadow the horrors of the Sino-Japanese War and Maoism.
Despite these historical shadows, the story is more theatrical than realistic. Ruthless warlord Hou (Infernal Affairs' Andy Lau) has just conquered his enemies, and is plotting how to defeat his friends. Bringing his beloved wife and daughter to give the illusion of peaceability, Hou meets Song (Shi Xiaohong) at the sort of elaborate multi-level restaurant that in kung fu movies always guarantees a major fight scene.
When the battle's over, both Hou and Song have lost. Hou and his family seek refuge at the Shaolin Temple — the very place he'd previously desecrated while searching for an adversary. He gradually comes to accept the temple's ethos, in part because of the example set by Wudao, a humble cook who insists that kung fu is "beyond me."
Meanwhile, Hou's former lieutenant Cao (Nicholas Tse) takes control of the area, making a deal with the British looters Hou had rejected. To ensure that his treasonous activities remain secret, he regularly massacres the peasants who work for him.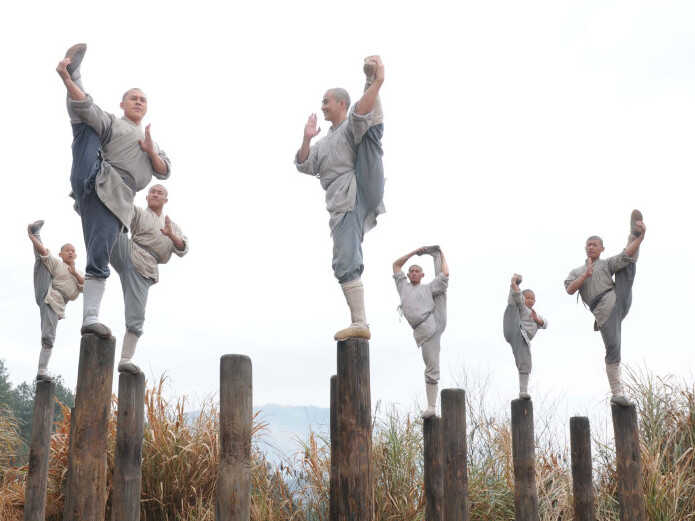 Some of the monks bend their vows, stealing rice for the poor and rescuing laborers who would otherwise be doomed. Finally, Cao and his troops invade the temple, and the upstart has a one-on-one showdown with his former commander, who by now become an exemplary Buddhist — and crackerjack martial artist.
Choreographed by the great Corey Yuen, Shaolin features a half-dozen impressive action set pieces, including an elaborate carriage chase and a battle inside the cages where Cao imprisons his workers. There's also a comic scuffle in which Wudao — played by Jackie Chan — uses his culinary skills to knead and flip attackers as if they were so many dumplings.
Both Lau and Tse are Cantopop vocalists as well as cop-movie regulars, but Shaolin doesn't burst into song until the final credits. Yet the movie does include fanciful touches that border on the operatic: A man's tears turn into a rainstorm, and a fallen monk slips into the giant hands of a Buddha statue.
Shaolin's isn't quite distinct enough stand apart from the many other Hong Kong and Chinese movies (including Infernal Affairs) that riff on Buddhist precepts. But with its particular mix of bedlam and piety, it might at least improve the filmmakers' karma.