Latin Jazz Musicians File Suit Against The Grammys
Latin Jazz Musicians File Suit Against The Grammys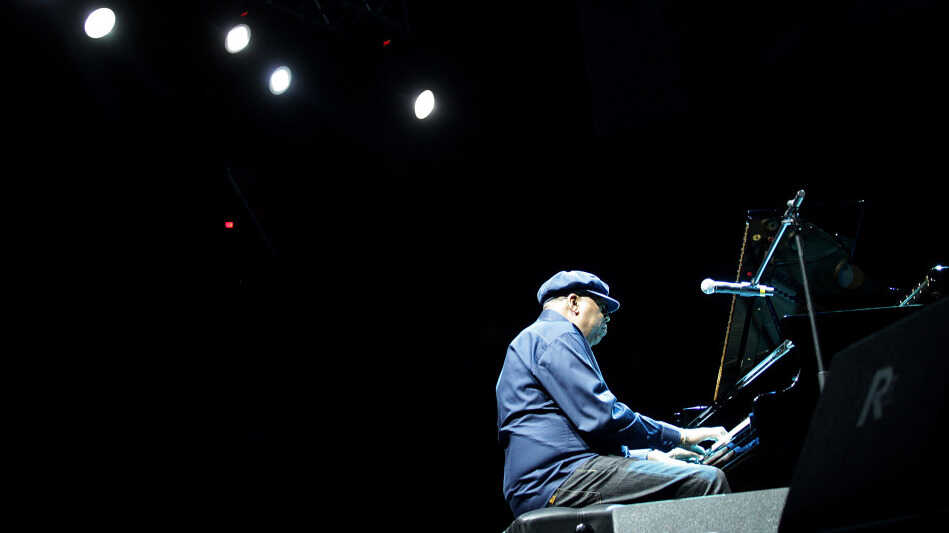 Barbara Zanon/Getty Images
In April, the board of the National Academy of Recording Arts and Sciences (NARAS), which oversees the Grammy Awards, announced that with next year's ceremony, the number of awards handed out would be cut from 109 to 78.
Categories like best R&B vocal performance by a male, by a female and by a group were merged into single award. Metal and hard rock were combined into one award. The number of Grammys that will go to Latin musicians when the awards are presented at the 54th-annual awards ceremony in February will be four, down from seven this year.
Just 17 awards were handed out at the first ever Grammy Awards ceremony, in 1957, but the number of awards ballooned over the years. Videos were added in the 1980s. The rise of hip-hop resulted in multiple additions in the 1990s. Native American, Hawaiian, and Zydeco and Cajun albums (all categories that were contracted in the new cuts) were given their own categories in the last decade.
For NARAS, the cuts have to do with a desire to return some of the luster to the awards by increasing competition.
"It's got to be the highest possible achievement and when you begin to dilute that in categories where, for example where there are few submission or very little Grammy activity or the same artists continually received the Grammy year after year because it is such a small community, then that puts a question mark on the Grammy and what is the value of a Grammy if it is so easy to get," says Neil Portnow, the CEO of NARAS.
For many of the musicians who have previously been up for the awards that were eliminated, the cuts meant that they will now compete in broader categories, often against more famous musicians.
"I can't compete with Herbie Hancock. I can't compete with Wayne Shorter," says Mark Levine, a pianist, composer and educator who has twice been nominated in the Best Latin Jazz Album category, now folded into Best Jazz Album. "Go down the list. It is very unlikely that a Latin jazz artist will be more popular."
To protest the changes, Levine renounced his NARAS membership and, along with three other Latin jazz musicians, filed a lawsuit against the organization in August. The suit claims that the cuts made by NARAS demonstrate negligence toward its members by taking away a shot at recognition musicians might use to promote themselves, thus making it harder for them to earn a living.
Then there's the simple matter of appropriate categorization.
"Latin jazz is not a subset," says bandleader Arturo O'Farrill, who won the Grammy for Best Latin Jazz Album in 2009.
Robert Doyle, the CEO of Canyon Records, which has been recording and releasing Native American music for 60 years (with 30 Grammy nominations and 1 win), agrees. Best Native American Music Album has been combined with Best Hawaiian Music Album and Best Zydeco or Cajun Music Album under the new category of Best Regional Roots Music Album.
"On the one hand, we did understand the rationale behind the cuts," Doyle says. "On the other hand, we were deeply disappointed. And then really what we wanted [was] to figure a way to work within the system to get the category back — What did we have to do? — and begin that process."
Portnow says that NARAS is not backing down from its decision, but he is leaving the door open just a little.
"We'll be reviewing the awards roll-out after this year's cycle and we'll be talking about the things that worked, the things that didn't, and the changes we want to make," he says.
O'Farrill sees a larger task facing NARAS and other cultural institutions as this country's cultural profile expands.
"Challenge yourself, challenge the nation, challenge all of us to look at the different flavors that are part of this world, part of this nation," he says.