Three Books For The Truly Fearless Frequent Flier
Three Books For The Truly Fearless Frequent Flier
I spend a lot of time at 35,000 feet, and while I am not by any stretch a white-knuckle flier, I am the sort who counts the number of seats between me and an exit row before we take off. As the old joke goes, I'm not afraid of flying; it's crashing I fear. And yet, I have a fascination with airborne fender-benders. It's that part of us that's drawn to disaster movies and stories of serial killers. Why do we love the Titanic? Because it sinks.
Just this summer, I was on a jet when lightning flashed (the flight attendant near me shrieked when the windows on the left side of the cabin went white). Here are three books I actually read while five miles off the ground that featured the worst that can happen in the sky. Even though they forced me to face my fears, I loved every moment I spent with them.
•
Paperback,
193 pages
, St Martins Pr
, $14
, published October 26 2010
|
purchase
Buy Featured Book
Title

Fly by Wire

Author

William Langewiesche
Your purchase helps support NPR programming. How?
Journalist William Langewiesche has built a career sharing with us the stories behind the stories — from ground zero to the outlaw seas. His most recent book, Fly by Wire, chronicles Captain "Sully" Sullenberger's January 2009 ditching of an Airbus in Hudson River. He focuses on the role that the plane's technology may have played in the remarkable water landing. But what is especially riveting are his stories of the accidents that did not end so well, and the pathos that most likely occurred on the flight decks of the doomed airliners.
•
Paperback,
371 pages
, Random House Inc
, $16
, published August 23 2011
|
purchase
Buy Featured Book
Title

The Blasphemer

Subtitle

A Novel

Author

Nigel Farndale
Your purchase helps support NPR programming. How?
Nigel Farndale's The Blasphemer is a tale of an adamant atheist and his great-grandfather, a World War I deserter, but the novel hinges on a small aircraft that ditches near the Galapagos Islands. While Langewiesche spends his time on the flight deck, Farndale brings the reader back into the passenger cabin, where the panic and utter helplessness are palpable. I remember the way I opened my window blind when the fictional plane experiences its first violent jolt. Just like the fellow in the novel, I gazed back at the engine on my side of the aircraft and studied the wing.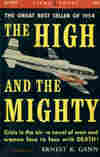 •
Paperback,
, Pocket Books
, $2.50
, published May 1 1980
|
purchase
Buy Featured Book
Title

High and the Mighty

Author

Ernest K. Gann
Your purchase helps support NPR programming. How?
Finally, years ago I unearthed an copy of Ernest K. Gann's 1953 opus, The High and the Mighty, and brought it with me on a book tour. My mother, I recalled, had loved the novel, even though she viewed flying as only slightly dumber than celebrity bullfighting. Well, I savored it, too. It's an absolute page-turner as the pilots try to coax a crippled airliner across the Pacific. It was also great fun to watch the passengers around me stare at what I was reading, a little aghast because on some level they understood that this book was the mother of all airplane disaster books and movies.

I guess there's a term for this: Plane Porn.
Chris Bohjalian's 13th novel, The Night Strangers, is a ghost story that begins with a plane crash.
Three Books... is produced and edited by Ellen Silva with production assistance from Rose Friedman and Lacey Mason.