Rogen, Reiser Go In '50/50' On A Few Sick Laughs
Rogen, Reiser Go In '50/50' On A Few Sick Laughs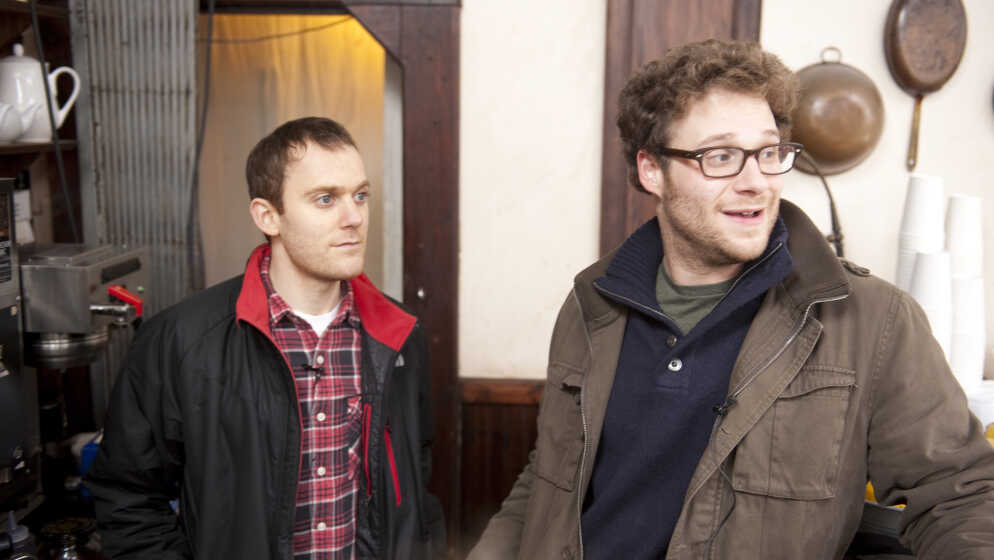 Chris Helcermanas-Benge/Summit Entertainment
From '50/50'
From '50/50' - 'I'm Gonna Throw Up'
'I'm Gonna Throw Up'
From '50/50' - 'You're Gonna Look Weird'
'You're Gonna Look Weird'
From '50/50' - 'Help Me Help You'
'Help Me Help You'
The movie 50/50 is a comedy about cancer, and yes, the filmmakers knew it would be a tough sell. But that didn't stop writer Will Reiser and his actor friend Seth Rogen from taking on the tough (and not-so-tough) questions of living with the disease.
They'd done it before, after all — the film is based on Reiser's own experiences after a diagnosis.
"Seth and I have known each other for a really long time," Reiser tells NPR's Audie Cornish. It was six years ago, when the two were both working on Da Ali G Show, when Reiser got the news. For the movie, they needed an office setting where Rogen's character and the protagonist — "different personality types," Rogen says, understating the case considerably — might both believably be said to work. They were searching for a job that was "somewhat creative but not overly creative," Rogen says.
Their eventual choice? Public-radio reporter.
"I'm a huge NPR supporter and have never given a donation of any kind," Reiser jokes. "So this makes up for it."
Thanks, we think.
Chris Helcermanas-Benge/Summit Entertainment
Joseph Gordon-Levitt plays the main character, Adam, who's diagnosed in the movie with a cancer that's "very similar" to what Reiser had six years ago – a massive tumor in the spine. In the film, it's a neuro-fibroma-sarcoma-schwannoma, which sounds like the kind of name Rogen might make up, but turns out to be a real thing.
"'Schwannoma' is a funny word," the actor says, pointing out that it sounds like a city in the Pacific Northwest.
"We thought of naming the movie 'Schwannoma, Washington,'" Reiser deadpans.
'Our Go-To Way Of Dealing With It'
"I think that pretty much from the second day after I was diagnosed, I was making jokes," Reiser says, "because it was the only way I knew to make everybody feel normal and comfortable with the situation. The last thing I wanted was for everyone to just start treating me differently — which, unfortunately, they did. But that just happens when you go through something like this."
"We almost never talked about it seriously," Rogen said. "We would make jokes about it or think of stupid movie ideas that we could maybe make about a young guy with cancer. That was kind of like our go-to way of dealing with it, honestly. ... But we never really talked about how we felt about it."
Much of the comedy in 50/50 comes from how the people around Adam react to his diagnosis.
"You have people just giving you tons and tons of advice about books you should read and foods you should eat," Reiser says. "People would recommend getting oxygen injections and ... going down to the Amazon, drinking a tea from a shaman. You know, like, just all kinds of advice. And people would ... they would love to touch me. They were just rubbing me like I was some kind of Buddha or something."
They're not making fun of cancer, Reiser stresses. They're making fun of the way people react to cancer and the dysfunction it creates.
"Seth plays a character that doesn't know how to deal with it," Reiser says. "He just says one inappropriate comment after another, trying to make light of the situation. And each of the characters goes to some level of extreme."
Take Adam's mother, played byAngelica Huston.
"Her way of reacting is, she just tries to smother her son," Reiser says.
"When I told my mom I was sick, I was in L.A. and she was in New York, so we didn't do it in person," he says. "We had to do it over the phone. My mother did literally get on a plane the next day and fly to L.A."
Reiser says it was hard to accept the solicitousness; he didn't want people to worry about him.
Rogen points out, too, that Reiser was just out of college at the time.
"I think you're also specifically at that age, at that time in your life where you're trying to separate yourself," he says. "You were living alone in Los Angeles for the first time; the last thing you want to do when something bad happens is have your parents be the ones that come and fix it, I think."
Talking Smack About A Serious Topic
Of course, 50/50 is basically a comedy — a buddy comedy, and one where one of the buddies is kind of a chucklehead.
"People see a movie like this and they fear it's going to be miserable, and that a room full of people will see them crying," Rogen says. "I think it all kind of comes down to that."
But comedies, even offbeat comedies, can be the best vehicles for talking about tough subjects.
"I look at movies like Dr. Strangelove," Rogen says, "that are about things that you don't really want to think about, but they're presented in a way that you want to watch it. That was really our goal — to make a movie that's about something serious and that was as entertaining to watch as any other comedy."
"We showed the movie to ... 200 cancer patients and survivors," Reiser says. "It felt like almost every single person came up to us afterwards and said, 'This movie is exactly what it was like for me.' One young guy, who was in his early 20s, came up to me and said, 'The relationship between Joseph Gordon-Levitt and Seth is the exact relationship I have with my best friend.'"
The feedback basically boiled down to "Thanks for not giving us a sentimental film with a bunch of people sitting in a circle, holding hands, crying," Reiser and Rogen say.
"People that have experienced stuff like this seem really happy that we had the guts to make jokes that were potentially very inappropriate," Rogen says, "but that we knew were representative of the types of jokes we actually made when we were in that situation."