Get Into Character: George Pelecanos' Deep Soul Tracks
Courtesy of George Pelecanos
When I first moved to the Washington, D.C.-area 10 years ago, I wanted to read novels about my new home. I asked around and received lots of recommendations for political thrillers, political drama, political ... well, you get the picture.
Then someone suggested George Pelecanos.
I don't think I've ever read the phrase "Capitol Hill" in any of his books. But I've read "Georgia Avenue" countless times, because his characters live, work or just end up somewhere along that long thoroughfare dotted with liquor stores, African-American barber shops and Chinese takeout joints.
Pelecanos' characters have great taste in music, no matter which side of the law they represent — and no matter if they're populating his books or the TV shows he's worked on, from Baltimore-set The Wire to New Orleans-rooted Treme. If 1970s soul seems to be the fictional favorite, that's because it's a Pelecanos favorite. "Deep soul," he calls it.
To complement the recent publication of Pelecanos' newest novel, The Cut — and to celebrate the introduction of a new Pelecanos protagonist, Spero Lucas — we asked the author for a playlist of songs that correspond with specific characters or scenes, or are just cool in their own right.
So set your mind on a slow, thoughtful drive along Georgia Avenue with the music on low, and keep an eye out for Derek Strange, Lucas Spero or any number of superbly conjured characters that inhabit the pages of a George Pelecanos novel. Let the music move you as much as his words.
George Pelecanos' Playlist
Little Child Runnin' Wild
Little Child Runnin' Wild
from Superfly
by Curtis Mayfield
Curtis Mayfield is a favorite of Derek Strange's [of Pelecanos' Derek Strange and Terry Quinn series], not just for the music, I think, but also because of the positivity in the message and the spirituality in the message. Mayfield was a guy who encouraged change through positive actions and peaceful manner, but was very courageous in a time when radio stations and record companies didn't want him to be talking about these things; he talked about them anyway. "Little Child Running Wild" I think is the greatest example of his art, in the instrumentation, vocals and the message. It's just one beautiful song. When I was younger and this was out, you would sometimes see guys on corners outside, singing this song with reverence. It's the apex of his art, I believe.
I was thinking of the attributes of Strange when I thought of Mayfield, because Derek Strange is a guy who has a business on Georgia Avenue in D.C. He doesn't need to have a physical business — he could work out of his car — but the reason he does it is he wants young black men and women to see him turning the key on his business every day, and to see that this is what a man does every day: He goes to work, he goes to work at a certain time and he built something. He becomes a productive member of society. He's very aware of that. Also, Strange — the way I set him up — he has vowed, in the contemporary novels, to never touch a gun to settle the problems he encounters. I think Mayfield ... was the same way. So the two personalities really cross.
Good, the Bad and the Ugly/The Big Gun Down
The Big Gundown
from Good, the Bad and the Ugly/The Big Gun Down
by Ennio Morricone
This is, of course, Ennio Morricone, and it is his soundtrack to Sergio Sollima's The Big Gundown from 1966. This film is often called the greatest Spaghetti Western that was not directed by Sergio Leone. And it stars Lee van Cleef and Tomas Milian, who was a Cuban-American playing a Mexican in this film. It is a great film, and it's one of Morricone's best scores. The track comes from a climactic scene where Milian is being chased by a posse and he's running through a sugarcane field, and then he emerges onto this great rocky landscape in the West — which, of course, this was filmed in Italy and Spain. And you can hear that sort of Duane Eddy guitar in there, the chorus, and a lot of dynamic instrumentation. It's very inventive, and people who watch this film should pay attention to the music, also. The reason I chose it is, again, this is a Derek Strange track. He listens to a lot of this music, and also I listen to a lot of this music while I'm writing. It helps me. When I say this music, I'm talking about soundtrack music, more often than not Morricone, or Bruno Nicolai, or Luis Bacalov, or Lalo Schifrin — this kind of soundtrack music helps me kind of go somewhere else in my head, and also helps me pace the scenes.
I'm not coy about it. I was a movie freak before I was a book lover. Movies were the biggest influence on me when I was a kid. I was a child in the '60s and a teenager in the '70s, which was the golden age of film as far as I'm concerned, between American film and the Italian reinvention of genre film. I couldn't have had a better education."
Just A Little Overcome
from Ollie & the Nightingales
by Ollie & the Nightingales
That first line is one of the most bitter lines in music history: "Here's a toast to the both of you." This is from a guy looking from the outside in at this woman that he's in love with who's with another man. The track is "Just a Little Overcome" by Ollie and the Nightingales. And at this point, Ollie — Ollie Hoskins — had left the group, so they recruited this guy Tommy Tate to record the lead vocals, and he's one of the most underrated soul singers in history. And this song, I think, is also one of the most underrated deep soul tracks ever recorded. I actually wrote this into a scene in Season 1 of Treme, a scene between Batiste and LaDonna in a bar where they talk about a song, but the subtext is they're talking about each other. I didn't intend for this to happen, but the song has since gotten a little bit of life out there on the Internet because people were curious about it after seeing that scene. And you can go to YouTube and listen to this song with a picture of Tommy Tate superimposed over it. It's just a beautiful song, and I recommend anybody should download this and have this on their MP3, because this is real soul right here.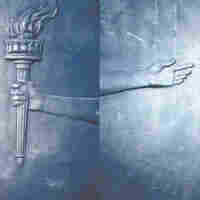 Cashout
Probably D.C.'s most famous punk group in a city that's famous for its home-grown punk and positive force and straight-edge, and all these really positive things that come out of the music. I chose this track because it's a great track; it's on their last album, The Argument, and it's got a polyrhythmic sound that was influenced by go-go, which is our local, indigenous music. Some people know go-go from groups like Rare Essence and Chuck Brown and the Soul Searchers, but go-go has been going on here for now almost 40 years, and it's deep. It's deep in the city. When you come to a stoplight on a Saturday night and you're up next to some young people, its usually not hip-hop coming out of the car; it's go-go. And when you go to the clubs, the clubs are playing go-go, and they're doing shout-outs to various neighborhoods and so on.
This is a Nick Stefanos [of Pelecanos' Nick Stephanos series] track. Because he's that guy; he came out of the punk movement, and it very much influenced his style and his ethos. The Nick Stefanos books, which were my earliest books, had a lot of local punk references, because that's what he was about. I don't think this song has been in because this came at the tail-end of Fugazi's reign here as the premier punk band, but certainly the spirit is in those books.
The Fugitive
from More Gregory
by Gregory Isaacs
This is Gregory Isaacs — 'The Philistines are at my heels,' he says — and the name of the song is "The Fugitive." This is from the long player called More Gregory, and the reason it's here is Gregory Isaacs is one of my favorite reggae artists, if not my favorite, and he died recently. He had a tough life, but a very influential career. This is the album that, if you're going to get one Gregory Isaacs front to back, this is the one where you just put it on and let the romance flow. Whoever you want to be with, it's an aphrodisiac, basically, because this guy could really do it. And there's an actually a scene in my new book, The Cut, where Spero Lucas is with a woman, and he puts this on the platter, and all I can tell you is it works.
Web Resources
Purchase Featured Book
Buy Featured Book
Title

The Cut

Author

George Pelecanos
Your purchase helps support NPR programming. How?