Fresh Curry Leaves Add A Touch Of India
I basically divide my life into B.C. and A.C. — before curry leaves and after I first ate them. Curry leaves, popularly known in India as kariveppilai, karivepaaku or kari patta, are aromatic and flavorful leaves that can change the taste of a dish quite dramatically by adding a pungent lemony flavor. I have found no herb that adequately duplicates their flavor. Although I jokingly call them the culinary essence of my youth, today I use them in my dishes all the time.
I am from the northern part of India, where curry leaves are not commonly found (although a few northern cuisines do use the leaf). But when I moved to the southern part of India in 1986 to go to engineering school, my tastes were changed forever.
Curry leaves are an integral part of southern Indian cuisine. I vaguely remembered eating them in some southern dishes back home, but nothing prepared me for the pungent, lime-lemony taste of fresh curry leaves in ways that south Indian friends used them.
The leaves showed up in rice dishes, vegetable sides, lentil broths, drinks and curries. A few years after engineering school, I married into a western Indian family, and my mother-in-law was a big fan of curry leaves. Her dried curry leaf chutney recipe even won first prize at a local contest.
About The Author
Let me clear up one misconception: Curry leaves have nothing to do with curry powder. Nothing at all. Curry powder is ground spices such as cinnamon, turmeric and coriander. It may or may not include curry leaves.
Curry leaves can be found in the fresh produce section of Indian or Asian markets. Some even sell the entire plant. Plants also are available online. If you're after the plant, ask for curry leaves (Murraya koenigii), not a curry plant (Helichrysum italicum). They are unrelated.
Buy leaves that are bright, dark green without signs of browning or bruising. Fresh curry leaves can last up to two weeks in the fridge. To make them last longer, air-dry them and store in an airtight container.
Though they look similar, unlike bay leaves, curry leaves are edible. Traditionally, curry leaves are used in multiple ways. First remove the leaves from the stem. You can add the leaves at the beginning of a recipe, sizzling them in hot oil and then adding ingredients such as vegetables, cooked basmati rice or poultry. As the final seasoning to a dish, the leaves are sizzled in hot oil along with other spices such as black mustard seeds, and the hot seasoned oil is poured over a prepared dish — for example, a bowl of plain yogurt or stewed lentils.
On a recent visit to India, I found curry leaves in breads and cocktails, and I thought it could not get better than that.
But it did. In a new grocery store in Bangalore, I found an insanely amazing powder of dried curry leaves (perfect as a garnish for a martini or a pick-me-up for boring boiled potatoes). The powder tasted like curry leaves on steroids. It was like falling in love all over again.
Recipes With This Story
Curry Leaf Bread
I studied engineering in Bangalore and loved the city, with its gardens, cool temperatures and open walking areas. I visited a few years ago and was sadly disappointed. The city I loved had become overrun with crowds, and the light, open feeling was gone. But I did find that the food was still as fantastic as ever — and I made a new discovery. Local bakeries are baking up rolls flavored with Indian spices and herbs. Here is my rendition of curry leaf bread adapted from Modern Spice by Monica Bhide (Simon & Schuster 2009). Because flours vary in their protein content from brand to brand and region to region, you might need to adjust the amount of liquid in this recipe.
Makes a 1-pound loaf
4 cups all-purpose flour
2 tablespoons sugar
2 1/4 teaspoons (1 envelope) instant yeast
1 teaspoon salt
1 teaspoon ground turmeric
1 teaspoon cumin seeds, crushed
2 tablespoons finely chopped fresh curry leaves
2 tablespoons unsalted butter
3/4 cup water (more if needed)
1/2 cup evaporated milk
Place the flour, sugar, yeast, salt, turmeric, cumin and curry leaves in a large bowl and whisk to combine.
Heat the butter, water and milk just until the butter melts. Allow to cool until warm to the touch (110 to 120 degrees).
Gradually add the warm liquid to the dry ingredients and mix with a wooden spoon until a soft but not sticky dough forms. You may not need all of the liquid, but if the dough is too dry, add warm water a tablespoon at a time until you get a soft dough.
Turn the dough out onto a clean work surface and knead for about 5 minutes or until you have a soft, smooth and elastic dough.
Remove the dough to a lightly greased bowl, cover with a damp towel and allow to rise in a warm, draft-free place until doubled in bulk, 45 to 60 minutes.
Place the dough on a clean work surface and knead for a minute or two.
Shape and place in a greased 8 1/2-by-4 1/2-inch loaf pan. Cover with a damp towel and allow to rise until the dough is about 1 inch above the top of the pan (45 to 60 minutes).
Meanwhile, preheat the oven to 375 degrees with a rack in the middle position.
Bake the bread for 35 to 45 minutes, until the top is golden brown and the loaf sounds hollow when tapped on the bottom.
Remove from the pan and cool on a wire rack before slicing.
Julie Sahni's Hot Curry Leaf Potatoes
My kiddos love this potato dish given to me by cookbook author Julie Sahni. Try using a mix of French, Russian banana, and purple Peruvian fingerling potatoes. Asafetida, easily available at Indian markets, is a strong-smelling powdered spice often added to Indian curries.
Makes 6 to 8 servings
2 pounds medium fingerling potatoes, scrubbed clean
Kosher salt
2 teaspoons cayenne, or to taste
1 teaspoon ground turmeric
1/4 teaspoon asafetida (optional)
Juice of 1 or 2 limes (about 1 1/2 tablespoons)
3 tablespoons vegetable oil
1 1/2 teaspoons mustard seeds
8 to 10 fresh curry leaves
Place the potatoes in a large saucepan and add enough salted water to cover them by 2 inches. Bring to a boil over high heat, cover and reduce the heat to medium. Cook for about 20 minutes, until the potatoes are fork-tender. Drain and cool to room temperature.
Cut the potatoes in half lengthwise and place in a large bowl. Add 1 1/2 teaspoons salt, cayenne, turmeric, asafetida (if using) and lime juice. Mix to coat evenly.
Heat the oil in a large skillet over high heat. When the oil begins to shimmer, add the mustard seeds and curry leaves. As soon as the mustard seeds begin to sputter, add the potatoes. Cook for a few minutes, constantly turning the potatoes over with a spatula, until well browned. Serve hot.
Pomegranate Shrimp With Curry Leaves
This recipe is adapted from Modern Spice by Monica Bhide (Simon & Schuster 2009). Dried pomegranate seeds are not a substitute for fresh ones. Add the dried ones to this recipe, and you will have a mess on your hands — trust me.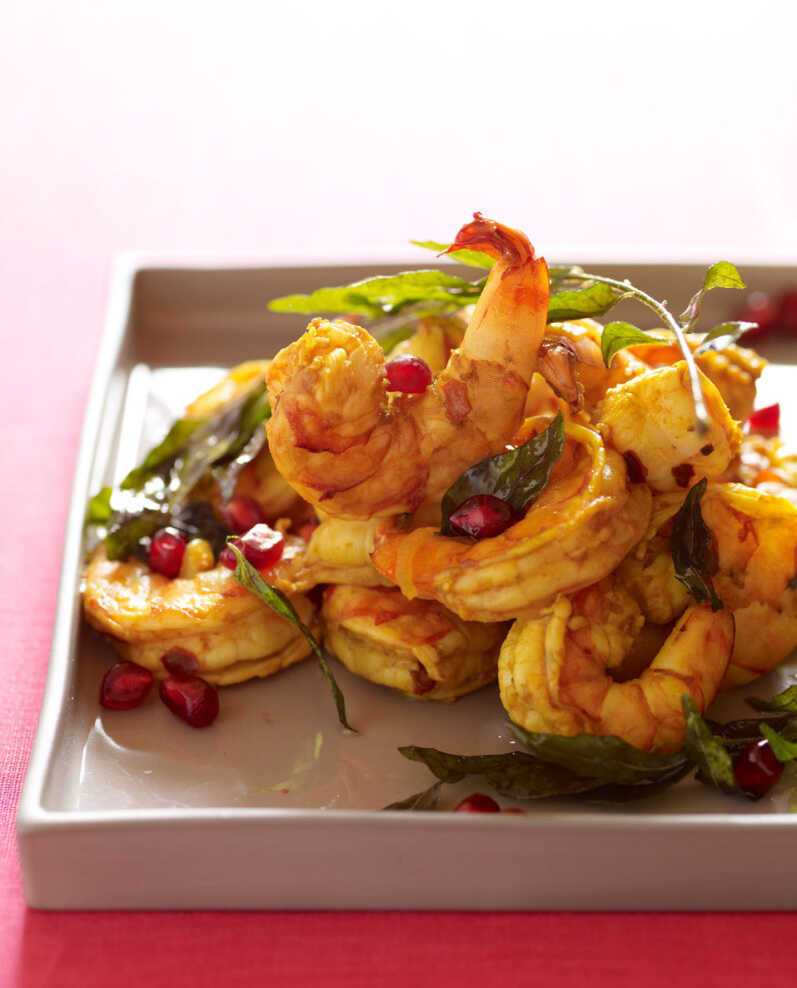 Courtesy Simon & Schuster
Makes 4 servings
1 1/2 pounds medium shrimp, shelled and deveined
2 tablespoons pomegranate molasses
1 teaspoon minced garlic
1/2 teaspoon ground turmeric
1/4 teaspoon red chili powder or red chili flakes
1/2 teaspoon ground coriander
1/4 teaspoon table salt
2 tablespoons vegetable oil
1 sprig fresh curry leaves
2 large or 4 to 6 small shallots, thinly sliced
1 cup fresh pomegranate seeds
In a large bowl, combine the shrimp, pomegranate molasses, garlic, turmeric, chili powder, coriander and salt. Mix well. The best way to do this is with your hands.
Heat the vegetable oil in a medium skillet over medium heat. When it shimmers, add the curry leaves and shallots. Cook for 2 to 3 minutes, until the shallots just begin to change color.
Add the shrimp and marinade. Toss for a few minutes, just until the shrimp are completely cooked through.
Remove from the heat and serve immediately, sprinkled with pomegranate seeds.
Dried Curry Leaf Chutney
My mother-in-law submitted this recipe to a contest in Mumbai, competing with 80 other women, and won first prize. This dry chutney can be used as a spread for bread or a topping for whipped salted yogurt or sprinkled on warm rice.
Makes about 1 cup
1 cup fresh curry leaves (stems removed)
2 tablespoons sesame seeds
2 tablespoons roasted peanuts
1 teaspoon dried mango powder (available at Indian markets)
1/2 teaspoon red chili powder
Pinch of sugar
Salt
Place the curry leaves in a large skillet and dry-roast over medium-low heat until all of the moisture dries out and the leaves begin to darken. Pick one up, and if it crumbles easily between your fingers, they are ready. Remove from the pan and let cool.
In a spice grinder or clean coffee grinder, combine the leaves with all of the other ingredients and grind to a coarse powder. Stir in salt to taste. Please note that the final dried chutney may be slightly sticky due to the peanuts in the mix. This is OK.
Store in an airtight container in the refrigerator for up to a week.
Chef Vinod's Curry Leaf Drink
Chef K. N. Vinod owns several popular restaurants in the Washington, D.C., area. This savory beverage is wonderfully refreshing.
Makes 4 to 6 servings
1 sprig fresh curry leaves
1 teaspoon cumin seeds
1/2 ounce peeled fresh ginger (about 1/2 inch)
1/2 serrano green chili, seeded (optional)
2 cups plain low-fat yogurt
2 1/2 cups water
Salt
Ice cubes, for serving
Cut the curry leaves into fine shreds. Toast the cumin seeds in a dry skillet until fragrant. Let cool and crush to a coarse powder in a spice grinder. Cut the ginger into fine shreds. Coarsely chop the chili, if using.
Combine the curry leaves, cumin, ginger, chili (if using), yogurt and water in a blender and mix well. Blend in salt to taste. Serve with ice cubes.
Variations
For a milder-flavored drink, lightly crush the curry leaves, ginger and green chili, stir them into the yogurt and water along with the crushed cumin, and refrigerate. Strain out the solids and season with salt before serving over ice.
If you do not want your drink to be spicy hot, omit the green chili.
Curry Leaves Mojito
Manish Kumar, the lead mixologist at The Park hotel in Bangalore, taught me how to mix this drink. He is the genius behind the spicy cocktails at the hotel's super popular i-Bar. The secret to making this drink is to use really fresh curry leaves. Dried leaves or curry leaf powder will not work in this recipe.
Makes 1 drink
8 curry leaves
1 thin lemon wedge
1 teaspoon sugar
1/4 cup citrus vodka
In a glass (a short tumbler works best), muddle the curry leaves, lemon wedge and sugar. Top with crushed ice and citrus vodka. Serve immediately.