Pomegranate Shrimp With Curry Leaves
This recipe is adapted from Modern Spice by Monica Bhide (Simon & Schuster 2009). Dried pomegranate seeds are not a substitute for fresh ones. Add the dried ones to this recipe, and you will have a mess on your hands — trust me.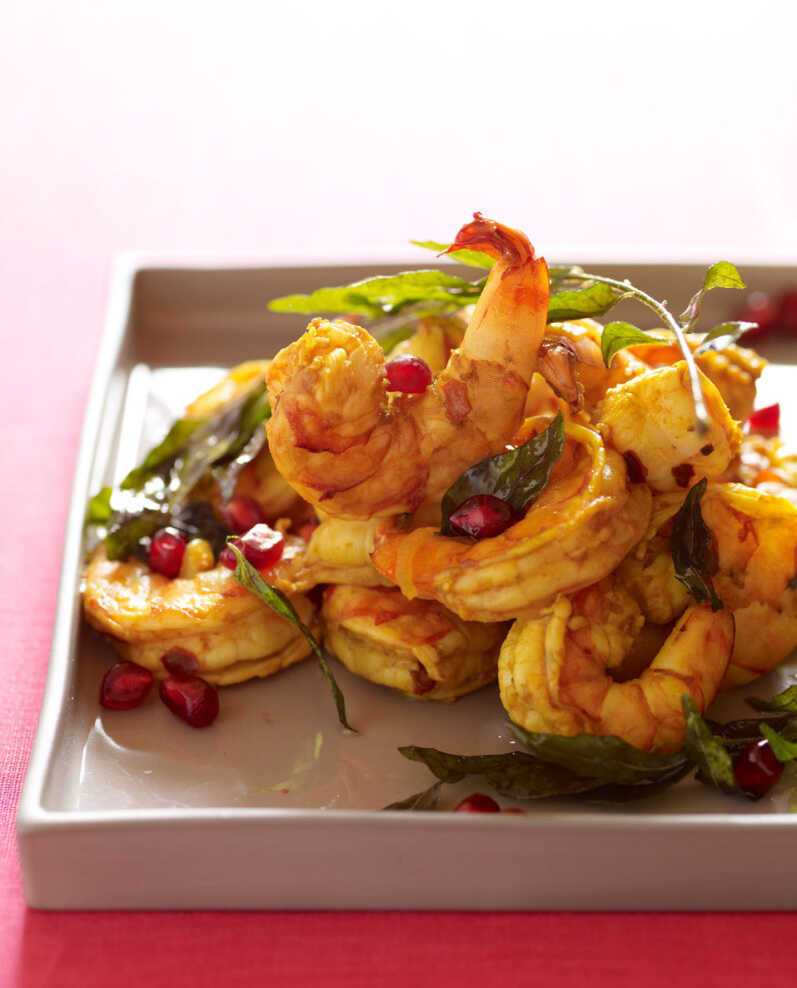 Courtesy Simon & Schuster
Makes 4 servings
1 1/2 pounds medium shrimp, shelled and deveined
2 tablespoons pomegranate molasses
1 teaspoon minced garlic
1/2 teaspoon ground turmeric
1/4 teaspoon red chili powder or red chili flakes
1/2 teaspoon ground coriander
1/4 teaspoon table salt
2 tablespoons vegetable oil
1 sprig fresh curry leaves
2 large or 4 to 6 small shallots, thinly sliced
1 cup fresh pomegranate seeds
In a large bowl, combine the shrimp, pomegranate molasses, garlic, turmeric, chili powder, coriander and salt. Mix well. The best way to do this is with your hands.
Heat the vegetable oil in a medium skillet over medium heat. When it shimmers, add the curry leaves and shallots. Cook for 2 to 3 minutes, until the shallots just begin to change color.
Add the shrimp and marinade. Toss for a few minutes, just until the shrimp are completely cooked through.
Remove from the heat and serve immediately, sprinkled with pomegranate seeds.