Project Runway Sensation In 'Africa Underground'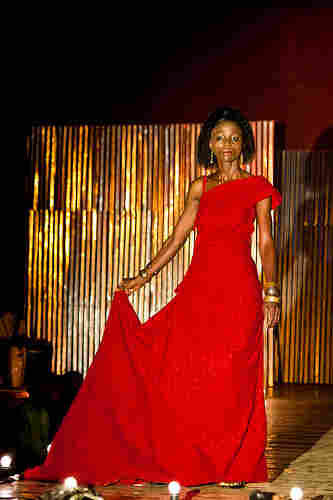 Liberian-born fashion designer Korto Momolu first gained recognition as a contestant on Bravo's reality television show "Project Runway" in 2008 when she finished as first runner-up. This September she showed her Spring 2012 collection at the Mercedes-Benz Fashion Week in New York. And now she plans to present pieces from her Sankofa collection at "Africa Underground," a fashion, music and arts showcase at the Smithsonian's National Museum of African Art in Washington, D.C.
In an interview with NPR's Michel Martin, Momolu says the message of Sankofa is looking back to learn from your past while still moving forward.
"The whole process of the Sankofa show was to tell the stories of these women who went through the civil war in Liberia, who were wives, who were mothers. But now they are the household heads. The fathers are gone, or have passed, because of the war. Now they have this household they have to take care of. So looking back at what they went through, it was tough. But now they still have to keep looking forward," she says.
In describing her aesthetic, she says it involves lots of prints and colors, and she tries dressing women with and without curves — and make both look equally attractive.
"A straight up-and-down woman can look great in my clothes because I give her the illusion of hips and curves. A curvy woman can wear it and it enhances her," says Momolu.
When asked about lines inspired by African culture, Momolu says that aesthetic has been booming forever.
"I hate when designers who are more established don't give it its due. That it's only popular this season ... that next season, it's not going to be popular? There's so many things you can take from Africa: the coloring, the print, the traditional garbs ... just give it its props and don't give it a time," she says.
But what about white women who want to wear African garb, but do not want others to think they are appropriating African culture?
Momolu says, "Stay away from the traditional garments, because some of those garments have specific reasons why people wear them in our culture."
She recommends looking into the newer fashions, including designs by Marc Jacobs and Michael Kors.