As Election Looms, Obama Seeks To Rouse His Base
President Obama speaks this weekend to the nation's largest gay rights group. Last week, he addressed a dinner hosted by the Congressional Black Caucus, and in recent days, he's also been reaching out to Latino voters.
As a re-election battle looms, the president is trying to re-energize the coalition that helped send him to the White House. But his governing has left some of his early supporters disappointed.
"Many of you don't believe progress has come fast enough," the president acknowledged when he first spoke to the Human Rights Campaign's annual dinner two years ago. "I want to be honest about that, because it's important to be honest among friends."
At times, the president has been painfully honest with supporters about the limits of what he can do for them, even as he seeks their support.
To gay rights activists, for example, Obama made it clear that the battle over the military's "don't ask, don't tell" policy had to be waged in the Senate, where his own power of persuasion was limited.
"It's a false notion that the president on any issue can simply wave a magic wand and deliver the votes in Congress," says Human Rights Campaign President Joe Solmonese. "It was going to take something else or somebody else — either the military leadership or a ground campaign."
'We've Got Work To Do'
Obama delivered a similar message this week to Latino supporters, many of whom are frustrated by the lack of movement on immigration reform. He challenged Latinos to get more politically active and focus more attention on Congress.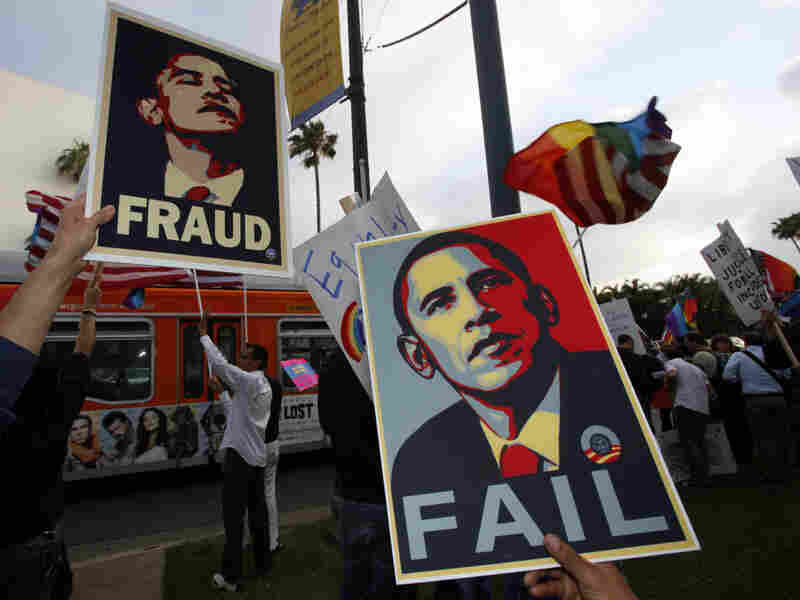 "We have to recognize how the system works and then apply pressure to those places where votes can be gotten — and ultimately, we can get this thing solved," he said.
The president's approval ratings among Latinos and blacks are still higher than his overall ratings, although support has dipped in both groups. Some want the president to speak more forcefully about the black unemployment rate, which is nearly twice as high as the national average.
Obama made waves at a Congressional Black Caucus dinner last week, when he told participants: "Take off your bedroom slippers. Put on your marching shoes."
White House spokesman Jay Carney says Obama has used similarly tough language with other audiences.
"Shake it off," Obama said. "Stop complaining, stop grumbling. Stop crying. We are going to press on. We've got work to do."
It will be difficult for the president to re-create the enthusiasm or the turnout generated by his 2008 campaign, when the little-known candidate seemed to channel the disparate goals and ambitions of many different voters.
"Somehow he seemed to be speaking for every individual in the movement on a personal and emotional level, in a way that's frankly impossible to maintain," says UCLA political scientist Andrew Sabl.
In his campaign for re-election, Obama will have to adopt a different tone.
"He's going to have to dial down some of the rhetoric about a social movement and really be clear about the fact that he can accomplish some things and not others, and should be rewarded for limited but real achievements rather than for promising transformation," Sabl says.
For gay rights activists, those achievements include the repeal of "don't ask, don't tell" and the administration's decision to drop legal support for the federal government's Defense of Marriage Act.
Solmonese of the Human Rights Campaign says that while many gay rights activists are disappointed that the president has not endorsed same-sex marriage, he expects them to strongly support Obama in 2012.
"If we don't re-elect this president, all of the progress we've made in the last couple of years is going to come to a screaming halt," he says.
Obama made that case himself last week at a California fundraiser. "Don't compare me to the almighty," he said. "Compare me to the alternative."