Showing Compassion Through The Gift Of Food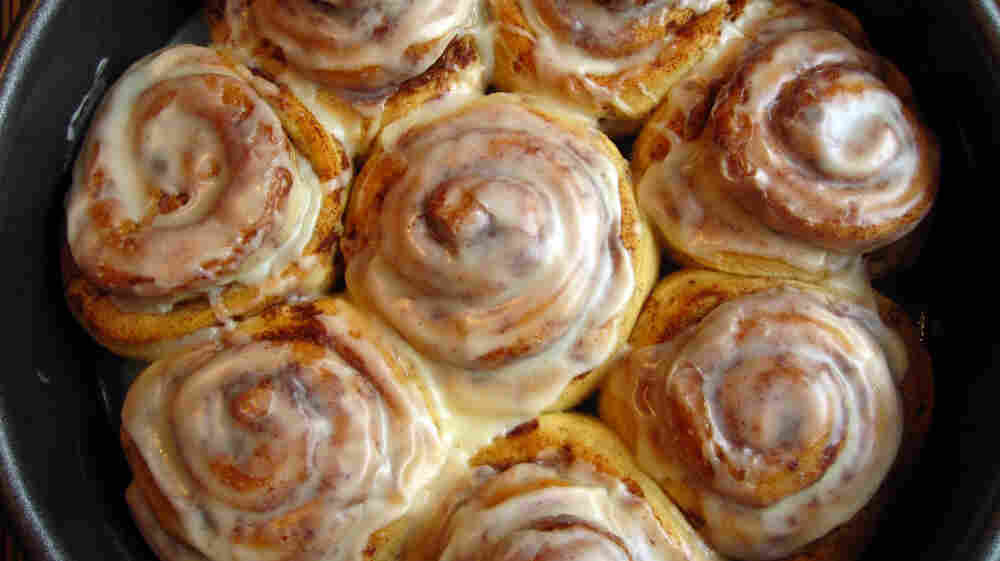 Cinnamon rolls aren't traditional condolence fare — you know, like a casserole or a bundt cake — but I somehow knew they were right, that their sweet spice would soothe my friend, would make her house feel like a warm blanket in the days after her dad died.
As we walked up the street to deliver them, my daughter, then 6, asked why we were bringing our friend food. Because she's sad, I explained. And when you make people food with your hands, it can help them feel better.
She thought about it for a minute. "Because when they eat it, it goes inside them," she said, "and then they know you love them, right?"
I'm pretty sure that entire teams of gastronomes, food scientists and culinary arts professionals couldn't have come up with anything closer to the truth.
More Ideas For Giving
Kitchen Window's archives are chockablock with ideas for gifts of food. What's the best edible gift you've ever given or received? Share your ideas in the Comments section at the bottom of this page. Here's a sampling of ideas we've featured:
Around the world, different cultures have always given different foods in different ways for different reasons. In Asia, newlyweds receive cooked rice dishes to symbolize prosperity and fertility, and an Indian mother feeds her son from her hands during the coming-of-age ceremony to symbolize the end of his maternal dependence (theoretically, anyway). In Latin America, women who give birth enjoy la cuarentena (quarantine), a 40-day recuperation during which friends and relatives clean the house, run errands and nourish the new mom with strength-building foods such as carrots and chicken soup (and you thought bringing around a lasagna was good enough). Jewish homes are warmed with a gift of bread (so the house will never know hunger), salt (so life will always have flavor) and a third item, usually a broom (to sweep away troubles) or sugar (to keep life sweet). After a death, friends and relatives bring Jewish families a "meal of consolation" — essentially, food for the grieving family and for the mourners they'll be receiving. Some Christian traditions have a similar "meal of mercy."
Lasagna or carrots, rice or bread, cinnamon rolls or salt. It doesn't matter what you bring. It is the act of bringing sustenance or sweetness that communicates caring — and something larger. It cements our bonds, the chemistry of flour and eggs, butter and sugar making not just a cake, but a community.
About The Author
All I knew about the neighbors behind me was that they'd strung Christmas lights around their yard where they hosted groovy parties deep into autumn. When I finally met them — had a ball gone into their garden? — they offered me a glass of wine, showed me the art they made from old beer bottles, and sent me home with a bag of seed gathered from the wildflowers in their lawn. The next day, I brought them a loaf of spelt bread, which struck me as the edible equivalent of their Birkenstocks.
When it was my turn to bring dinner to an ailing neighbor, I delivered a hearty minestrone soup, relishing its beans and vegetables as restorative tonics and its one-pot ease as a guarantee that even her 9-year-old son could heat it up for her. And when a new family moved in up the street, I opted for sugar rather than a broom and made coffee cake.
I waited on the new porch until a girl about my daughter's age opened the door. I could hear from inside that her mom was on the phone.
"Hi," I said, introducing myself and pointing in the direction of my house. "I've brought you some coffee cake."
"Why?" she asked, taking the plate.
"Just to say we're glad you're our new neighbors."
"Wow," she beamed. "Me too!"
She and my daughter had their first play date recently, painting pictures and playing with our cat. They want to ride bikes together and giggle about the teachers in their school. They are becoming friends.
And I like to think that they understand it started with a couple of eggs and a half-hour of effort.
Recipes With This Story
Crustless Spinach Quiche
Who knew quiche could be so simple? I like bringing this dish to new moms because it's nutritious and filling, can be served hot or cold and can be eaten with one hand. This recipe is adapted from The Good Neighbor Cookbook by Sara Quessenberry and Suzanne Schlosberg (Andrews McMeel Publishing 2011).
Makes 8 servings
8 large eggs, beaten
1 1/2 cups milk
1/2 cup chopped onion
5 slices bacon, cooked and crumbled
1 16-ounce package frozen chopped spinach, thawed, water squeezed out
1 cup (4 ounces) grated Gruyere or Swiss cheese (optional)
Pinch freshly grated nutmeg
1/2 teaspoon kosher salt
1/4 teaspoon freshly ground black pepper
Preheat the oven to 375 degrees. Butter a 9- or 10-inch pie plate.
In a large bowl, combine the eggs and milk. Add the rest of the ingredients and stir well. Pour the mixture into the prepared pie plate and bake until puffed and the center is just set, about 45 minutes. Cut into wedges. Serve warm, cold or at room temperature.
Minestrone
Minestrone is a one-pot balanced meal. Beans and vegetables offer protein and vitamins for the body, and a rich tomato broth warms the soul. Feel free to mix and match your vegetables, beans and pasta shapes. This recipe is adapted from Martha Stewart's Everyday Food: Fresh Flavor Fast (Clarkson Potter 2010).
Makes 4 servings
1 tablespoon olive oil, plus more for garnish
1 onion, finely chopped
1 carrot, sliced 1/4-inch thick
2 cloves garlic, minced
2 cups chopped zucchini and/or yellow squash
1/4 small head cabbage, halved lengthwise and shredded
1 tablespoon chopped fresh rosemary (or 1 teaspoon dried)
1 can (14 1/2 ounces) diced tomatoes in juice
Coarse salt and freshly ground pepper
1 can (19 ounces) kidney or garbanzo beans, drained and rinsed
1/2 cup elbow macaroni or other short, bite-size pasta
Freshly grated Parmesan cheese
In a large pot, heat the oil over medium. Add onion, carrot and garlic. Cook, stirring frequently, until onion is translucent, 3 to 4 minutes. Stir in squash, cabbage and rosemary. Cook, stirring, until vegetables are coated, 1 to 2 minutes.
Add tomatoes with their juice and enough water (about 6 cups) to cover vegetables by 1 inch. Bring to a boil. Reduce heat to a simmer. Season with salt and pepper. Cook until vegetables are almost tender and soup is thickened, about 6 minutes. At this point, soup can be refrigerated up to 2 days in an airtight container. Let cool completely before storing. Bring to a simmer before proceeding.
Stir in beans and pasta and cook until pasta is al dente, 10 to 15 minutes. Season with salt and pepper. To serve, ladle soup into bowls, garnish with a drizzle of olive oil and a sprinkle of freshly grated Parmesan cheese.
Spelt Bread
This recipe, adapted from Healthy Bread in Five Minutes a Day by Jeff Hertzberg and Zoe Francois (St. Martin's Press 2009) calls for whole wheat, but I love the nutty depth of spelt. And it's so easy that I promise you will never buy bread again.
Makes two, 2-pound loaves
7 cups spelt or whole wheat flour
1 1/2 tablespoons granulated yeast (2 packets)
1 tablespoon coarse salt
1/4 cup vital gluten*
3 1/2 cups lukewarm water
1/2 cup olive oil
*Vital gluten is wheat protein that adds texture and elasticity to bread. Available in natural food stores and online.
Whisk together the flour, yeast, salt and gluten in a large bowl, or a lidded (but not airtight) container.
Add the liquid ingredients and mix without kneading, using a spoon. Use your hands to combine the last bits of flour and liquid.
Cover (again, not airtight), and allow the dough to rest at room temperature until it rises and collapses (it will be flat on top), about 2 hours.
The dough can be used immediately after the initial rise, or it can be refrigerated in a lidded (but — you guessed it — not airtight) container and used over the next 7 days.
If using right away, spray a 2-pound loaf pan with cooking spray. Gather half the dough from the bowl and quickly shape it into a log. Place in the loaf pan, cover with a clean dishtowel, and set aside to rise, 90 minutes. (If using refrigerated dough, let rise 2 to 3 hours, until it is loose and slightly inflated.)
After the rise, bake at 450 degrees for 30 to 35 minutes.
Sour Cream Coffee Cake
This is the most comforting cake on the planet. Tender, moist and just slightly sweet, it fills you with goodwill toward all of humanity. Seriously. Adapted from The Joy of Cooking by Irma S. Rombauer (Simon & Schuster 1997).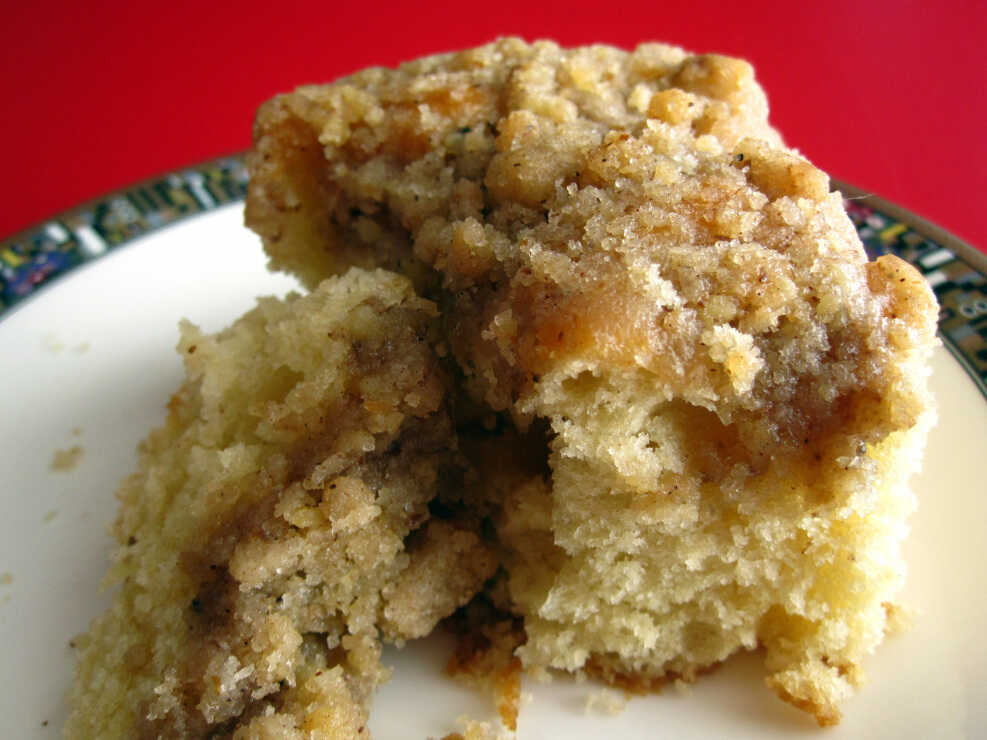 Makes 36 squares
Streusel Topping

2/3 cup all-purpose flour
2/3 cup finely chopped walnuts or pecans
2/3 cup packed light brown sugar or white sugar, or a combination
5 tablespoons unsalted butter, melted
1 teaspoon ground cinnamon
1/4 teaspoon salt
Cake
2 cups all-purpose flour
1 teaspoon baking powder
1 teaspoon baking soda
1/2 teaspoon salt
1 1/4 cups sour cream
1 teaspoon vanilla
4 tablespoons unsalted butter
1 cup sugar
2 large eggs
Have all ingredients at room temperature (this is very important for the texture of the cake, which is its strongest feature, so don't skip it). Position a rack in the lower third of the oven. Preheat oven to 350 degrees. Grease a 13-by-9-inch pan.
Prepare the streusel. Combine the flour, nuts, sugar, butter, cinnamon and salt in a bowl, using a fork until it resembles coarse crumbs. Put in the refrigerator.
For the cake, whisk together the flour, baking powder, baking soda and salt.
In a small bowl, combine the sour cream and vanilla.
In a large bowl, beat the butter and sugar at high speed until light and fluffy, about 3 or 4 minutes. Add the eggs, one at a time, mixing thoroughly after each addition.
Add the flour mixture in 3 parts, alternating with the sour cream mixture in 2 parts, beating on low speed until just smooth, and scraping the sides of the bowl as necessary. Scrape the batter into the pan and spread evenly. Remove the streusel from the refrigerator and sprinkle evenly across the top. Bake until a toothpick inserted in the center comes out clean, 25 to 30 minutes. Let cool briefly in the pan on a rack. Serve warm, if possible.
Cinnamon Rolls
Yes, it's a pain to let the dough rise. But I promise you will never — ever — get those things in the can that explodes again. This recipe is adapted from The Better Homes and Gardens Cookbook, 75th Anniversary Edition (Meredith Books 2004).
Makes 24 rolls
4 3/4 to 5 1/4 cups all-purpose flour
2 1/4 teaspoons active dry yeast (1 package)
1 cup milk
1/3 cup butter
1/3 cup granulated sugar
1/2 teaspoon salt
3 large eggs
3/4 cup packed brown sugar
1/4 cup all-purpose flour
1 tablespoon ground cinnamon
1/3 cup butter
1/2 cup golden raisins (optional)
1/2 cup chopped pecans (optional)
1 tablespoon half-and-half or light cream
Vanilla Glaze
1 1/4 cups sifted powdered sugar
1 teaspoon light-colored corn syrup
1/2 teaspoon vanilla
1 to 2 tablespoons light cream
In a large mixing bowl, combine 2 1/4 cups flour and the yeast. In a saucepan, heat and stir milk, butter, sugar and salt until just warm. Add to flour mixture, along with the eggs. Beat on low speed for 30 seconds, scraping the bowl. Beat on high 3 minutes. Stir in at least two more cups of flour, adding more until the dough is stiff.
Turn the dough out onto a lightly floured surface. Knead in enough of the remaining flour to make a moderately soft dough that is smooth and elastic (3 to 5 minutes total). Shape dough into a ball. Place in a greased bowl, turn once. Cover. Let rise in a warm place until doubled in size, about 1 hour.
Punch dough down. Turn out onto lightly floured surface. Divide in half. Cover. Let set for 10 minutes.
Meanwhile, lightly grease two 9-by-1-1/2-inch round baking pans.
For filling, stir together brown sugar, 1/4 cup flour and cinnamon. Cut in 1/3 cup butter until the mixture resembles coarse crumbs.
Roll each half of dough into a 12-by-8-inch rectangle. Sprinkle filling over dough rectangles. Scatter with raisins and pecans, if using. Roll up each rectangle starting from a long side. Seal seams. Slice each roll into 12 pieces. Place cut sides down in prepared pans.
Cover dough loosely with plastic wrap, leaving room for the rolls to rise. Chill for 2 to 24 hours. Uncover. Let stand at room temperature 30 minutes. This will produce the best flavor. However, if you want to bake the rolls right away (and really, who wants to wait 24 hours for delicious cinnamon rolls?) don't chill the dough. Instead, cover loosely, let dough rise in a warm place until nearly double, about 30 minutes.
When ready to bake, brush dough with half-and-half. Bake in a 375-degree oven, 20 to 25 minutes or until light brown.
While the rolls are baking, prepare the glaze. In a small bowl, stir together the powdered sugar, corn syrup and vanilla. Add enough half-and-half to reach drizzling consistency.
When the rolls are done, remove from oven and set on a wire rack for 1 minute. Drizzle with vanilla glaze. Serve warm. With good, strong coffee.