Sour Cream Coffee Cake
This is the most comforting cake on the planet. Tender, moist and just slightly sweet, it fills you with goodwill toward all of humanity. Seriously. Adapted from The Joy of Cooking by Irma S. Rombauer (Simon & Schuster 1997).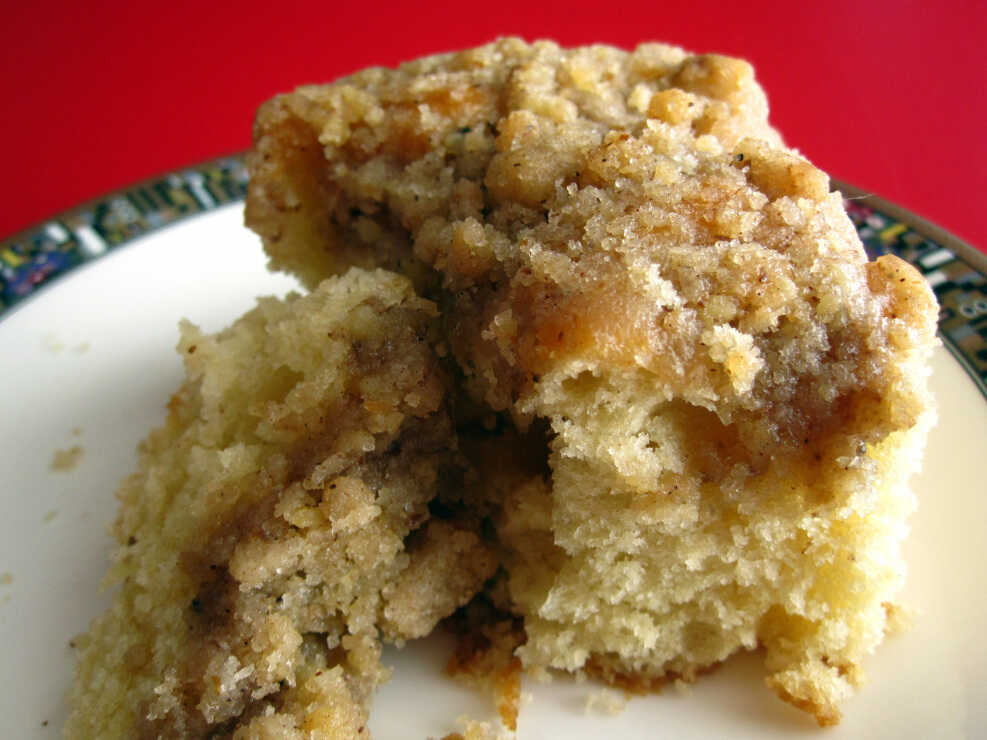 Makes 36 squares
Streusel Topping

2/3 cup all-purpose flour
2/3 cup finely chopped walnuts or pecans
2/3 cup packed light brown sugar or white sugar, or a combination
5 tablespoons unsalted butter, melted
1 teaspoon ground cinnamon
1/4 teaspoon salt
Cake
2 cups all-purpose flour
1 teaspoon baking powder
1 teaspoon baking soda
1/2 teaspoon salt
1 1/4 cups sour cream
1 teaspoon vanilla
4 tablespoons unsalted butter
1 cup sugar
2 large eggs
Have all ingredients at room temperature (this is very important for the texture of the cake, which is its strongest feature, so don't skip it). Position a rack in the lower third of the oven. Preheat oven to 350 degrees. Grease a 13-by-9-inch pan.
Prepare the streusel. Combine the flour, nuts, sugar, butter, cinnamon and salt in a bowl, using a fork until it resembles coarse crumbs. Put in the refrigerator.
For the cake, whisk together the flour, baking powder, baking soda and salt.
In a small bowl, combine the sour cream and vanilla.
In a large bowl, beat the butter and sugar at high speed until light and fluffy, about 3 or 4 minutes. Add the eggs, one at a time, mixing thoroughly after each addition.
Add the flour mixture in 3 parts, alternating with the sour cream mixture in 2 parts, beating on low speed until just smooth, and scraping the sides of the bowl as necessary. Scrape the batter into the pan and spread evenly. Remove the streusel from the refrigerator and sprinkle evenly across the top. Bake until a toothpick inserted in the center comes out clean, 25 to 30 minutes. Let cool briefly in the pan on a rack. Serve warm, if possible.