50 Years Of Breakfast In A Little Black Dress
This photo released by Christie's auction house shows actress Audrey Hepburn in the 1961 film, Breakfast at Tiffany's. The black Givenchy dress worn by Hepburn sold at auction for $807,000.
Christie's Ronald Grant Archive/ AP
Sloane Crosley is a writer. She lives in New York City.
Here is what you can't do anymore in New York: climb the Statue of Liberty's torch, gain access to Gramercy Park without a key, or sip a martini in The Oak Room at The Plaza Hotel.
Now here's what you can do — and just about every little girl in Manhattan knows it: You can always have Breakfast at Tiffany's.
It's a perfect combination that exists so long as the demand for jewelry stays as consistent as the demand for breakfast pastry. And today that pastry should have a birthday candle in it.
For today marks the 50th anniversary of Holly Golightly. Rather, it's been 50 years since Audrey Hepburn brought her to quixotic life in the award-winning film.
Novella Holly (the Holly of Truman Capote's novella) was introduced to the world in 1958. Therefore America's most beloved style icon has just a few more wrinkles on her. But who's counting? Especially when it's the movie that sticks. And I mean that literally. For every boy with a poster stuck to his dorm room wall bearing the image of John Belushi in Animal House, there is a girl down the hall with a Breakfast at Tiffany's movie poster tacked above her bed.
Now, at first glace, the human beings sleeping beneath these images have as much of a shot at dating each other now as John Belushi and Audrey Hepburn had when they were alive. Let that visual sit for a second. If a romance between them seems unlikely, the book is not to blame. It's those first images from the film.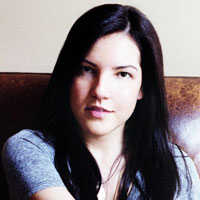 Sloane Crosley's most recent book is How Did You Get This Number, a collection of humor essays.
Skye Parrott
You know that romantic sequence of events in which a taxicab pulls over on Fifth Avenue and releases a Holly Golightly into our imaginations? She's a vision, holding coffee in her gloved hand, engraved in our brains like letters on a ring from a Cracker Jack box. She is in the midst of the single most famous walk of shame in cinematic history.
Holly Golightly may have had a place at the fraternity house after all.
Yet when we think of Breakfast at Tiffany's, we choose not to recall the no-name slobs or minor league prostitution. Sure, those come to mind when we sit down and think about it. But today, you'll remember, is supposed to be a birthday party. A celebration.
And after 50 years of trickle-down iconography, we have come to know the guest of honor largely by her packaging. But remember — she is not so unlike the Statue of Liberty's torch or the gated Gramercy Park. Just because you can no longer get inside doesn't mean it's not there.