A Final Gift From Steve Jobs, Plus New Music From First Aid Kit, Still Corners, More
A Final Gift From Steve Jobs, Plus New Music From First Aid Kit, Still Corners, More
Indo-Canadian singer Kiran Ahluwalia (clockwise from left), Swedish duo First Aid Kit, and the Philadelphia-based rock group mewithoutyou.
Courtesy of the artists
This past week has been filled with plenty of heartfelt remembrances for the late Apple guru Steve Jobs. And while some may say it's time for the media to move on, we think we'd be remiss if we didn't acknowledge on this edition of All Songs Considered all the amazing things he did for music. So in our final goodbye, hosts Bob Boilen and Robin Hilton turn the first part of the show over to the iPod for a couple of random discoveries, one of the many gifts Jobs gave to music lovers.
Also on the show, new music from some great unknowns, including the ethereal, London-based rock group Still Corners, the Swedish folk duo First Aid Kit, Indo-Canadian singer Kiran Ahluwalia, and Kacey Underwood and Alice Costelloe, otherwise known as Big Deal, a group we first introduced on our Fall Preview show.
New Mix: mewithoutyou, Still Corners, First Aid Kit And More
Free as a Bird
from Anthology 1
by The Beatles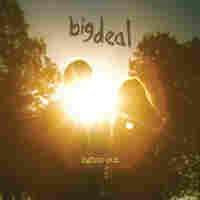 Visions
from Lights Out
by Big Deal
Learn more about this release at Mute Records.