Supaman: Rapping On The Reservation
Supaman: Rapping On The Reservation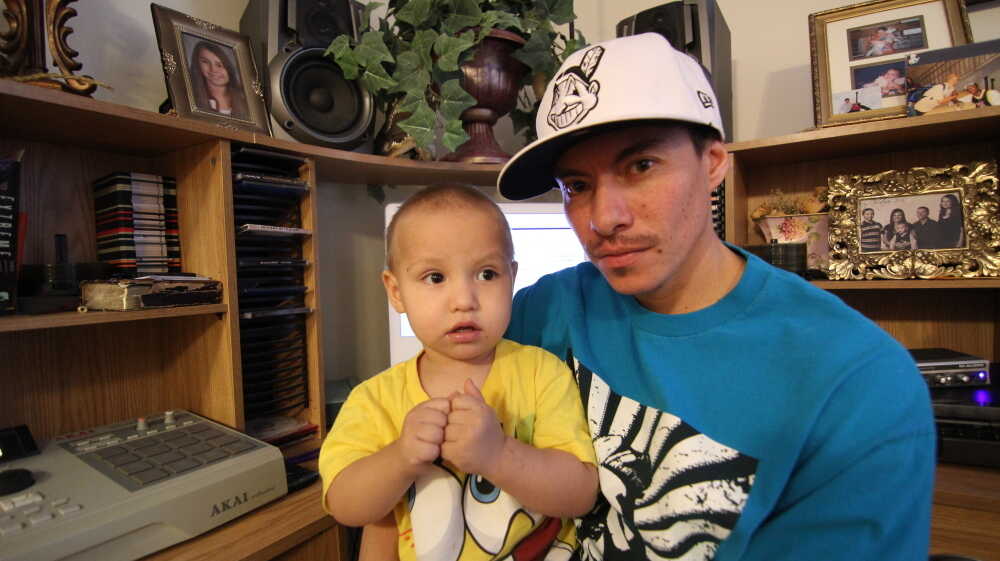 Rapper Supaman with the great Crow Nation chief Plenty Coups on his shirt and his son, Brayden Lecrae, on his lap.
Hal Cannon
In southeast Montana, thousands of miles from the birthplace of hip-hop, a man with the given name Christian Parrish Takes the Gun has been rapping to young people on the Crow Nation reservation. He calls himself Supaman, and he's been merging inner-city music with more local concerns for more than a dozen years.
"Native Americans grasp that culture of hip-hop because of the struggle," he says. "Hip-hop was talking about the ghetto life, poverty, crime, drugs, alcohol, teen pregnancy; all that crazy stuff that happens in the ghetto is similar to the reservation life. We can relate to that."
Supaman says he saw that crazy stuff as a kid. He says his parents were alcoholics and he spent lots of time in foster care before moving in with his grandfather. And for as long as he can remember hip-hop was playing in the background, like a soundtrack. When he was 24, Supaman decided it was time to make his own music.
"It was just nonsense," he says. "it was just dumb. It was like gangsta rap, or something. The way hip-hop influenced me in my earlier years is in a negative way. I mean, I hate to say that, but it's true."
He says he and his friends took the stories they heard in rap songs and made them real life. "We would play the part, you know. We were wannabees, trying to be, like, these rappers on the rez. So we started doing the crime, robbing, went into houses and trade the merchandise and then get weed from the merchandise, and then started selling."
Supaman says he got lucky — he was never caught breaking the law, and as his music career gained momentum, it seemed hip-hop could be his ticket to a better life.
A record label in Seattle took interest in him, and Supaman started touring, leaving behind his wife and baby. On one trip he and another Native American rapper were in New Mexico, bringing down the house.
After a performance, two girls walked up to him. "And they're like, 'You were awesome up there, where you from?' " he says. " 'I'm from the Crow Nation.' "
One thing led to another and Supaman found himself kissing one of those girls. Then he caught himself. "I start feeling like 'What are you doing? You got a wife, you got a baby girl.' "
It was the first time Supaman had felt remorse in a long while. He got sick to his stomach and couldn't eat for days. He missed concerts. And he began to question the life he was leading and to look for answers in unlikely places, like one night back at the hotel.
"I was just down and out — rock bottom you could say — and I grabbed the Bible," says Supaman. Reading the Bible rekindled memories of going to church as a boy. And despite his own disbelief at first, Supaman found himself in a dialogue with God over the next few days. He says he saw a sign of his presence and fell into prayer.
"And I felt right there at that moment this love, I felt this warmth come over my body," he says. "I said, 'God, why did you do this? You know me, I'm dirty.' I just cried. Tears came down my eyes; I'm holding it back right now. Every time I tell this story I feel that. And right there I said 'All right, I'm yours God. You want me to rap for you? I'll do it.' "
Supaman stayed true to his word. He walked away from a deal with the record label and returned to the reservation to weave a new message into his music. He knew he couldn't be too obvious about it though, otherwise his fans would turn him off. So he cloaked the message under a tough exterior of rugged beats and heavy-hitting metaphors.
"When they heard it they were like, 'Man, this is pretty good,' " says Supaman. "And then they would hear the lyrics and be like, 'Oh, you're rappin about Jesus.' Some would hate it: 'Oh man, I don't wanna hear that.' And some would say, 'I'm not into Jesus Christ, but, man, this is good music.' And others would be influenced by it."
Supaman says his conversion has allowed him to look at his life and the reservation with different eyes; to see beyond the bad things and focus on the beauty and humor that are there too.
"I talk to a lot of kids — go to schools and everything — and I tell them, 'Man, you don't know who you are. You don't know what you have. You can go to Europe, Japan and these people love you cuz you're Native American. So you should value that,' " he says. " 'You should value that and know who you are!' "
It's a lesson Supaman says he learned the hard way.
This story was produced in collaboration with the Western Folklife Center, and support for it was provided by the Paul G. Allen Family Foundation.
Web Resources