Medal Recipient Champions Diversity In Mathematics
Medal Recipient Champions Diversity In Mathematics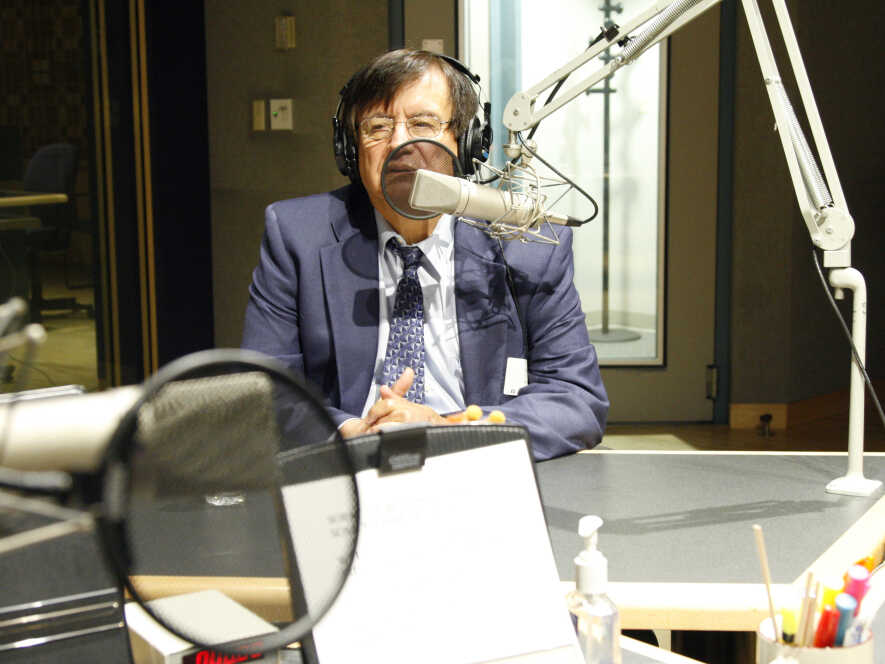 Rice University Professor Richard Tapia joins Tell Me More for an interview at NPR headquarters. Tapia is scheduled to receive the National Medal of Science on Friday from President Obama.
Amy Ta/NPR
Each year, select U.S. scientists receive the country's highest honor in the field: the National Medal of Science. It is awarded by the president of the United States to those who've made outstanding contributions to science and engineering.
One of this year's seven recipients is Richard Tapia, a professor of applied mathematics at Rice University in Houston.
The medal is an addition to Tapia's previous honors. In 1992, he became the first Hispanic elected to the National Academy of Engineering. In 1996, he received the inaugural Presidential Award for Excellence in Science, Mathematics and Engineering Mentoring. The same year, then-President Clinton appointed him to the National Science Board, America's highest scientific governing body.
Tapia is credited with helping develop "numerical optimization," a technique used by big industries, such as airlines, to predict and optimize output.
Apart from his own work, this son of Mexican immigrants has pushed to bring more Hispanic and African-American students into graduate-level science, technology, engineering and mathematics. He was named one of the 20 most influential leaders in math education by the National Science Foundation in 1990.
Ahead of his meeting with President Obama for the award ceremony, Tapia stopped by NPR headquarters in Washington for an interview with Tell Me More host Michel Martin.
---
Interview Highlights
On his reaction to the award
Richard Tapia: "This is not a dream come true to me because I never dreamt that I would win this award. And I said, 'Wow, this takes me to the top.' I know that I deserve the feeling, OK, the feeling of being happy, and I'm enjoying it, and I'm walking on air. I don't know how long it's going to last, but I'm going to try to make it last as long as I can."
On being drawn to math and science, and gaining recognition from those unlikely to give it
Tapia: "I grew up being very good in math. So I took what's called the path of least resistance. And even though we lived in a tough part of town, even the tough people in the neighborhood would recognize me for being good in math. My brother and I raced cars and did things, and they [neighbors] wanted to give me this recognition. They didn't see it as somebody that was so far away from them. I lived in so many dimensions and did so many things. So in some sense, they were saying, 'Well, we're going to honor and respect this person who's like us.' "
On being a role model, and bringing youth and minorities into mathematics
Tapia: "I said, I'm going to establish myself as a scientist first, and I got tenured very fast. So after I was in a stable position, I said, now I can help so many people that are similarly situated — people who could fall through cracks the way I almost fell through cracks. I think I accepted the responsibility [of mentoring] because there were not enough people doing it, and I could do it.
"One of the things we do as role models is we look to youth and they look at us. But I want to be a role model on the other side. The flip side is the majority community can look at people like us and say, 'Quality comes in all flavors.'
"I talk to inner city youth and I say: 'Look, you can really use math for neat things, and I use them to study cars.' So I have a talk called Math at Top Speed, where we study the mathematics of drag racing. And so I can say to these kids, math is cool."
On managing work with family challenges (his wife's multiple sclerosis, and the death of his daughter and mother)
Tapia: "Having my daughter killed 29 years ago when she was a student at Rice University, then my wife who was, you know, a dancer, and then going through multiple sclerosis — those things are very, very difficult. When people say to me, 'How do you deal with those things?' I say, 'I have no choice.'
"Last night I tried to dress her [his wife Jean], and she was very tired and she slipped on the floor, and I had to call emergency help. But that doesn't stop us from coming here. And her day is going to be Friday when she meets President Obama. I will say that she travels more than anybody in the country in a wheelchair. We've gone to Spain, we've gone to Italy, we've gone to France, we've gone to Mexico, we go to Puerto Rico.
"I figure that my daughter — Circee, my late daughter — would have been so happy to have seen this [presentation of the National Medal of Science]. My mother, who died three years ago, it would've been the greatest thing. Her dream was to come to this country for education, and she had to go to work because she came by herself."