Islamist Party Leads In Historic Tunisian Vote
Islamist Party Leads In Historic Tunisian Vote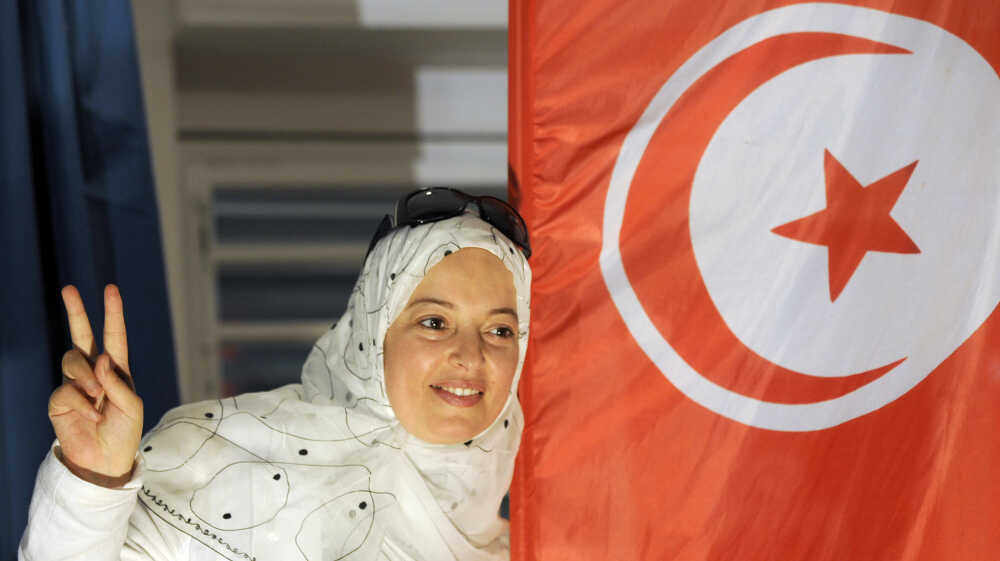 In Tunisia, a moderate, once-banned Islamist political party is on track to win the country's first free and democratic election — and the first among the countries of the Arab Spring. On Sunday, Tunisians elected a national assembly that will rewrite the country's constitution.
Despite the strong showing by the Islamists, no party is expected to get an absolute majority in the assembly, and the new government will likely be a coalition of secular and religious parties. And that, it appears, is what most Tunisians want.
On Tuesday evening, Tunisians were tuning in to watch the first official results from Sunday's election. As expected, the Islamist party — known as Ennahda, or Renaissance — has a significant lead, about 40 percent of the votes.
Outside of Ennahda headquarters in the capital, Tunis, excited women ululated in joy at the party's strong showing in Tunisia's first democratic election. One of them was Monjia Khmeri, who spent four years in prison in the 1990s for belonging to Ennahda. Khmeri says she's glad the party can finally play a role in Tunisian life.
Under dictator Zine El Abidine Ben Ali, Ennahda was outlawed, and many of its members jailed and even tortured. Many Tunisians say they trust Ennahda's leaders because of their resistance to the dictatorship.
On Monday in Tunis, members of a regional election authority collect voting results. Tunisians and foreign observers alike were pleased with the way the voting was carried out.
Lionel Bonaventure/AFP/Getty Images
But others don't. Tunisia is the Arab world's most moderate and progressive country, a place where women have near equal rights to men. Many secular Tunisians fear Ennahda will try to roll back progress.
When Ennahda's leader, Rachid Ghannouchi, went to vote on Sunday in an upscale neighborhood of Tunis, many young people yelled "Degage!" ("Get out!"), the rallying cry of last January's revolution against the dictator.
Ghannouchi says Ennahda wants to be a part of Tunisia's new democracy and has no plans to take away women's or anybody else's rights. Still, some Tunisians fear the party has a hidden agenda.
One thing every Tunisian agrees upon is that Sunday's election was a stunning success. Lining up sometimes for hours, proud voters said they would respect the results no matter who won. Foreign observers such as Jane Harman of the National Democratic Institute were impressed.
"This election was hands-down the best, the most promising election I have ever witnessed — including those I have seen in the United States," she says.
Tunis' casbah — the medieval old town — is a place of traditional values. But the merchants there are also pragmatic. They do business with the world and depend on the country's large tourism sector. Mohamed Begerbal says he voted Ennahda, but will be keeping a close eye on them.
"If they break their promise to be moderate, we'll be back in the streets calling for them to get out. We don't want extremists. We want a modern Muslim country, kind of like Turkey," he says.
Begerbal says Tunisia's democracy can serve as an example to countries like Libya, Egypt and Syria.
Sami Dhraief, a 25-year-old taxi driver, listens to one of Tunisia's popular rappers, known as Balti. Like Balti, Tunisians want to be both Muslim and modern, says Dhraief. And they're sometimes conflicted, he says, just like Balti, who raps about going to the mosque one day and drinking wine the next.
"I don't really trust Ennahda," Dhraief says. "I think they're going to try to change laws and make us young people do things we don't want to do."
Khaled Bey, the great-grandson of Tunisia's last monarch, lives in an old house in Tunis.
"For the last 60 years, our leaders kept us divided. But we came together on Jan. 14 [the day the president was overthrown]. If we want to rebuild this country, we have to come together again. We have to listen to each other, respect each other and share the same ideals."
He says he has no doubt Tunisians will do it; he says he saw the proof on election day.