Fish Stews: Comfort Without The Work
All food tastes good in fall, but of all my returning appetites the one I welcome most is the appetite for comfort foods. However, when I think about comfort foods — fried chicken, roast pork buns, beef stew — I realize that none of them can be made in less than two hours or with fewer than 12 steps. We may call them comfort foods, but whoever is responsible for getting them on the table is definitely in for a not-all-that-comfortable production.
There is, though, one way to have warmth, autumnal flavor and the soulful reassurance of a full-bodied broth without working yourself senseless in the kitchen: fish stew. I'm sure there are ways to make fish stew more difficult, but in my house it never takes longer than 45 minutes. My kind of fish stew involves more shopping than chopping, which means you can still find time to while away October's few remaining golden afternoons leaf-peeping, straightening out your garden or reading a novel on the porch with a cup of tea. Dinner will taste just as good as if you had bustled away all day like a squirrel, stockpiling winter acorns.
About The Author
From a dining perspective, fish stew has a gentle, moderate sort of quality. Although I like a good food coma as much as the next person, I think it's unsporting to give in to one before Thanksgiving. Fish stew can be rich, and fish stew is eminently satisfying. Yet it doesn't leave your family groaning on a couch, unable to lend a helping hand or lift a helping finger at washing-up time.
The key to fish stews lies in the seasoning, which should be heady, strong and thick. It has to be, because you don't get to cook the delicate flesh of the fish for long: 10 minutes at most, for the thickest fillets. Fortunately, fish doesn't just cook quickly, it absorbs flavor quickly, too. While bouillabaisse, with its trumpeting notes of Pernod and saffron, is perhaps the iconic fish stew, it is only one of many. Nearly every culinary tradition has its own version, from the chowders of New England to the paprika-tinted broths of Portugal and the lemongrass and coconut milk melanges of Southeast Asia.
Do you have to have fish stock for a fish stew? Not necessarily, though it's nice if you happen to be able to get some easily. I've used everything from salted water to clam juice to chicken broth or mixtures of all of the above. How much you use determines whether your final result is more stewy or more soupy. I use widely varying amounts of liquid, depending on what sort of bread or potatoes or rice are traveling alongside the stew.
Which fish to use? Any fairly sturdy white fish provides a lucid medium through which the light of seasoning passes. Any kind will do — hake, haddock, pollock, halibut. (I try to go easy on the cod, though I love it, since it's endangered.) A brief simmer is all that's needed to get fresh white fish to take on the character of its surrounding flavor universe. Compared to fish, waiting for a chicken breast to take a hint from a marinade is like watching paint dry.
But then again, if you want to spend your russet-hued, sun-speckled, crisp and breezy fall afternoons watching paint dry, go right ahead. When you're done, you'll still have time to make fish stew, and savor it as well.
Related NPR Stories
Fish Chowder
To find this standard, I turned to the good old Joy of Cooking (75th anniversary ed. Scribner 2006), as one does from time to time. Although the recipe calls for fish stock, my fishmonger was out and I didn't have the time to make it, so I used a bottle of clam juice and made up the rest of the quantity with chicken stock — both always easy to find at the store. This chowder is particularly fine when liberally strewn with chervil at the end, if you can get your hands on that elusive, spring-tasting herb.
Makes 6 servings
4 ounces salt pork or 4 slices bacon, diced
1/4 cup (1/2 stick) butter
2 large onions, chopped
3 bay leaves
1 tablespoon chopped fresh thyme
3 large boiling potatoes or 8 to 10 fingerling potatoes, peeled and cut into 1/4-inch slices or 1/2-inch dice
3 cups fish stock (or a mixture of clam juice and chicken stock)
2 cups heavy cream
3 1/2 pounds boneless, skinless fish fillets
2 tablespoons chopped parsley and/or chervil
Cook the salt pork or bacon in a heavy soup pot, over low heat, stirring, until beginning to crisp, 10 to 15 minutes. Add the butter, onions, bay leaves and thyme and cook, stirring, until the onions are tender but not browned, another 10 minutes or so.
Add the potatoes and stock. Bring to a boil, reduce the heat and simmer until the potatoes are tender, about 20 minutes. Remove the bay leaves and stir in the fish fillets and cream. Simmer (do not boil) until the fish is cooked through and beginning to flake, 8 to 10 minutes. The fish will come apart in large chunks. Season with salt and black pepper to taste.
Coconut Fish Stew With Basil And Lemongrass
This vibrant stew adapted from In the Kitchen with a Good Appetite by Melissa Clark (Hyperion 2010) has a longish list of ingredients but comes together in a flash, like so many of Clark's recipes. Because I had gotten a whole fish the day I made it, I had a leftover fish frame to simmer in the chicken stock for extra flavor — an extra step, but worth it. Do you need to use whole head-on shrimp? Absolutely not. But it's a great way to freak out your kids.
Makes 4 servings
1 tablespoon vegetable oil
2 shallots, thinly sliced
1 small garlic clove, minced
2 1/2 cups chicken stock
1 (13.5-ounce) can coconut milk
1 lemongrass stalk, finely chopped
1 jalapeno pepper, seeded, if desired, and thinly sliced
2 tablespoons rice vinegar
1 tablespoon fish sauce
1 tablespoon light brown sugar
3/4 teaspoon salt
Finely grated zest of 1 lime
3/4 pound seafood, such as snapper or other firm fish (cut into 1 1/2-inch chunks), peeled shrimp and/or scallops, or a combination
2 tablespoons chopped fresh cilantro
2 tablespoons chopped fresh basil
Freshly squeezed lime juice to taste
Cooked rice, for serving (optional — I particularly like sticky rice)
Heat the oil in a medium pot over medium heat. Add the shallots and garlic and cook, stirring, until the shallots are softened, 3 to 5 minutes. Stir in the stock, coconut milk, lemongrass, jalapeno pepper, vinegar, fish sauce, sugar, salt and lime zest. Simmer for 10 minutes.
Stir in the seafood and herbs. Cook 2 to 3 minutes. Stir in the lime juice and serve with rice, if desired. (Note: Without rice, it's more of a soup than a stew.)
Fishermen's Stew Of Graciosa
This recipe adapted from Ana Patuleia Ortins' Portuguese Homestyle Cooking (Interlink 2003) is one of the first recipes I fell in love with as a new cookbook reviewer. I still remember the moment the brick-red seasoning paste dissolved into the stew and its aroma filled the house. It is an ample recipe, so sometimes I halve the amount of fish. When I do, I still use the full measure of the seasonings, as I find them irresistible. I can never find the pickled Portuguese chili peppers, but they are there principally for their heat, and the author has said they can be used interchangeably with other dried, fresh or liquid capsicums.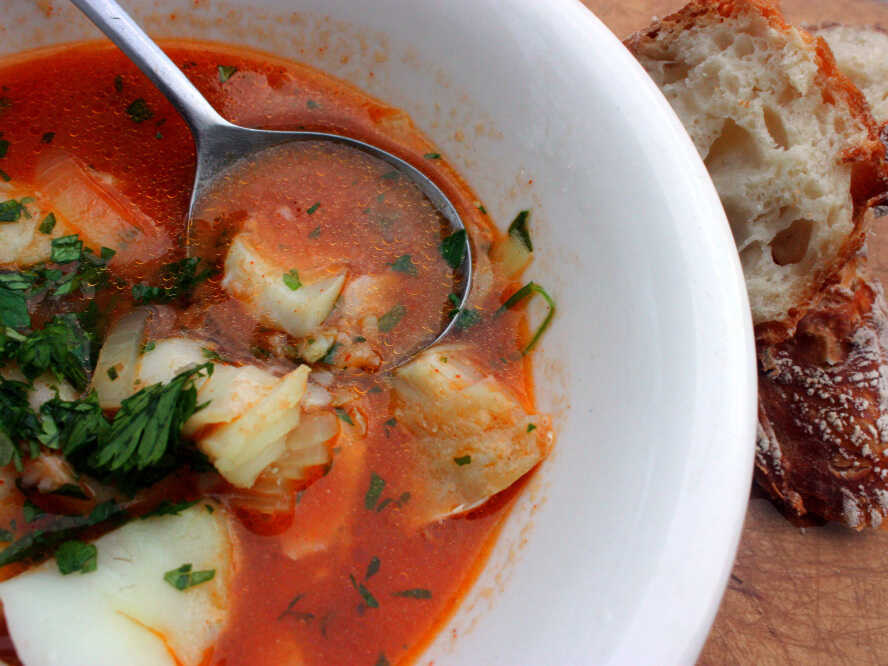 Makes 6 to 8 servings
Stew
4 pounds any thick cuts of white fish (halibut, hake, pollock or cod), cut into 1-inch-thick steaks or thick serving-sized fillets
1 quart water or enough to barely cover the fish
3 sprigs parsley
2 medium onions, thinly sliced (about 2 cups)
3 bay leaves
1 1/2 tablespoons coarse salt
1 tablespoon olive oil
In the bottom of an 8-quart pot, layer the fish and pour in enough cold water to barely cover it. Add the parsley, onions, bay leaves, salt and olive oil.
Cover tightly, place over medium-high heat and bring to a boil. Reduce the heat and simmer gently until the fish is opaque, about 20 minutes.
Seasoning Paste
7 cloves garlic, coarsely chopped
2 teaspoons coarse salt
1 1/2 teaspoons cumin seed or 1/2 teaspoon cumin powder
1 1/2 tablespoons finely chopped parsley
2 pickled chili peppers, each about 1 inch long, finely chopped (optional)
1 teaspoon ground safflower* or paprika
3 tablespoons tomato paste
1 tablespoon sugar
1/4 teaspoon ground nutmeg
1/2 cup olive oil
1/4 cup wine vinegar
Using a large mortar and pestle, mash the garlic with the salt, forming a paste.
Mash in the cumin, parsley, chili peppers and safflower. Stir in the tomato paste, sugar and nutmeg. Drizzle in the olive oil followed by the vinegar. (If you do not have a mortar and pestle or yours is not large enough, make the paste in a medium bowl using the back of a spoon or a fork.) Stir to blend the ingredients well.
With a slotted spoon, transfer the cooked fish to a serving dish. Cover and keep warm. Whisk the seasoning paste into the fish broth, making sure it is well dispersed. Simmer about 5 minutes over medium-low heat. Ladle some of the seasoned broth over the fish and serve remaining broth on the side. Or place generous pieces of fish in individual soup plates and spoon the broth over it. Serve with plenty of bread to dip in the broth.
*Portuguese ground safflower can be found in Latino markets and some supermarkets.