House GOP Freshmen Face Pressure To Raise Cash
House GOP Freshmen Pressured To Raise Cash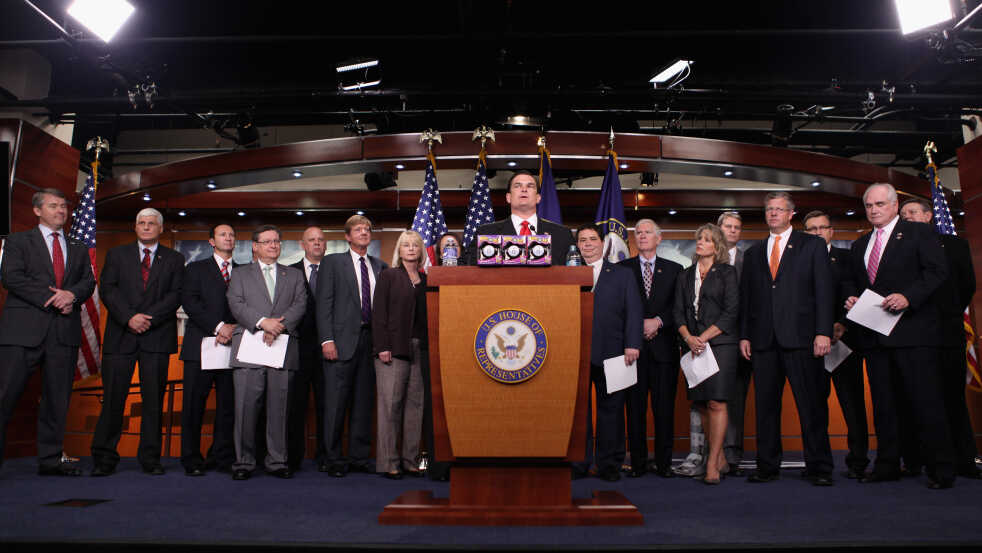 House Republican freshmen, some of whom are shown here in April, are learning that fundraising is a big part of the job.
Chip Somodevilla/Getty Images
It's not popular, and politicians hate to talk about it. But a huge part of the job of being a member of Congress is raising money. By Washington logic, the strength of a lawmaker's bank account is equal to the strength of his or her candidacy.
Last month, the Democratic Congressional Campaign Committee raised almost double what its Republican counterpart took in despite the fact that the GOP holds the majority in the House. One group of Republicans that seems to be having a tough go of it is that huge class of freshman Republicans who took 2010 by storm.
The top GOP freshman fundraiser, Florida Rep. Allen West, raised nearly $2 million last quarter. The next four top fundraisers collected more than $300,000 each during that time, but the others trailed him badly.
House GOP Freshmen By The Numbers
In 2010, House Republicans picked up 63 seats, the biggest GOP gain since 1938. Here, members of that freshman class who raised the most — and least in July, August and September.

As a reference point, House Speaker John Boehner of Ohio raised $1,398,525 in the same quarter.
Top Summer-Quarter Fundraisers
Allen West of Florida — $1,961,304
Stephen Fincher of Tennessee — $421,690
Robert Dold of Illinois — $376,534
Cory Gardner of Colorado — $374,062
Bill Flores of Texas — $333,797
Lowest Summer-Quarter Fundraisers
Steve Womak of Arkansas — $21,681
David Rivera of Florida — $26,500
Rob Woodall of Georgia — $55,724
Morgan Griffith of Virginia — $62,675
Mick Mulvaney of South Carolina — $63,123
Source: FEC filings for 2012 cycle ending 9/30/11
So when a freshman Republican's numbers come out, and they don't look too hot, he or she has to answer to her party.
"Well, I did have a slow third quarter. I definitely could have done better," says freshman Rep. Renee Ellmers of North Carolina. For the months of July, August and September, she raised roughly $97,000. "It wasn't as high a priority for me. I will say that my fourth quarter will be much better, though."
Ellmers says she has gotten a lot of advice in the week since her numbers came out. Mentors, she says, have explained to her that she has to work much harder.
Florida Republican Steve Southerland raised about $85,000 last quarter.
"That's quickly one of the things that I noticed when I got here is that you do have to spend time to generate revenue," Southerland says.
Another GOP freshman, Tennessee's Scott DesJarlais, did a little better — he broke six figures with about $117,000. But, he said, it was a pain.
"The two-year cycle is very difficult and I've never been in politics before. I'm a family physician by trade, so it's an ongoing, I guess necessary part of the job, but I wish there was a better solution," DesJarlais says.
DesJarlais says he's not the only one. Among his freshman Republican colleagues, he says, "most people would say that it's the worst part of the job."
"It's obviously tough economic times, and moving into the Christmas season, people are hoping to give their kids presents, not give money to politicians who generally they're unhappy with," he says.
Many freshman Republicans say the same things: "It's a necessary evil" or "I wish I didn't have to do it so much."
But the pressure is on.
'A Battle For Dollars'
In a National Republican Campaign Committee Web video, Chairman Pete Sessions, a Texas representative, appeals to donors.
Rep. Renee Ellmer, Republican freshman from North Carolina, raised roughly $97,000 in the third quarter.
J. Meric/Getty Images
"After historic gains in 2010, Republicans remain on offense, and our Patriot Program will ensure that Republican members will have strong campaigns to achieve victory again in 2012," Sessions says. While Sessions' committee raised $10.7 million last quarter, its Democratic counterpart raised $14.2 million.
The Patriot Program, as Republicans call it, helps incumbents and GOP challengers build fundraising organizations. It sets dollar goals, benchmarks and, as co-chairman Greg Walden calls it, accountability.
"By creating winning campaigns now, we can continue our fight to expand our majority and take back Republican seats that Democrats now occupy," Walden says.
All of this means pressure: Pressure to keep the accounts flush with cash on hand, and pressure to keep the flow of incoming money consistent.
"It's a battle for dollars," says Republican freshman Rep. Joe Walsh of Illinois.
Walsh says one of the reasons the numbers don't look so good is that Republicans are actually competing against each other for dollars.
"You compete for different money up here. There's competition because we got a lot of presidential nominees out there trying to run for president, so I think on the Republican side there's other factors in play," Walsh says.
There's also a group of freshmen who seem to be rebelling against the fundraising pressure.
Rep. Rob Woodall of Georgia, for example, says he is approaching this with a totally different premise.
"That if you do the right thing today and then you show up and do the right thing tomorrow and do the right thing the next day, maybe you don't need all that money to persuade people you're doing a good job, maybe folks will see that you're actually doing that good job," Woodall says.
At least that's what he hopes. Other Republicans say they're stepping up their game so the next fundraising numbers don't look so weak.