Unions Assume A Support Role For Occupy Movement
Unions Offer Support For Occupy Movement
Attend just about any of the Occupy Wall Street-inspired protests across the country and you're likely to see a group of people dressed in matching union T-shirts somewhere in the crowd. Typically, they're older than your average Occupy protester but no less enthusiastic in their chanting.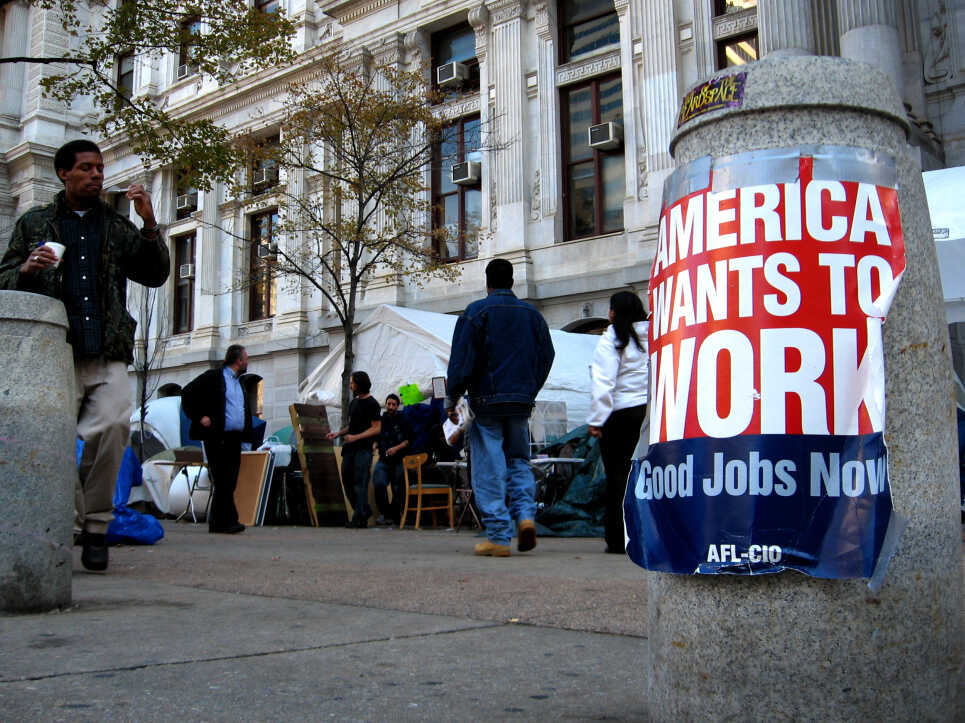 Union posters can be found all over the Occupy Philadelphia protest site near City Hall. Protesters and local union leaders meet regularly to discuss tactics and how to involve labor.
Jeff Brady/NPR
"I've been doing this [protesting] for five decades," said Mike Wisniewski at a recent Occupy Philadelphia protest at The Wharton School at the University of Pennsylvania. Wisniewski says he's a university library employee and has been a union member since 1972.
Labor unions have become a growing force in the Occupy movement. That shouldn't be surprising since the movement is succeeding at advancing a message unions have been trying to convey for a long time: that the ultra-wealthy are taking more than their fair share.
AFL-CIO President Richard Trumka delivered a speech on Wall Street shortly after he took office in 2009. "Our economy falters and people suffer," he said then. "But the richest 1 percent — they're living high on the hog."
Cautiously Joining Forces
That sounds similar to the "We are the 99 percent" message of Occupy protesters.
"As Occupy Wall Street gathered steam it was sort of like, well, they're doing the same thing we were doing; we better be part of this," says Damon Silvers, policy director and special counsel at the AFL-CIO.
The unions and Occupy protesters didn't immediately warm up to each other though. Before getting too involved, the unions had to be sure the movement was here to stay and that protests would remain nonviolent, according to Cornell University Labor Studies Professor Richard Hurd.
"And the protesters certainly don't want the labor movement to come in and take over their movement," says Hurd. "They feel that they own it, they started it, they created some energy around it."
So far the unions seem satisfied playing a supporting role.
"I think we know that this is a movement led by students and we're not leading this movement as union people," says Paul Dannenfelser, president of American Federation of State, County and Municipal Employees (AFSCME) Local 1723.
Dannenfelser and union leaders across the country are participating in labor outreach committees set up by Occupy protesters. He says he has regular, informal meetings with organizers of Occupy Philadelphia.
Welcoming Union Support, But Wanting More
Downtown, in front of City Hall, there are several dozen tents set up, along with two lending libraries, a place to receive medical care and an area for artists to hang out. Protesters here welcome union involvement.
"I feel like the 99 percent involves a lot of people, and that includes the unions," says Leila Wright, a protester from West Philadelphia. "I've marched with them and I support them."
"They [unions] are the spinal cord of the left; they're the backbone," says Stanley Joseph, who lives in northwest Philadelphia. "I think we're helping bring attention to their issues, just like we're bringing attention to many other issues."
Some of the protesters think unions should be playing an even larger role. Look around the Occupy Philadelphia site on a weekday afternoon and the only sign of unions are actual signs: There are posters everywhere that read "Workers rights are human rights," but no union tent or other permanent presence.
Marlene Bodner with the group Granny Peace Brigade says if unions really supported protesters, they'd be here.
"It would mean they'd have a table here and they'd be walking around and embedding themselves in this," she says, "and they're not."
AFSCME's Dannenfelser says unions don't have the resources to staff a tent day and night. But the AFL-CIO's Silvers says unions around the country are opening their halls to protestors who need a place to shower, and he says unions are providing legal help to protest organizers.