Entrepreneurship Lessons For The Academic-Minded
Entrepreneurship For The Academic-Minded
The slow pace of job creation has revived interest in getting promising new technologies out of university labs and into the marketplace. At Stanford University, a group of academic researchers from all over the country gathered to take a crash course in how to turn their projects into startup companies.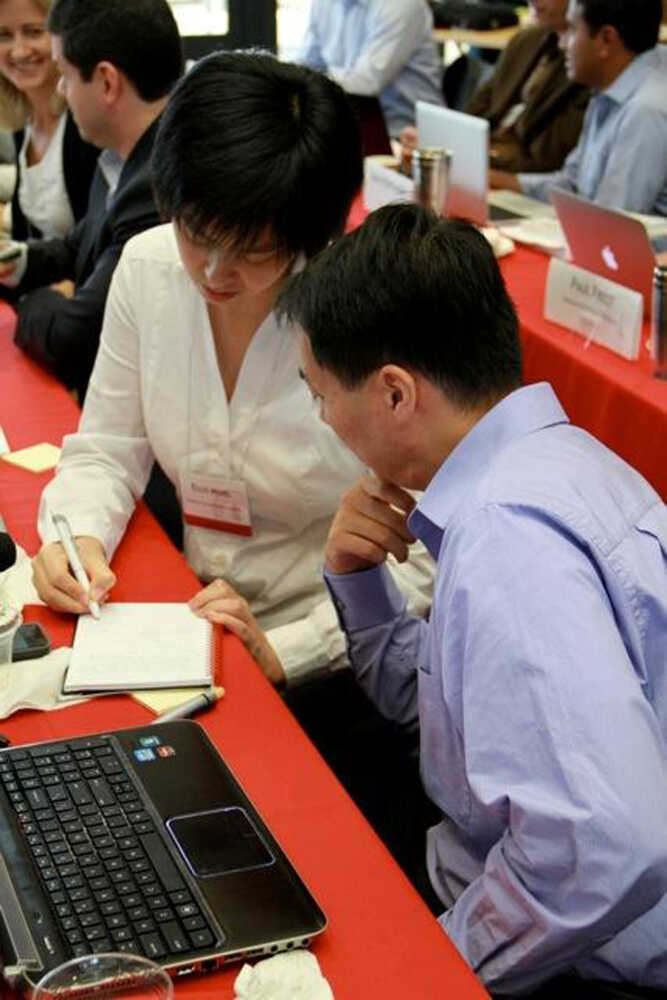 Ellis Meng and Tuan Hoang, researchers from the University of Southern California, brainstorm as part of their Innovation Corps course. Their project is an implantable device for drug delivery, connected by a wireless network to let physicians remotely track the patients' progress.
Courtesy of Forrest Glick/Stanford University
The National Science Foundation screened applicants for this Innovation Corps (I-Corps) program and awarded each research team $50,000. They'll be mentored by entrepreneurs familiar with bringing a new technology to market, and participate in ongoing webinars and progress meetings throughout the process.
Steve Blank, an I-Corps mentor, is passionate about the entrepreneurship course he teaches at Stanford. To instill enthusiasm for the startup and offer a taste of the potential financial rewards, he invited the academics about to take his class to his spectacular ranch on the California coast.
Standing on the second floor landing above the crowd, he tells the researchers: You're in entrepreneurial boot camp; you need to be smart, focused and eager.
He bounds down the stairs, urging the researchers to be first to show off their stuff.
"Yeah, yeah, don't all rush to the front," he says as some of the researchers start to cheer.
Each of the 21 teams has its own project — things like terahertz electronics, new technology for detecting explosives, or a smarter device for delivering pain medication.
The National Science Foundation has a history of funding basic research, but its efforts to get cutting edge technology out of the lab and into the market have been relatively modest.
"What do you do if you want to get more startups, more technology transferred out of the university?" asks Jacob Schmidt, a researcher at UCLA who's taking the class. "You need to bootstrap. You need to start that culture up from scratch."
A New Way To Think About Business
Schmidt says that hopefully the program will train a bunch of scientists and engineers to think like entrepreneurs, who will then go back to their labs and spread the word to others.
So what are they learning in class? Bullet point No. 1 is that startups are not smaller versions of large companies. Steve Blank adds that the emphasis on management and execution — things taught in traditional MBA programs — can come later.
Another point: It's OK to take risks and fail, as long as you learn from your mistakes.
"You know what we call a failed entrepreneur in Silicon Valley? 'Experienced.' It's a huge idea," Blank says.
Sample I-Corps Projects
A pair of tweezers holds a graphene transistor fabricated on a silicon wafer. An I-Corps team from the University of Pennsylvania is working on scaling up their cheaper method of making high-quality graphene, an extremely strong, conductive material one atom thick that was the subject of a Nobel Prize last year.
Courtesy of Zhentang Luo
An I-Corps team from the University of Washington is working on bringing their pyrolysis blanket to the market. Forest debris are set on fire then covered by the blanket to reduce oxygen, turning ordinary open-air combustion into a process called pyrolysis. The resulting material, known as biochar, can help soil retain moisture and nutrients.
Courtesy of Jenny Knoth
Blank, a successful entrepreneur himself, poses two questions for the students to answer: What is their business model, and how will they test it?
"The most efficient way to teach this is to treat everything you think you know about building a business as nothing more than a hypothesis," he says.
So Blank sends the academic teams out of the building and often out of their comfort zones to contact potential customers face to face. And what many quickly discover is they may have to rethink parts of their strategy.
"Our initial view of who we thought the customers were was a bit flawed," says Ellis Meng, from the University of Southern California. Her team is working on a new implantable device for drug delivery, and they're happy to be part of the program.
"I think the value to us is the focus and then finding the new information," she says. "I think we were actually pretty far along when we came in, but we are now even further and better for that."
Hopes For Startup Growth
Jorge Heraud, an engineer who took Blank's class at Stanford earlier this year, is a big believer in the instructor's approach. He originally thought of building a grass clipping robot, but discovered a large untapped market for a weed cutter for organic farms. Blue River Technology was launched and has already received outside funding. It hired an employee, and plans to add several more.
"I think we can be a billion-dollar company in maybe 10 years," Heraud says. "I feel I'm prepared, I'm having successes. It's feeling really, really right."
But whether large numbers of researchers who've spent most of their professional lives in academic labs will be able to start companies is far from certain. Still, venture capitalist Jon Feiber, who's been part of the teaching team, predicts the government's investment will pay off.
"If we look at the core strength of the United States over a long period of time, it's great universities, it's funded research — and it's what comes out of that commercially that employs people and creates great businesses," Feiber says. "So that's the long-term strategic opportunity for us as a country."
The number of startups likely to emerge from this group of students is small, but Stanford's Steve Blank predicts the course will change how these researchers think. He sits in the back of the room, he says, and smiles because he's planted something that will never disappear.