Hollywood Stages A DVD Comeback, With Some Snags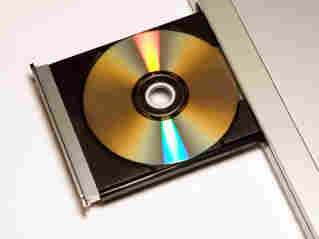 As the holiday gift-giving season approaches, a new brand of DVDs is aiming to revolutionize the market. It's called UltraViolet, and it brings a set of features to the DVD that Hollywood hopes will revolutionize a dwindling business — but it won't catch on unless it makes some big changes.
If you're like a lot of people, it's probably been a while since you last bought a DVD. These days, watching a blockbuster like Iron Man 2 often means streaming it from services like Netflix, Amazon or iTunes.
Hollywood used to make a ton of money off of selling DVDs, but people aren't buying them as much as they used to. For studios, the new online rental services mean much smaller profit margins.
Now, UltraViolet is Hollywood's attempt to make purchasing popular again.
The new system relies on the cloud — a virtual storage system that keeps movies from filling up your hard drive. Users can purchase movies, add them to their digital libraries, and then watch them on multiple devices.
As many as a dozen big movies should be available through UltraViolet by the end of the year, but the new system has a huge problem. Now that consumers have discovered how easy digital rentals are, the whole idea of owning a movie doesn't make sense anymore. Unless you're a 6-year-old who can't get enough of a Disney movie like Toy Story, it's unlikely consumers will opt for permanent purchases.
And therein lies another problem: Disney is the only major studio that has yet to get involved in UltraViolet, a service that's also competing with Apple and Amazon, who each have their own cloud services.
What UltraViolet does have working in its favor is that movie purchases can play on phones and tablets made by Apple, as well as Android devices. But it won't play yet on TVs. While UltraViolet does offer disc copy options, a movie watcher would have to carry the DVD around in order to watch it on someone else's TV.
Backers say they do plan on making UltraViolet TV-friendly, and that there are plenty more innovations to come. After all, the studios have a lot at stake — they're the ones making these movies. Now they just have to figure out a better way to watch them.