Hugh Jackman, Back On Broadway And Having A Blast
Hugh Jackman, Back On Broadway And Having A Blast
Hugh Jackman has had one of the most bifurcated showbiz careers imaginable. He leapt to superstardom as the mutton-chopped mutant Wolverine in the X-Men movies and won a Tony Award as the gay Australian entertainer Peter Allen in The Boy from Oz. These days, he's starring in the robot-boxing film Real Steel and appearing on Broadway in a one-man show.
In fact, Jackman's dual career has become the stuff of parody in a recurring series of Saturday Night Live sketches starring Andy Samberg.
"You know," says the real Jackman, "I think it's very funny. We do that [routine] all the time at my house. We go 'Two sides!' "
Hugh Jackman: Back on Broadway is a showcase for the 43-year-old Aussie's entertainer side. Jackman was between movies, so he decided to put together a solo show to keep busy.
"Having a gig is what keeps motivating you to practice, do singing lessons every week, keep practicing every day," he says. "So I thought, 'OK, well this is the time to do it!' So, I just took the leap."
In the show, Jackman tells stories from his life and career, interacts with the audience, and gets to indulge in some of his childhood fantasies. He says as a little kid, he would come home from rugby practice and watch Hollywood movies on TV.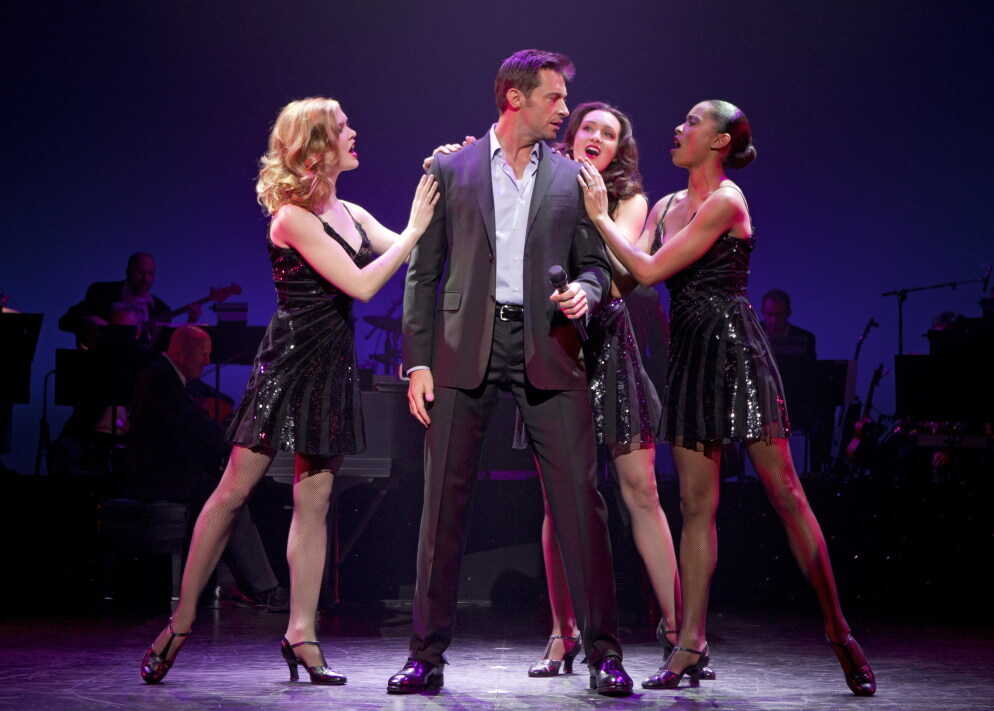 "Saturday afternoons, I used to just sit down and I just would love ... all those great movie musicals," he says. "I thought they were brilliant and ingenious. That's probably where the dreams began."
The show's director and choreographer, Warren Carlyle, says Jackman isn't faking it when he dances.
"He dances like Gene Kelly or Fred Astaire; he's in that kind of category," Carlyle says. "He's just like this great leading man who has rhythm and who can really, really move."
Jackman says he's been losing 3 or 4 pounds dancing every night.
"We started a week ago; already they've taken my pants in three times."
Jackman starts the show with "Oh, What a Beautiful Mornin'," from his breakout musical-theater role as the cowboy Curly in the 1998 revival of Oklahoma! at London's National Theatre. It was during the run of that production that he got a call to audition for the first X-Men movie. Jackman went in to read for the part between the Wednesday matinee and evening performances of Oklahoma! — in full cowboy regalia and a perm.
"So my agent rang me back and said, 'They thought it was an interesting take. Uh, maybe next time you audition, you could lose the Southern drawl, a little less cowboy and maybe the perm. Or at least put a hat on your head, or something!' "
The rest, as they say, is history. Still, Jackman's first love is the stage. In the midst of his meteoric movie career, he took time out to play the flamboyant Allen in the Broadway production of The Boy from Oz. Jackman says his agent was OK with the decision.
"But there were many others who were saying, 'Hugh, this is not the time to go to Broadway for 18 months to play Peter Allen in sequins.' "
It turned out to be a perfectly good career move — and in the second act of Back on Broadway, he performs several of Peter Allen's songs, including the tender ballad "Tenterfield Saddler."
Some of the show's most intimate moments feature stories about Jackman's wife, Deb, and their two children. So naturally, Jackman invited his kids to see his new show, even though they can be his toughest critics.
"I said, 'Guys, I want you to be really honest. My feelings won't be hurt. You can say whatever, but I just want to know if you like the show or not. Do you enjoy it?'
"And my son goes, 'You know, Dad, I really like it.' I said, 'Oh, great.'
"And my daughter said, 'I find it a little boring.' "
Jackman laughs heartily.
"I said, 'Fair enough. You're 6; I get it!' "
Pans from the short set or not, Jackman says he has been having the time of his life.
"I sometimes pinch myself that I'm getting the chance — it's like ultimate karaoke."