Thanksgiving From America's Melting Pot
"This is how the Americans do it," my grandmother would say as she laid the marshmallow-covered sweet potatoes on the table.
Sittau, which means "grandma" in Arabic, was the first of her six brothers and sisters to be born in the U.S. rather than Syria, the family's first "real" American. Yet, Americans were still "other" to her, an elusive tribe she aspired to join, whose ways were to be carefully studied and appropriated.
Enter the Thanksgiving feast. Because she only cooked "American" once a year, it wasn't much to look forward to. Those potatoes were mushy and cloying. The turkey was like carpet fiber. And the only one who really enjoyed it was my other grandmother, who was of Irish descent and therefore used to eating overcooked poultry. But the meal was Sittau's declaration that she belonged, and an instruction to her children on how to become unimpeachable patriots.
And Sittau wasn't alone. Starting in the late 19th century, Thanksgiving was seen as a way to "Americanize" new immigrants. Schoolchildren of all backgrounds were kitted out in pilgrim hats, and sent home with glorified tales of the Pilgrim Fathers' heroism and instructions to preach the gospel of turkey and cranberry dressing, says food historian Sandra Oliver, co-author of Giving Thanks, a history of the holiday. "It was a way of teaching people how to be American," she said.
About The Author
And then the most American thing of all happened: The meal was changed and adapted. As it spread south, it picked up cornbread and sweet potatoes. As it went west, it took on seasonal ingredients such as artichokes, and regional flavors such as masa and chilies. And when it reached tables like Sittau's, its staples took their place alongside the things we already knew as celebration foods — the neatly cut carrot-and-celery crudites (boring!) sidling up to kibbeh nayeh (Middle Eastern lamb tartare), the pumpkin pie sitting primly next to diamond-shaped pieces of baklava.
Americans come from more than 125 countries, according to Census figures, which makes for exponential variations on the holiday meal. Turkey replaced the usual holiday lamb-on-a-spit for chef Michael Psilakis, whose parents came from Greece, but it wasn't Thanksgiving without lasagna-like pastitsio. Chef David Chang, who serves Asian-inflected American food at his Momofuku restaurants in New York, remembers mashed potatoes and mounds of sweet-spicy Korean short ribs.
And television chef and cookbook author Marcela Valladolid, who grew up commuting between Tijuana and San Diego, has integrated her holiday feast in the same way she has integrated her cultural identities. Rather than offering turkey alongside tamales, she glazes the bird with chili-spiked apricot, roasts her Brussels sprouts in morilla cream and adds chipotle to the squash. Ditto for chef Floyd Cardoz, who brings the flavors of his native India to the table with a chili-and-black-pepper rubbed turkey, cornbread stuffing tossed with the pork sausage, vinegar, pepper, cloves and cinnamon that define the cooking he knew from summers in Goa.
The most literal expression of Thanksgiving's embrace of all of the country's traditions, though, has to be in Hawaii. In the islands, where I lived for several years, every party is a potluck, with Japanese ramen, Korean kalbi, Portuguese pao doce, and spam musubi (which claims no specific heritage) all holding court on the same table. But on Thanksgiving, this potluck often starts in an imu, a communal underground oven.
One year I rubbed my turkey with za'atar spice and pomegranate molasses, and drove it over the mountains to a community center, where it was lowered onto the hot rocks along with everyone else's turkey: Next to mine were turkeys stuffed with Chinese lap cheong sausage, with Japanese mochi rice and salted plums; one was dressed with a vinegar-garlic marinade like a Portuguese vinha d'alhos. In the imu, my turkey took on the flavors of the smoke and of the ti leaves and picked up the soy, salt and porky flavors all around it, until I couldn't tell which flavors I'd brought and which had come from the turkeys around mine.
Sittau used her Thanksgiving turkey and sweet potatoes to claim her place as an American. Decades later, my brothers and I do the opposite: The turkey we take for granted, but the kibbeh and grape leaves, the string cheese and baklava — these are items we wheel out only a couple of times a year. And only when we're together. They are our way of remembering how our journey to America began, and of giving thanks to the family that brought us here.
Recipes With This Story
Pumpkin Kibbeh
This vegetarian version of stuffed kibbeh is traditionally eaten at Lent, but the pumpkin makes it perfect for Thanksgiving. This recipe is adapted from Emeril Lagasse at foodnetwork.com.
Makes 12 balls
For The Filling
1/3 cup chopped onion
1 tablespoon olive oil
1/2 cup cooked chickpeas (canned is fine)
1/4 cup chopped walnuts
1/3 cup cooked and chopped spinach (frozen is fine, thawed and squeezed until well drained)
Salt and pepper
2 1/2 teaspoons lemon juice
For The Pumpkin Shell
1 cup pumpkin puree, canned or fresh
2 cups fine-grain bulgur (No. 1, or fine, grind), unwashed
1/3 cup all-purpose flour
2 tablespoons grated onion
2 teaspoons salt
1 teaspoon black pepper
1/2 teaspoon ground allspice
1/4 teaspoon cinnamon
Vegetable oil for frying
Chopped parsley and quartered lemons
To make the filling, saute the onions in the olive oil until just soft, about 5 minutes. Add the chickpeas, walnuts, spinach, salt, pepper and lemon juice. Remove from the heat and set aside.
To make the pumpkin shell, combine the pumpkin, bulgur, flour, onion and seasonings, and mix well. Set aside for 10 minutes to let the bulgur soften. If the dough appears dry, add a few drops of water and knead well.
Here's the tricky part: To shape the kibbeh, knead about 2 tablespoons of the pumpkin mixture until it holds together. Keeping your hands moist, form a smooth football-shaped oval. Stick your thumb into one end and turn the ball between your thumb and forefinger to create space inside for filling. Fill the space with 2 teaspoons of filling. Pinch the end of the football closed, and gently roll to reshape if necessary. Repeat until all the dough and filling is used.
Using a deep saute pan, add enough vegetable oil to come no more than 1/3 up the sides. Heat until a deep fat fry thermometer registers 375 degrees. Using a tablespoon, carefully slide the balls into the oil, three or four at a time. Don't crowd them. Fry for 2 minutes, or until golden brown. Drain on paper towels. Repeat in batches until all are fried.
These freeze beautifully. To eat, defrost, microwave for about 30 seconds to heat through, then crisp them in a 350-degree oven for about 10 minutes.
Kibbeh Nayeh
The delicate flavor of this Middle Eastern tartare telegraphs "special occasion." Any leftovers (which are unlikely) can be spiked with dried mint leaves, shaped into patties and pan-fried. This recipe is adapted from A Taste of Syria by my relatives Virginia Jerro Gerbino and Philip M. Kayal (Second Edition 2009).
Makes 12 appetizer servings
1 pound very lean ground lamb, preferably from the leg
1/2 teaspoon kosher salt
3/4 cup fine bulgur wheat (No. 1, or fine, grind)
1 medium yellow onion, peeled and grated
In a large bowl, add the salt to the meat and mix well with your hands. Place the wheat in a second bowl, cover with cold water, and immediately drain well. Refrigerate both for 30 minutes.
After 30 minutes, add a little more than half the wheat to the meat and knead gently, wetting your hands occasionally with cold water to moisten the mixture. Add about half the onion and knead again. Taste the mixture. Continue to add wheat and onion until the texture is firm but not stiff and until the taste is to your liking. Adjust salt, if needed.
Remove the mixture from the bowl and flatten onto a platter, patting gently with moist hands to smooth the meat. Use the back of a fork to make decorative lines across the meat. Garnish with parsley. Serve with pita bread, onion slices and olive oil.
Mexican Chocolate Pecan Pie
Marcela Valladolid, host of the Food Network's Mexican Made Easy, merges her American and Mexican identities in life and in the kitchen. This Mexican take on an American classic makes a great Thanksgiving dessert. Adapted from her book Mexican Made Easy (Clarkson Potter 2011).
Jennifer Martine/Clarkson Potter
Makes 10 servings
1 1/2 cups graham or Maria cookie crumbs (about 6 1/2 ounces)
7 tablespoons butter, melted
2 tablespoons plus 1/2 cup (packed) golden brown sugar
3/4 cup (1 1/2 sticks) unsalted butter
6 tablespoons light corn syrup
3 cups pecan halves (about 10 ounces)
1/4 cup Mexican crema, or its French equivalent, creme fraiche
1 disk Ibarra Mexican chocolate (3.1 ounces), finely minced
Blend cookie crumbs, butter and 2 tablespoons brown sugar in food processor until crumbs are moist. Press crumb mixture onto bottom and up sides of 9-inch-diameter glass pie dish that has been sprayed with cooking spray. Cover crust with wax paper and freeze while preparing filling. (Can be made 1 week ahead. Keep frozen.)
Preheat oven to 350 degrees. Combine butter, remaining 1/2 cup brown sugar and corn syrup in heavy medium saucepan. Bring to boil, stirring often. Boil 1 minute. Stir in pecans and crema. Boil until mixture thickens slightly, about 3 minutes. Remove from heat. Add chocolate. Stir until chocolate melts and mixture is well blended.
Pour hot filling into crust. Using a spoon, evenly distribute the nuts. Bake until filling bubbles, about 10 minutes. Transfer pie to a rack and cool completely before serving.
Portuguese Sausage Stuffing
Hawaii's Portuguese sausage is slightly sweeter and softer than its smoked-pork ancestor, Linguica, but either will add a kick to your stuffing. If you really want to go "local," substitute Portuguese pao doce (or challah) for the white bread. This recipe is from Hawaii food consultant Joan Namkoong.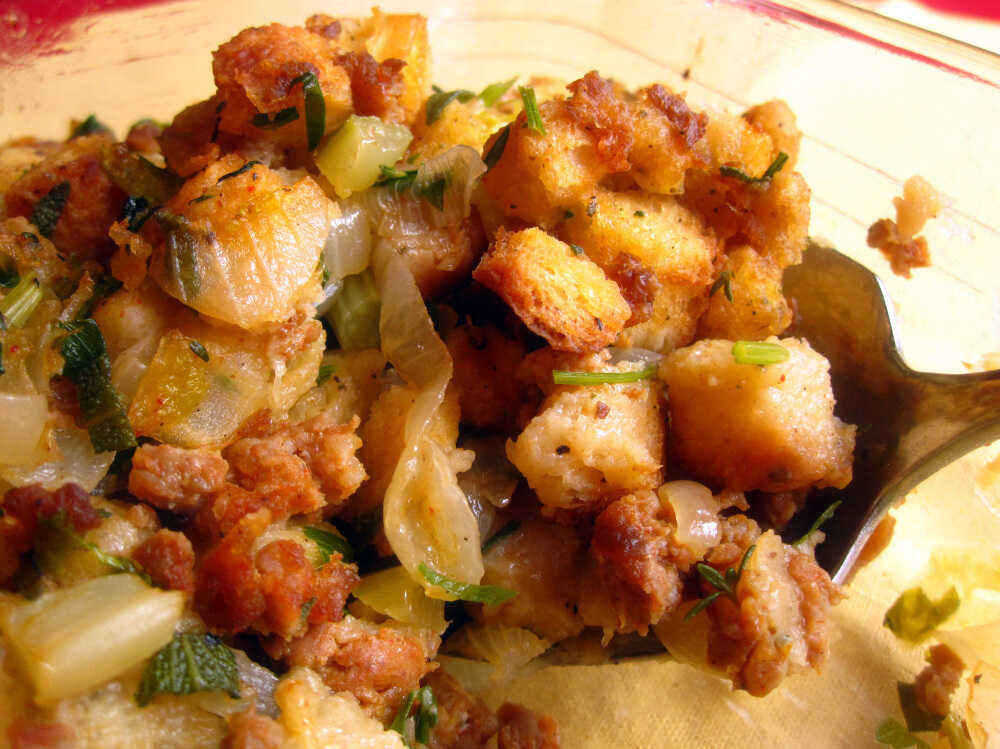 Makes enough to stuff a 12- to 15-pound turkey
1 pound Hawaiian Portuguese sausage, Linguica or fresh chorizo
1/4 cup butter
2 onions, finely chopped
3 ribs celery, finely chopped
2 teaspoons chopped fresh thyme
2 teaspoons chopped fresh sage
2 tablespoons chopped fresh parsley
8 cups cubes of day-old bread
2 cups turkey or chicken stock
Salt and freshly ground black pepper
Heat a large skillet over medium high heat. Remove the sausage from its casing and crumble into the skillet. Cook the sausage, breaking it into small pieces. When the sausage is browned and cooked, transfer it to a plate. Drain the oil.
In the same skillet, melt the butter. Add the onions and saute until golden. Add the celery and cook for 5 minutes. Add the thyme, sage and parsley and mix well. Return the sausage to the skillet, add the bread and toss together. Add enough stock to moisten the mixture. Season to taste with salt and pepper. Use to stuff a turkey or bake in a casserole at 350 degrees for 30 minutes.
Potato-And-Pea-Stuffed Samosas
Floyd Cardoz, executive chef at New York's North End Grill, brings Indian flavors to his Thanksgiving meal, but there's also a lot of "heavy snacking" beforehand, he says. The potato-stuffed packets called samosas are always high on the list. This recipe is adapted from The Joy of Cooking by Irma S. Rombauer (Scribner, 1997). Wonton wrappers can be found in Asian markets. You really need a deep fryer for samosas.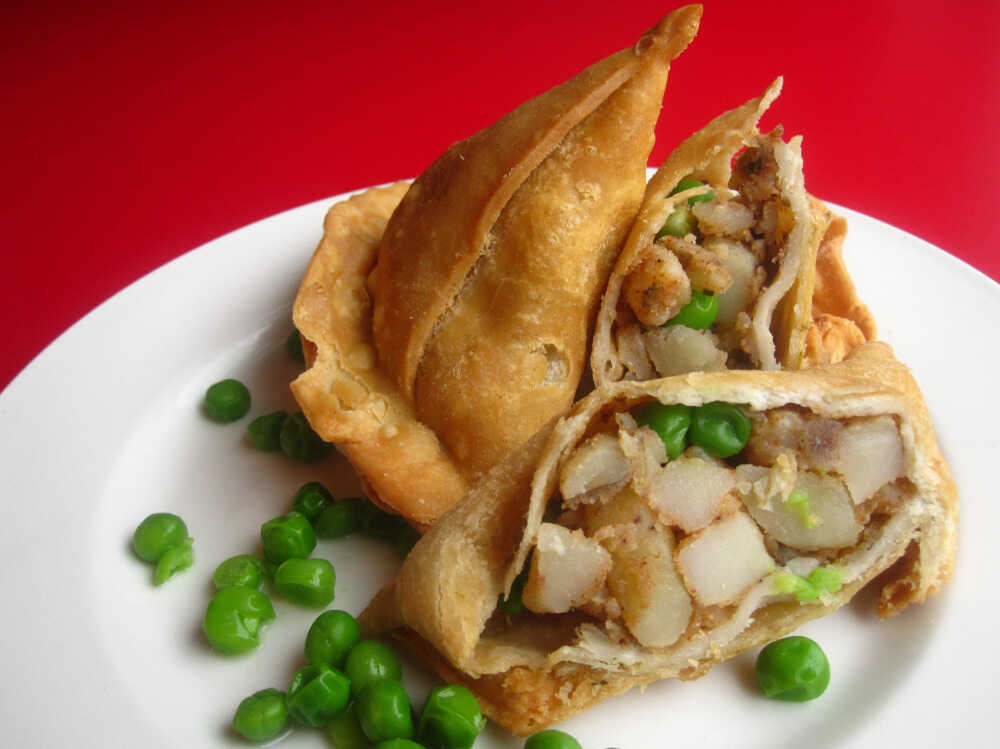 Makes about 30 samosas

1 1/2 pounds white or red potatoes
1 tablespoon canola or vegetable oil
1 teaspoon brown mustard seeds
1 teaspoon cumin seeds
1/2 cup chopped onion
3 green Thai chilies, minced
1 cup frozen peas, thawed
1/4 cup chopped fresh cilantro
2 tablespoons fresh squeezed lemon juice
1 1/4 teaspoons kosher salt
30 small wonton wrappers
Peanut oil
Wash and boil the potatoes until tender, about 25 minutes. Drain, remove the skins and chop roughly.
In a medium skillet over high heat, heat the oil. Add mustard seeds. When they pop, add the cumin seeds and stir briefly (be careful not to let the seeds burn). Add the onion and the chili and cook until soft, about one minute.
Add the oil mixture, called phodni, to the potatoes and mix well. Add the peas, cilantro, lemon juice and salt and mix well again.
Place 1 tablespoon of potato mixture in the center of a wonton wrapper. Fold the wrapper over, enclosing the filling, to make a half-moon. Lay the wonton on the counter or a cutting board and seal the edges by pressing them with a fork. Repeat until all the filling is used.
Fill the fryer with oil and heat to high. Fry the samosas in batches, draining on paper towels as they come out. Serve hot.