Monti Lends Experience, Clout To Italian Leadership
Monti Lends Experience, Clout To Italian Leadership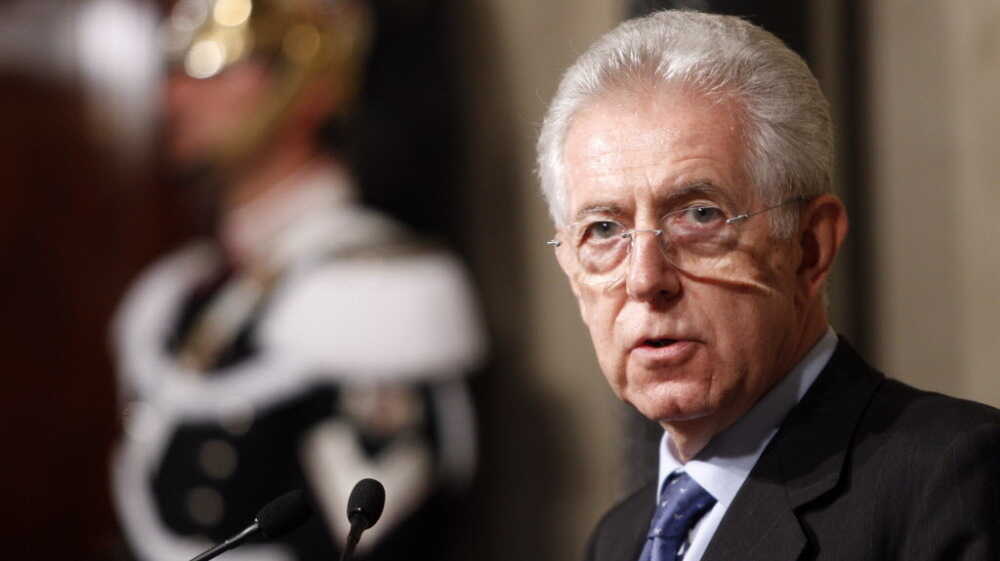 In a country where politicians shield themselves behind dark-tinted windows in sleek limousines, Roman paparazzi are having a field day with Italy's new premier-designate, Mario Monti, who actually walks down the street, without bodyguards.
But the longest sound bite reporters are likely to get from him is: "Isn't it a splendid day?"
Monti was chosen to replace the flamboyant Silvio Berlusconi, who was forced to step down over the country's worsening eurozone crisis.
A technocrat and a political outsider, Monti is likely to face opposition from both left and right as he tries to form a government in order to implement needed reforms and put the debt-burdened country back on track.
The austere and dignified Monti is the antithesis of the youth-obsessed Berlusconi, says James Walston, professor of international relations at Rome's American University.
"[Monti] will certainly not make dirty jokes in public, and probably not in private either. He is somebody who acts rather than talks and is based firmly on merit, on what he has done. So he is completely, in form and substance, the opposite [of Berlusconi]," Walston says.
The 68-year-old Monti was born near Milan, the son of a bank manager. As a teenager, at the peak of the Cold War, his father took him to visit the United States as well as the Soviet Union — to broaden his horizons.
He studied economics and did his post-graduate studies at Yale with the Nobel Prize-winning economist James Tobin.
As EU commissioner he enforced antitrust regulations, and was called "Super Mario."
He blocked General Electric's merger with rival Honeywell in 2001, and he sent chills through the corporate world in 2004 when he announced a record $683 million antitrust fine on Bill Gates' software giant, ordering it also to reveal its Windows software secrets.
"The commission has taken a decision today which finds that Microsoft has abused its virtual monopoly power over the PC desktop in Europe," Monti said in announcing the decision.
Competition is one of Monti's key economic principles, and one of his major tasks as head of government will be to make Italy competitive again. Currently, it ranks 87th on the World Bank's "ease of doing business" index — below Belarus and Mongolia.
In Berlin last week, Monti said, "By introducing more competition, we will introduce more merit, and less of a role for nepotism, cronyism and corruption."
Federico Rampini, journalist at the daily La Repubblica, explains Monti's vision.
"His idea of a social market economy is very near the German model. You do have competition, you have capitalism. But at the same time, the government is very active in the economy, you have a generous welfare state," Rampini says.
In his first public remarks Sunday night as premier-designate, Monti stressed both growth and social equity, two concepts that have been left out of the budget-cutting policies imposed by international lenders on countries being bailed out.
Analysts say that Monti will hold his own with the eurocrats, and especially with German Chancellor Angela Merkel, who has insisted on austerity measures for debt-burdened countries.
Rampini says Monti will have more clout than most European prime ministers.
"He is at home in Brussels, in Paris, in Frankfurt. He really has a tremendous network of relationships. So he really starts with a tremendous capital of credibility and reputation," Rampini says.
And, after the scandal-ridden Berlusconi years, it is precisely respect and credibility that the country needs most.