Portuguese Sausage Stuffing
Hawaii's Portuguese sausage is slightly sweeter and softer than its smoked-pork ancestor, Linguica, but either will add a kick to your stuffing. If you really want to go "local," substitute Portuguese pao doce (or challah) for the white bread. This recipe is from Hawaii food consultant Joan Namkoong.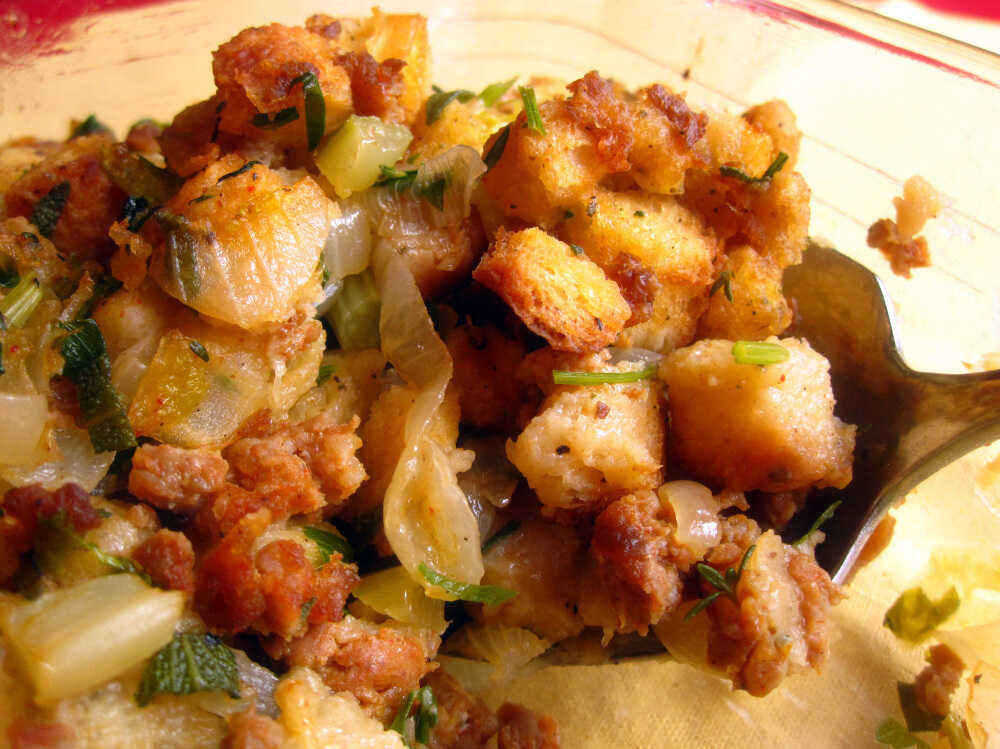 Makes enough to stuff a 12- to 15-pound turkey
1 pound Hawaiian Portuguese sausage, Linguica or fresh chorizo
1/4 cup butter
2 onions, finely chopped
3 ribs celery, finely chopped
2 teaspoons chopped fresh thyme
2 teaspoons chopped fresh sage
2 tablespoons chopped fresh parsley
8 cups cubes of day-old bread
2 cups turkey or chicken stock
Salt and freshly ground black pepper
Heat a large skillet over medium high heat. Remove the sausage from its casing and crumble into the skillet. Cook the sausage, breaking it into small pieces. When the sausage is browned and cooked, transfer it to a plate. Drain the oil.
In the same skillet, melt the butter. Add the onions and saute until golden. Add the celery and cook for 5 minutes. Add the thyme, sage and parsley and mix well. Return the sausage to the skillet, add the bread and toss together. Add enough stock to moisten the mixture. Season to taste with salt and pepper. Use to stuff a turkey or bake in a casserole at 350 degrees for 30 minutes.