By Attacking The Media, Gingrich Built A Following
By Attacking The Media, Gingrich Built A Following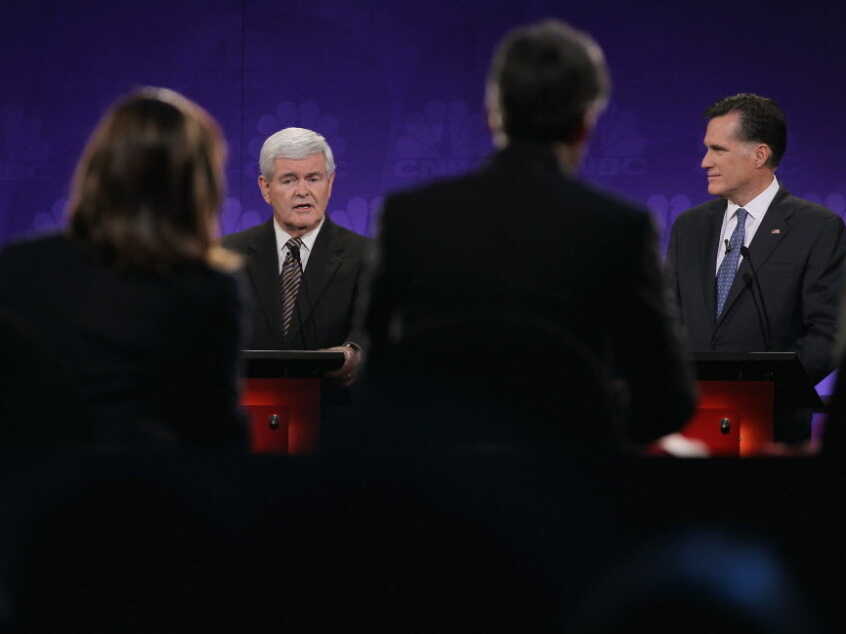 Former House Speaker Newt Gingrich was once written off as a footnote in the 2012 Republican presidential primaries. But, for the moment, polls now show him among the leaders.
Gingrich may have found his voice, in part, by turning the tables on the political press. Republicans have been doing this for decades — quite explicitly, at least since Richard Nixon and Spiro Agnew in 1968.
In Gingrich's case, it was a strategy masquerading as a tactic — one that he adopted over the summer at a time of desperation.
"The first time I think he did it was at the Iowa Straw Poll debate — and it got a huge roar," says former Gingrich aide Rich Galen.
Chris Wallace of the Fox News Channel walked right into Gingrich's plan.
"They said that you were undisciplined in campaigning and fundraising, and at last report, you're a million dollars in debt. How do you respond to people who say that your campaign has been a mess so far?" Wallace asked.
Gingrich responded: "Well, let me say, first of all, Chris, that I took seriously [Fox News anchor] Bret [Baier]'s injunction to put aside the talking points, and I wish you would put aside the gotcha questions." The crowd applauded wildly.
Soon enough, Gingrich took another swipe: "I'd love to see the rest of tonight's debate asking us about what we would do to lead an America whose president has failed to lead, instead of playing Mickey Mouse games." The crowd applauded again.
"That is probably the single most important reason that he has been able to restart his campaign," says Galen, who was a top communications and message official for Gingrich in the 1990s and now writes an online column at mullings.com.
"He was able to get the crowd behind him in the arena, get the crowd behind him in living rooms around the country — because you can't go very far wrong attacking the media in front of a Republican audience, whether it's true or not," Galen says.
Sure enough, donors sent checks that revived his campaign.
And so, during an MSNBC/Politico debate in September, Gingrich gave Politico Editor-in-Chief John Harris another dose of backtalk.
"Speaker Gingrich, it sounds like we have a genuine philosophical disagreement," Harris said. He was trying to draw him into a dispute between former Massachusetts Gov. Mitt Romney and Texas Gov. Rick Perry on health care reform.
"In Massachusetts, a mandate, almost no one uninsured — in Texas, a more limited approach, about a quarter uninsured. Who's got the better end of this argument?" Harris asked.
Gingrich refused to play. "Well, I'm frankly not interested in your effort to get Republicans fighting each other," he said, to laughter and applause from the crowd.
Shot at media? Check. Deflecting the pointed question? Yup. Disarming his rivals with praise? Sure thing. Answering the broader question that he would have preferred? Got that, too.
Then Gingrich, a former professor of history, lectured Harris once again.
"I hope all of my friends up here are going to repudiate every effort of the news media to get Republicans to fight each other to protect Barack Obama — who deserves to be defeated — and all of us are committed as a team — whoever the nominee is — we are for defeating Barack Obama," Gingrich said. The crowd ate it up again.
Never mind that such debates are worthwhile precisely because they can help primary voters make distinctions among various candidates.
Harris says he didn't make much of the exchange in the moment. "When I got off the stage people were like, 'Whoa — you and Gingrich really got into it.' I do think there is something about the setting that makes things seem more dramatic than maybe they feel," he says.
The fireworks, of course, are the point of the exercise.
"That's a pretty good assigned role for somebody who at the time he started this was at the back of the pack," says Harris. "I'm not sure that it's sufficient if he wants to remain at the front of the pack and wants to emerge — as he clearly does — as the chief alternative to Mitt Romney."
By his own admission, Gingrich was a rhetorical bomb-thrower in his early pursuit of power as a House Republican two decades ago.
Now he wants to be seen as the grown-up in the room — a big thinker — and so last week, in a debate sponsored by CNBC, Gingrich once again cast about for a familiar target — in this case moderator Maria Bartiromo.
"I just want to point out my colleagues have done a terrific job of answering an absurd question," he said. "It's sad that the news media doesn't report accurately how the economy works."
So Gingrich has all the moves of the fourth-estate two-step down.
Now, Galen says, Gingrich needs to convince Republican voters they like the answers they hear — and not just the fancy footwork they see.