Mrs. Stamberg's Relish Goes To Washington
Mrs. Stamberg's Relish Goes To Washington
All families have Thanksgiving traditions, and longtime NPR listeners know that Susan Stamberg is always willing to divulge her own. Every year since 1972, Stamberg has shared her mother-in-law's now famous cranberry relish recipe on the radio. Stamberg says the relish — a shocking pink, like Pepto-Bismol — sounds terrible, but tastes terrific.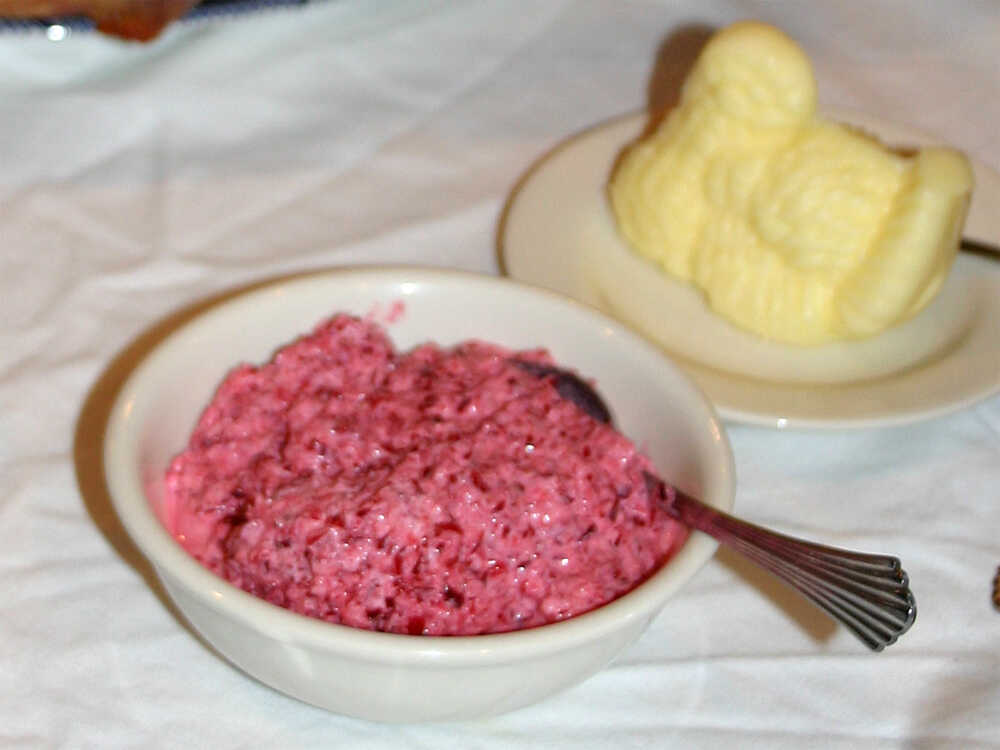 This year, she's brought her recipe to two chefs who have worked in the kitchen of a well-known address — 1600 Pennsylvania Ave. In October, two former White House executive chefs talked turkey, first families, state dinners and more at the National Archives. Roland Mesnier and Frank Ruta joined the kitchen staff in 1979, during the Carter administration. Mesnier, a pastry chef, baked for the families of Presidents Carter, Reagan, George H.W. Bush, Clinton and George W. Bush, while Ruta cooked for the Carters, Reagans and the first Bushes.
Ruta and Mesnier had staying power in the White House kitchen, but not all chefs have been so lucky. One chef, Mesnier recalls, shortened his stay when he served the first family's Thanksgiving turkey hastily sliced and arranged on a platter.
"The platter looked like he had taken the turkey and stuck a stick of dynamite in the turkey's behind, and whatever came out, [he] put it on the platter," says Mesnier. Needless to say, first lady Nancy Reagan was not pleased.
Good thing Mesnier had prepared a delicious dessert that he was sure would save the day. "This is where the pastry chef comes in — to clean up after the chef," Mesnier says with a laugh. It was a pumpkin ice cream dessert ... that didn't go over quite as well as he had hoped. "Mrs. Reagan told me to never do [it] again," he says.
Perhaps Mesnier would have had better luck if he had served Mama Stamberg's cranberry relish. With cranberries, sour cream, onions and horseradish — (you can find the full recipe below) — Ruta says, the recipe reminds him of one infamous White House dish: the Carter cheddar cheese ring.
"We had a cheddar cheese ring that Mrs. Carter would serve as a mainstay for hors d'oeuvre parties," Ruta recalls. Grated cheddar cheese, mayonnaise and pimentos were served in the shape of a ring, with strawberry preserves at its center. The first lady insisted on serving it, but the cheese ring was never a hit.
"I think we made one and kept bringing it out, kind of like the fruitcake," jokes Mesnier. "We froze it, brought it out, and I bet [if] you go back to the White House freezer today, you would still find [it]," he laughs.
The White House chefs were privy to plenty of the first family food peculiarities. Richard Nixon's favorite lunch was cottage cheese and ketchup. And Ruta claims that slim Nancy Reagan actually ate three square meals a day — including a proper, three course lunch — and she never skipped dessert. Nixon's cottage cheese and Nancy Reagan's desserts never came out of taxpayer dollars, though. The first families pay for their own food — and the process requires top security.
The food is picked up in an unmarked truck, Mesnier explains. Nobody knows from where. If food arrives at the White House in any other way — gifts of fresh strawberries, even Girl Scout Samoas — it has to be destroyed. Sometimes it's a real shame.
Relish The Memories: Past Cranberry Coverage
In 1987, President Reagan held a state dinner for Soviet President Mikhail Gorbachev. A package arrived a few days after Gorbachev had returned home. On a Friday afternoon, Mesnier was in the White House kitchen, talking with Executive Chef Hans Raffert when the head usher came in with a big brown box.
"He said to both of us, 'I want you to destroy what is inside the box. That box came straight from the Kremlin,'" Mesnier remembers. "So we opened the box and we found two tins inside, each filled with seven pounds of caviar. I looked at the chef and I said, 'Hans, I don't know about you, but I'm willing to die for that.'"
When they aren't destroying (or consuming) suspicious packages, the chefs at the White House are tirelessly coming up with new ideas to keep the first family's table fresh. In order to figure out what the family likes, they use a simple trick. Were their plates empty? Did they ask for seconds? If so, the chefs knew they had found a favorite.
Back in the Stamberg Thanksgiving kitchen, there is the occasional pink smudge on plates coming back to the kitchen but the undaunted Stamberg says she wouldn't stop making it. After all, it's tradition.
---
Mama Stamberg's Cranberry Relish
The Recipe's Origins
As Susan Stamberg has noted, her mother-in-law got the recipe from a 1959 New York Times clipping of Craig Claiborne's recipe for cranberry relish. In 1993, Claiborne told Stamberg: "Susan, I am simply delighted. We have gotten more mileage, you and I, out of that recipe than almost anything I've printed."
This relish has a tangy taste that cuts through and perks up the turkey and gravy. It's also good on next-day turkey sandwiches and with roast beef.
Makes 1 1/2 pints
Ingredients
2 cups whole raw cranberries, washed
1 small onion
3/4 cup sour cream
1/2 cup sugar
2 tablespoons horseradish from a jar ("red is a bit milder than white")
Instructions
Grind the raw berries and onion together. ("I use an old-fashioned meat grinder," Stamberg says. "I'm sure there's a setting on the food processor that will give you a chunky grind, not a puree.")
Add everything else and mix.
Put in a plastic container and freeze.
Early Thanksgiving morning, move it from freezer to refrigerator compartment to thaw. ("It should still have some little icy slivers left.")
The relish will be thick, creamy and shocking pink. ("OK, Pepto-Bismol pink.")