Your Letters: Linda Wertheimer's Fruitcake Recipe
Your Letters: Linda Wertheimer's Fruitcake Recipe
Among the letters we received this week, many listeners shared their love of autumn in response to guest host Linda Wertheimer's essay on the simple joys of the season.
"I connected immediately with Linda's essay on autumn. Her appreciation for a singular maple leaf, the claiming of this ideal time of year between Halloween and Thanksgiving," wrote Michael Ehl of Issaquah, Wash.
That essay included one of Linda's childhood memories of the season — the house filled with the scent of bourbon as her mom made fruitcakes for her dad's customers at his neighborhood grocery store.
That prompted Gary Cooke of Seattle to write, "As a fan of that much-maligned food group, the fruitcake, I wish you would share the recipe. ... All day today, I've been trying to imagine the aroma of lemons and bourbon rising from a light golden cake."
Imagine no more; here's the recipe. It originally made 40 fruitcakes, but Linda's mother slimmed it down before she passed it on.
Lemon Fruitcake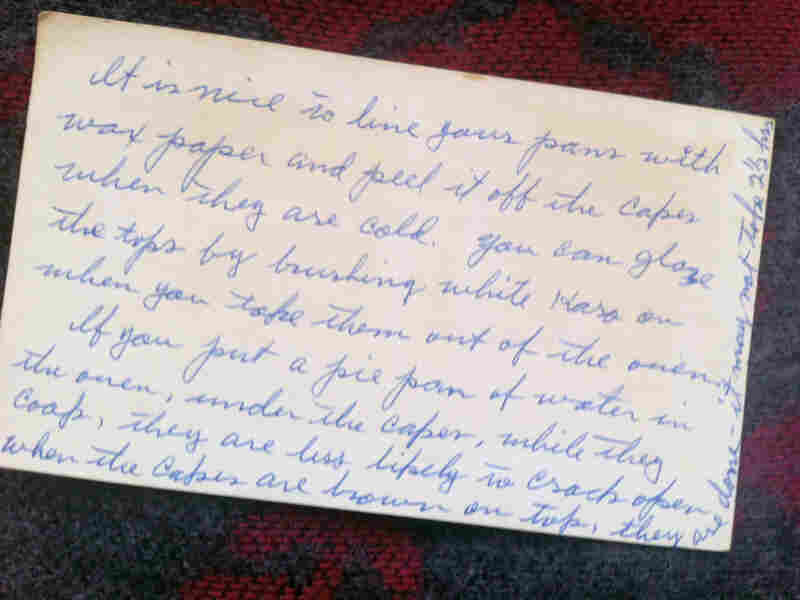 One of Linda Wertheimer's childhood memories from this time of year is the baking of her mother's lemon fruitcake.
Makes 3 cakes
1 pound brown sugar
1 pound butter
6 eggs
2 ounces lemon extract
4 cups flour
1/2 cup of bourbon, plus extra for finishing the cakes
1/2 pound candied cherries, halved
1/2 pound candied pineapples, chopped into 1/2-inch cubes
1 pound chopped pecans
2 teaspoons baking powder
A pinch of salt
White, or light, Karo syrup for glazing
Soak candied fruits overnight in 1/2 cup of bourbon.
Cream brown sugar, butter, eggs, lemon extract and salt. While stirring, add flour, fruit and finally nuts.
Line three loaf pans with wax or parchment paper, and split mixture evenly among the three.
Bake at 250 degrees for 2 1/2 hours or when they have just begun to pull away from the sides of the pan and the tops are lightly browned.
To glaze, you can brush the Karo syrup on top after taking cakes out of the oven.
When cakes are cool, brush tops and sides with bourbon. Wrap cakes in a bourbon-soaked cheesecloth. Wrap it all in heavy aluminum foil and seal well. Store in a cool, dry location. A basement or garage works well, but if you'd rather not store them there, you can always put them in the freezer (Defrost them in the fridge overnight before you serve them). You can brush the cake occasionally with bourbon to add moisture.