First Listen: 'Follies (New Broadway Cast Recording)'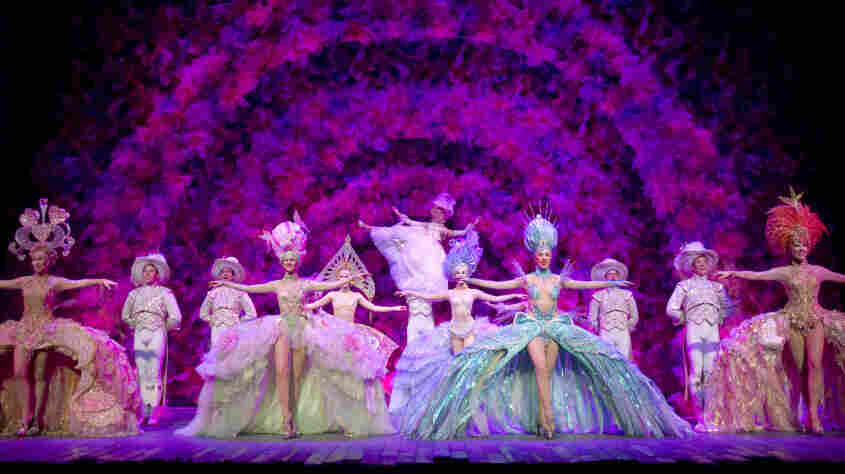 Disc 1
"Prologue"
"Overture"
"Welcome to our first - and last - reunion..."
"Beautiful Girls"
"You came; you're really here..."
"Don't Look at Me"
"I never get to talk..."
"Waiting for the Girls Upstairs"
"Rain on the Roof"
"Ah, Paris!"
"Broadway Baby"
"The Road You Didn't Take"
"Bargains, Buddy..."
"In Buddy's Eyes"
"Let's dish. Tell me everything..."
"Who's That Woman?"
Audio for this feature is no longer available.
Disc 2
"I had a Follies number once..."
"I'm Still Here"
"Too Many Mornings"
"The Right Girl"
"Men are so sweet..."
"One More Kiss"
"According to statistics..."
"Could I Leave You?"
"You'll make a good wife, Phyl..."
"Loveland"
"You're Gonna Love Tomorrow / Love Will See Us Through"
"The God-Why-Don't-You-Love-Me Blues"
"Losing My Mind"
"The Story of Lucy and Jessie"
"Live, Laugh, Love"
"Chaos"
"End of Show"
It's tough to untangle the sonic appeal of Follies — the landmark 1971 musical that stirs Stephen Sondheim fans to a frenzy each time it gets revived — from the show's visual splendors.
Showgirls in Ziegfeld-style headdresses and skirts the width of city buses; a razzle-dazzle tap number that pairs 10 graying hoofers, gathered for a reunion decades after their heyday, with the sequined ghosts of their younger selves; two bitterly squabbling couples, trying their best to figure out how their early promise went so sour. Add in a madly ambitious score, so bifurcated as to be nearly bipolar, that buttresses modern character songs with pastiche numbers in styles spanning 40 years — the experience of Follies has always been the sum of its parts and more.
So it's nice that the cast album for the current Broadway revival is packaged as lavishly as it is. There's 52 pages of booklet, with a critical essay and all of Sondheim's saw-toothed lyrics and even some of James Goldman's dialogue laid out among nearly two dozen vivid, deeply color-saturated production photographs by the eternal Joan Marcus. It'll conjure grateful memories among those who've seen Eric Schaeffer's handsome staging — either at Washington, D.C.'s Kennedy Center, where it was launched, or in the New York run that continues through Jan. 22, 2012.
And it'll please fans of the score, who were bitterly disappointed when the original 1971 cast album cut whole songs to squeeze the show onto a single disc. (Later recordings have been more comprehensive, but none, as musical-theater historian Steven Suskin argued earlier this fall, have ever satisfied fanatics.) Here, at full length and in a wonderfully lyrical reading led by the 82-year-old opera veteran Rosalind Elias, is the sentimental Viennese waltz "One More Kiss," omitted entirely from that first album. Here, too, is the oft-discarded trio that brings together the better-known set pieces "Broadway Baby," "Ah, Paris!" and "Rain on the Roof."
At two discs and almost 110 minutes, this album nicely captures the chewy opulence of the new production, for which the Kennedy Center provided conductor James Moore with an orchestra of 28 — an indulgence nearly unheard-of on Broadway today. The brass is clean and thrilling, the woodwinds warm and rueful, the strings lush and plucky by turns. All that happy noise means good things for big ensemble numbers, not least Act 2's "Loveland" and "You're Gonna Love Tomorrow" — to say nothing of Act 1's famous "Who's That Woman," which is probably as exciting as any song-and-dance showstopper can be without the electricity that comes from being in the room with a gaggle of aging divas flinging themselves gamely at flap-ball-changes.
The splendor of the visuals and the lusciousness of the sound are a frame for an idiosyncratic performance from top-billed star Bernadette Peters. Her voice has always been a singular thing, spun gold at the core but frayed around the edges, and the vulnerability at the heart of her best characterizations grows in part from the way she sings around her limitations. Onstage, the alchemy can be powerful: Her take on Follies' lost, lovesick Sally is built around a delusional quality that, like Peters' vocal sound, is alternately seductive and jarring. It's a good bet she's emphasizing the worn-and-torn sound for the sake of her characterization, but it's a choice that makes for some difficult listening. (She does seem to have husbanded her resources for Sally's most stirring number, "Losing My Mind," which comes across affectingly, if not quite devastatingly.)
Happily, the album does well by the show's embarrassment of supporting riches. Elaine Paige, the London theater legend who created iconic roles in Evita and Cats, hip-checking her way knowingly through "I'm Still Here?" Yes, please, and ditto Jane Houdyshell's sexy, big-hearted "Broadway Baby."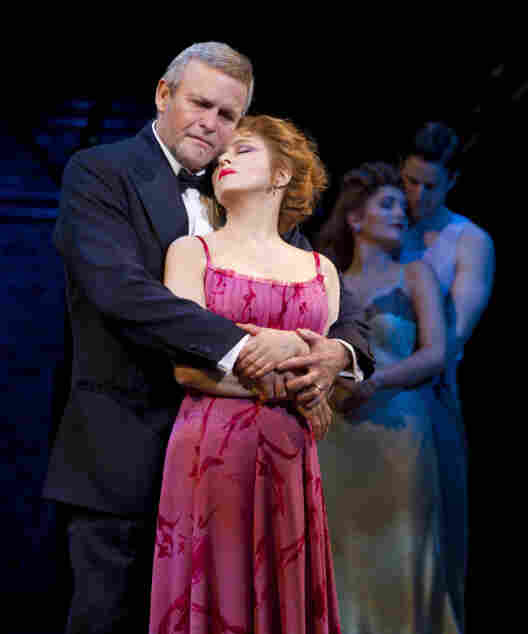 Ron Raines sounds fantastic as Sally's romantic fixation, Ben, his big baritone soaring over Jonathan Tunick's swoony orchestrations in "Too Many Mornings." Better yet is the clarity with which the recording captures the rage and sorrow of Danny Burstein's "The Right Girl" — and the antic vaudevillian anxiety of his "Buddy's Blues." (Buddy is Sally's reluctant philanderer of a husband, eternally second-best to Ben in her eyes, and Burstein's bleak, disappointed characterization is one of the production's great revelations.)
Likewise Jan Maxwell, whose "Could I Leave You" should come with a toxic-ingredients warning. As her ice-cold, sophisticated Phyllis finally lays all her cards on the table for Ben, the husband who's first molded her in his image and then grown bored with her polish, the studio performance builds fast from fake-sweet to taut and fierce to strip-the-paint wrathful, without losing the undertone of profound hurt that makes Maxwell so indelible onstage.
A definitive Follies? Partisans will bicker about whether Peters' Sally is a triumph or a missed opportunity; the greedy may complain that an already richly upholstered set didn't go further and include alternate songs added to or dropped from the show over the years.
The analytical might suggest that Follies can only really work on the stage, where personality and atmosphere and the thrill of showmanship and the inescapable ache of the passing moment all speak so eloquently to the show's themes. I think I'm in that last camp — but that said, I'm profoundly glad to have this document of a revival that's a milestone by anybody's measure.