Viking's Choice: 2011 In Metal And Outer Sound
As NPR Music begins year-end music list season, we normally save producer and Viking's Choice blogger Lars Gotrich's favorite furious blast beats, meditative drones, spiraling riffs and other such unclassifiable sounds for after Christmas. Not this time around. We wanted the noise and we wanted it now.
See The Full Lists
While no one sound or trend truly dominated metal or outer sound in 2011, Lars talks to All Songs Considered host Bob Boilen about a set of field recordings from a Swiss gondola, why strong songwriting always matters in metal, and how sometimes hues are more dramatic than blocks of sound in drone.
This episode of All Songs Considered includes highlights from a pair of Top 25 lists. Over on the All Songs blog, you'll find the complete lists of 2011's best metal and best outer sound albums.
Viking's Choice: 2011 In Metal And Outer Sound
The Psychic Paramount
If Yes learned to jam on the ecstatic eternal, if the Mahavishnu Orchestra wasn't so damn wanky all the time, if Tony Williams had discovered Can's Tago Mago, if Comets on Fire kept making blown-out blues records instead of hippie-dippie noodles (I like those, too), then maybe, just maybe, that would result in The Psychic Paramount's II. And as chaotic as all that sounds, II is all about controlling the pounding psychedelic cosmos, making it the best instrumental rock album of 2011.
II is available from No Quarter Records.
Ernst Karel
Song: Oberdorf—Weissenstein
from Swiss Mountain Transport Systems
How can you distinguish the quality of one untreated field recording against another? The equipment might be better or the sequence could be cohere into an abstract narrative (see Annea Lockwood's excellent A Sound Map of the Danube), but it all comes down to sound. And Ernst Karel has found incredible vibrations on these Swiss gondolas. Maybe it helps that I myself experienced these naturally droning and just plain-cool sounding machines when I was 16 — those clicks, whirs and distant moos from grazing cows have stuck with me for over a decade. In a post-Cagean world where everything is music (and it is), Swiss Mountain Transport Systems is musical escapism in a real-world environment.
Swiss Mountain Transport Systems is available from and/OAR, Experimedia and Aquarius Records.
Hammers Of Misfortune
Song: Grain
from 17th Street
Yes, I was bummed that Ludicra broke up this year, too, but if that gives guitarist John Cobbett more time to focus on Hammers of Misfortune, I'm willing to make the sacrifice. 17th Street was my most anticipated album of 2011 and it did not disappoint in the least. Cobbett loves the hard rock gods of old — Thin Lizzy, Queen, Iron Maiden — and what he takes away is an understanding that solid songwriting can run through his rigorous twists and turns. Just listen to "The Grain" and try not to get the chorus stuck in your head for days.
17th Street is available from Metal Blade Records.
Glenn Jones
Song: Of Its Own Kind
from The Wanting
I still haven't watched The Things That We Used to Do, an intimately-shot DVD featuring Jack Rose and Glenn Jones released last year. It sits on my shelf, awaiting a stiff drink and a good cry. It's hard not to write about any modern fingerstyle acoustic guitarist without pointing to the spirit and influence that Jack Rose had before he passed away in 2009. Rose's friend and collaborator Glenn Jones, who came out of the same '90s experimental rock scene, has actually studied the fingerstyle passed down from John Fahey much longer. The Wanting is Jones' fourth and most compelling solo album, a deceptively humble yet expressive collection of soul-searching six- and twelve-string meditations, downtrodden bottleneck blues and time-lost mountain banjo. While his Takoma school influences are apparent and acknowledged, The Wanting is wholly Jones' own.
The Wanting is available from Thrill Jockey Records.
Tombs
Song: Silent World
from Path of Totality
Tombs' second album obliterates everything in its path, gnashing blackened gutter-teeth in the shadowy depths of New York City, which is appropriate given its cryptic lunar-eclipse-referencing album title. It's hard to believe that a distinguished sound this massive and diverse — meshing Godflesh-like industrial poundage, primal grind, droning Joy Division misery, and wintry Darkthrone blast beats — comes from only three members, and that all comes together as something completely new.
Path of Totality is available from Relapse Records.
Witch Mountain
Song: Wing of the Lord
from South of Salem
First of all, South of Salem is the best-sounding metal record of 2011. Witch Mountain's first record in a decade was absolutely made for vinyl and the mastering favors a rich, round ring that demands a vintage pair of speakers. Nothing flashy here, just a great live-in-the-room sound. Second of all, few can match vocalist Uta Plotkin's raw soul, a gut-level howl that can just as easily turn into a sinister coo. Finally, those massive, rumbling doom riffs aren't just there to get your slow-motion headbang on (well, they're good for that, too), those riffs want to bore into your skull, crack open a beer and make you a lifer.
South of Salem is available at Bandcamp and will get a re-release by Profound Lore in 2012.
Julia Holter
Song: Celebration
from Tragedy
Talk about upsetting the year-end list apple cart: Tragedy only came to my attention but two weeks ago, but I haven't been able to leave its world since. And make no mistake, Julia Holter's Tragedy truly inhabits a world unlike any other. Those attuned to the modern Gothic atmospheres of Zola Jesus and Grouper will no doubt be drawn to Holter, but she comes more from the Meredith Monk spectrum of sonically-challenging ladies. Bits of musique-concrète, noise, drone, dreamy '80s 4AD medieval-pop and avant-classical are the touchstones for an album centered around Euripides' Hippolytus. But as academic as that all sounds, Tragedy pulls me into its emotional world as well, just as the curtain falls and the voices trail away at the finale.
Tragedy is available from Leaving Records and Boomkat.
YOB
Song: Prepare the Ground
from Atma
"Prepare the Ground. Awaken." The last words from Atma's lead-off track have been my mantra since August. And that's what YOB's second album since the band's 2009 return from a brief hiatus (and sixth overall) is: A metallic mantra based on repetition that reaches deep spiritual meditation. But outside that ritual is an enveloping doom metal record that sees Mike Scheidt and company stretching beyond the riff. There is a flowering soul here, perhaps best exemplified in Scott Kelly's (Neurosis) anguished guest appearances throughout. The riff is not the thing, the thing is the thing.
Nicholas Szczepanik
Song: Please Stop Loving Me
from Please Stop Loving Me
The first time I really listened to Please Stop Loving Me was after watching The Tree of Life. Coming out of the dark movie theater, its soft, organ-like drones hugging my ears, Nicholas Szczepanik's single 47-minute piece (excerpted here) actually put me into a bit of an existential funk. Like Terrence Malick's visual tone poem, Please Stop Loving Me acts like a series of tonal relationships pulled and stretched over each other, simultaneously existing out of time and in it. Its simplistic shifts are incredibly deceptive — just when you think you've figured the piece's thematic core, darkened (yet inviting) textures seep through. But Please Stop Loving Me is by no means dark, just hopeful and bleak in a way that understands emotions as hues rather than blocks of color. (Full disclosure: Szczepanik contributed a compilation track for my record label in 2008.)
Please Stop Loving Me is available at Mimaroglu Music Sales.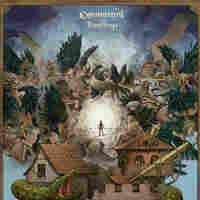 Cormorant
Song: The First Man
from Dwellings
Dwellings is an emotionally and musically complex progressive metal album which wrestles with our desperate and sometimes violent attempts to secure a place in history. It's a heady concept, for sure, and normally I'd eye such academic subject matter with a suspicion, but Cormorant instills an emotional weight into each story and each flawless riff. There's a surprisingly swinging rhythm section between blast beats and an attention to dynamic songwriting that often goes missing in the work of technically-adept metal bands that like to dismantle the genre.
Stream Dwellings in its entirety here and pre-order at Bandcamp.