50 Favorites: From Bright Eyes To Eric Church
This year was about changing perspectives. American string quartet Brooklyn Rider revealed a warmer Philip Glass and France's Ebène Quartet found a common thread from Mozart to Bruce Springsteen. Demdike Stare proved that dark techno can be breathtakingly beautiful and Conor Oberst reinvented himself as a rock star. The list of our 50 favorite records of 2011 continues with Bright Eyes, Brooklyn Rider and more artists from B to E.
Bright Eyes, 'The People's Key'
Bright Eyes' The People's Key opens with some big, crazy ideas: Bursting with UFOs and creation myths, they unfurl as quickly as guest narrator Denny Brewer can spout them. Singer Conor Oberst doesn't reach as far into left field as Brewer does, but Brewer's storytelling ambition proves a suitable foil for a band that aims high in all the best ways. Still only in his early 30s, Oberst has found a way to balance his wired and wiry indignation with sophisticated rock 'n' roll craftsmanship, while finding room for thoughtful examinations of where and how humanity fits in with the rest of the world. Along the way, he's become an unlikely showman and rock star, with all the swaggering seriousness of a career artist in his prime. (Stephen Thompson)
Buy Featured Music
Song

The People's Key

Album

The People's Key

Artist

Bright Eyes

Label

Saddle Creek

Released

2011
Your purchase helps support NPR programming. How?
Bent, film score suite for string quartet [Movement 1]
Brooklyn Rider, 'Brooklyn Rider Plays Philip Glass'
Song: Bent, film score suite for string quartet [Movement 1]
The superb young American string quartet Brooklyn Rider is famous for stretching boundaries well beyond the point where lesser groups would snap. Its collaborators range from Yo-Yo Ma to Suzanne Vega to Chinese pipa virtuoso Wu Man; it's recorded everything from Persian folk music to Debussy with grace, spirit, vigor and profound insight. In bringing all of those qualities to the five string quartets written by Philip Glass — a composer not generally known for his string quartets — these Brooklynites reveal astonishing layers of texture and depth in Glass' writing, as well as warmth often absent from Glass performances. With the inclusion of Glass' rarely heard String Quartet No. 1, from 1966, and the world premiere of his score to the 1997 film Bent, this is a treasure for Glass fans and anyone willing to roam new musical terrain. (Anastasia Tsioulcas)
Captain Black Big Band, 'Captain Black Big Band'
Captain Black Big Band is more accurately Captain Black Big Bands, plural: a rotating, multi-generational cast of top-notch jazz musicians from up and down the East Coast. Orrin Evans plays piano and ringleader, being the one with the Rolodex of musicians (so to speak) and the one willing to gather them all together every so often. That makes for a good narrative of community spirit and tradition renewal, but more importantly, the bands make great music. The arrangements are brassy, the solos ballsy; seemingly every second of this live recording is suffused with redlined intensity. It's a confirmation — and a celebration — that swing never lost its swagger. (Patrick Jarenwattananon)
The Civil Wars, 'Barton Hollow'
The Civil Wars' two members tell stories with the conviction of true believers: They listen to each other and respond. For the lucky audience — be it at a club, a bar or a living room — listening to The Civil Wars is like eavesdropping on an intimate conversation you weren't ever meant to hear. Joy Williams and John Paul White met in Nashville in 2008, and their first full-length recording, Barton Hollow, is haunting. Vocally, the duo takes turns leading and following each other, and the result, when mixed with superb instrumentation that never overshadows the delicious harmonic dissonance, recalls some of the great folk ballads in history. But it's also wholly original music for the 21st century. (Elena See, folkalley.com)
Buy Featured Music
Song

Barton Hollow

Album

Barton Hollow

Artist

The Civil Wars
Your purchase helps support NPR programming. How?
Colin Stetson, 'New History Warfare, Vol. 2: Judges'
Call it tar-pit funk. Colin Stetson's job is to turn a comically large saxophone (it's a bass sax most of the time) into a braying woolly mammoth with an MPC 2000XL shoved down its throat; the sounds he conjures bring to mind a mother humming a lullaby one second, steam rising off the hood of a totaled car the next, and the fractured memory of slamming tequila at Kingston Mines a minute later. The album has an air of Luddite purity about it — loops set in motion without the aid of machinery, the simple fact of the musculature required to circular breathe for so goddamn long — achieved, of course, by a couple dozen microphones and aggressive mixing. This year, New History Warfare, Vol. 2: Judges archived and unleashed a kind of sobbing euphoria into the world, and Stetson's live performances of its songs stopped time. Watch. (Frannie Kelley)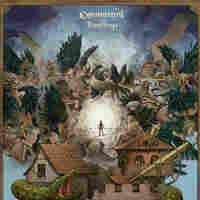 Cormorant, 'Dwellings'
Dwellings is an emotionally and musically complex progressive-metal album which wrestles with our desperate and sometimes violent attempts to secure a place in history. It's a heady concept, for sure, and normally I'd keep a suspicious eye on such metal academia, but Cormorant puts emotional weight behind each story and each flawless riff. There's a surprisingly swinging rhythm section between blast beats and an attention to dynamic songwriting that often goes missing in the technically adept metal bands that like to dismantle the genre. (Lars Gotrich)
Davila 666, 'Tan Bajo'
Remember that kid in elementary school — the one who made gross jokes and always got in trouble, but who you secretly thought was hilarious and kind of cute? If that kid grew up to be in a band, it probably sounds like Davila 666. The Puerto Rican group is as talented as its sloppy; it's whiny and often offensive, but also catchy and strangely lovable. One thing's for sure: Tan Bajo is the definition of an underground crossover hit, attracting as many fans in Puerto Rico's Latin Alternative scene as it did among garage-rock lovers here in the U.S. (Jasmine Garsd)
Buy Featured Music
Song

Tan Bajo

Album

Tan Bajo

Artist

Davila 666

Label

In the Red Records

Released

2011
Your purchase helps support NPR programming. How?
Demdike Stare, 'Tryptych'
Paganism isn't a common point of discussion when Americans wax ecstatic about their favorite music, but polytheism lies at the heart of much British folklore. Witches, monsters and fairies made frequent appearances in the stories and songs passed down from generation to generation before the age of wax cylinders and 78s. The Manchester duo Demdike Stare (named after a 17th-century witch) taps into this mystical tradition on the group's three-disc masterpiece, Tryptych, an ambient ode to phantasmagoria. During a year when several U.K. producers (Andy Stott, Raime) explored the slower, creepier fringes of techno, Demdike Stare's Sean Canty and Miles Whittaker were at the forefront, carrying an unlit torch into the beckoning black. (Otis Hart)
Buy Featured Music
Song

Tryptych

Album

Tryptych

Artist

Demdike Stare

Label

Modern Love

Released

2011
Your purchase helps support NPR programming. How?
That the Night Come: The Old Men Admiring Themselves in the Water
Donnacha Dennehy, 'Gra Agus Bas'
Song: That the Night Come: The Old Men Admiring Themselves in the Water
Look at the album artwork of Donnacha Dennehy's Grá agus Bás (Love and Death), and you'll sense the expansive, liquid majesty of this Dublin-based composer's increasingly assured and distinctive sound. On the cover, amorphous limestone formations from Ireland's Burren stretch into the horizon as legions of slumbering giants, while vibrant washes of red and orange bleed into the frame. And so it is with the music itself — the eponymous Grá agus Bás and That the Night Come — as Dennehy infuses hallowed Irish texts, from the esoteric sean-nós vocal tradition to the plaintive poetry of fellow countryman W.B. Yeats, with a shimmering and kaleidoscopic array of minimalist colorations. The result, masterfully performed by Crash Ensemble under Alan Pierson and featuring vocalists Iarla Ó Lionáird and Dawn Upshaw, is a compelling, meditative walk through time and terrain. It studies an Ireland rooted in reverence for its past, but which also brims with curiosity for its future. (Alex Ambrose, Q2 Music)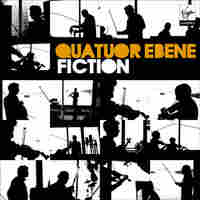 Ebene Quartet, 'Fiction'
France's Ebène Quartet has fast become one of the hottest chamber groups in the world, with excellent reason: The youthful group's warmth, vitality, deep curiosity and musical intelligence has carried it far already. But this album is about what these classical string players dub "the other Ebène" — and if that sounds as if they have a split identity, that's just how they'd like it. Fiction is a fresh melange of covers drawn from across genres, from The Beatles' "Come Together" to a smoky "Corcovado" with Stacey Kent as guest vocalist (albeit with a Debussy-esque interlude). Throughout, they play and occasionally sing with silky smoothness and Gallic finesse. This isn't crossover pandering; it's who they are — as Fiction proves, "Nature Boy" and Bruce Springsteen are as much a part of their musical DNA as Mozart. (Anastasia Tsioulcas)
Eric Church, 'Chief'
Mainstream country music is full of macho dudes in faded designer jeans, but it's rare to find an artist with enough sophistication and self-awareness to make the outlaw persona feel genuine. Enter Eric Church: The North Carolina native is a hard-boiled honky-tonker who fully embraces country clichés (lots of Jack Daniel's and Jesus), but sharpens them with wit and a sound that lands in the sweet spot between Bakersfield and John Mellencamp's Indiana. On his third album, Church hits his stride, chronicling wild nights and epic hangovers with just the right amount of critical distance. He sings with the cool world-weariness of someone who's lost a few lovers and parking-lot fights. And the corny jokes that populate songs like "Hungover & Hard Up" carry an edge of real sadness. (Ann Powers)