50 Favorites: From Kanye West And Jay-Z To The Roots
2011 was a fertile year for collaborations, both long-awaited (Jay-Z and Kanye West's Watch the Throne) and out-of-the-blue (King Creosote and Jon Hopkins' Diamond Mine). What else? Oh, just a definitive version of a century-old masterwork (Gustav Mahler's Symphony No. 2) by a storied institution (the London Philharmonic Orchestra) and a couple of debut albums (Kendrick Lamar's Section.80 and La Vida Boheme's Nuestra) that made our heads spin. The list of our 50 favorite albums of 2011 continues here, with albums from Radiohead, PJ Harvey and more artists from K to R.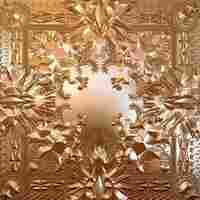 Kanye West and Jay-Z, 'Watch the Throne'
Whether you're a lover or a hater, Kanye West & Jay-Z's Watch the Throne represents the biggest and most anticipated hip-hop album of all time — or at least this year. The album combines the yin and the yang of hip-hop; it's creative and dynamic in a way that neither rapper has been before. Watch the Throne features the soulful croons of Otis Redding and Curtis Mayfield — natural, given the reverence Jay-Z and Kanye have always shown — and an appearance by powerhouse singer Beyoncé. But it's the incorporation of dubstep and electronic artists like Cassius and Flux Pavilion that make Watch the Throne dynamic, and lets us know that its stars recognize hip-hop's new direction while still paying homage to the old school. The "all-black-everything" elegance and stoicism of Jay-Z and the bravado and robotic glamour of Kanye West complement each other perfectly. Let's hope the duo does it like Black Star (Mos Def and Talib Kweli) and drops something together every now and then. (Kwasi Ansu)
Poe Mans Dream (His Vice)
Kendrick Lamar, 'Section.80'
Song: Poe Mans Dream (His Vice)
Kendrick Lamar was by no means unknown entering 2011, but no one else on this list took a larger leap forward in the last 12 months than the 24-year-old Los Angeles MC. Dr. Dre got things started when he co-signed Lamar in late 2010; then, word leaked that Lamar had recorded verses for Dre's famously delayed Detox album. The entrepreneur's adulation was rewarded in July, when Lamar unveiled Section.80, an ambitious collection of vignettes that explore the black youth experience after Ronald Reagan's "Morning in America." The songs are heady and headstrong, sometimes dealing with "money, hoes, clothes, God and history all in the same sentence," as Lamar puts it in "Ab-Souls Outro." Drake took one listen and handed an entire song to Lamar on Take Care ("Buried Alive"). Give Section.80 a spin and you'll understand why. (Otis Hart)
King Creosote and Jon Hopkins, 'Diamond Mine'
Diamond Mine is the most immersive listening experience I've had in years. It does what audio does best, transporting me far from the here and now. The beautifully brief seven-song record opens on a cafe terrace in a Scottish town. It's just a few minutes before these soundcapes, created and recorded by electronic musician Jon Hopkins, give way to the unique quiver and brogue of King Creosote (a.k.a. Kenny Anderson), and that's where the scope of this collaboration becomes clear. This is storytelling through sounds and song; the sounds are of sails hitting masts, thickly accented cafe conversations, spring tides and bike wheels. The songs shatter romantic images of small-town life with pungent reality, wrapped in some of the most beautiful tunes I've ever heard. This is a record for your late night, or for your quiet Sunday; put it on when you need calm, and be grateful that in a world full of speed, King Creosote and Jon Hopkins stopped and took their time. (Bob Boilen)
La Vida Boheme, 'Nuestra'
It's no secret that commercial Spanish-language rock seems reluctant to budge past its '90s glory. A testament to that stagnation came during this year's Latin Grammys, in which Best Latin Rock Album was awarded to the Mexican band Maná, which has been playing virtually the same song for the last two decades. Yet in the same category as Maná was one of the most exciting bands to hit the scene in the last few years: Venezuela's La Vida Boheme. With an explosive mix of punk, '80s dance and industrial rock — plus lyrics that are pure Latin American poetry — La Vida Boheme's live show is one of the best I've ever seen. Intelligent, challenging and rebellious, it's living proof that Latin rock is alive and putting up a fight, and the big boys in saggy leather pants won't be able to hold it back much longer. (Jasmine Garsd)
London Philharmonic: Mahler: Symphony No. 2 'Resurrection' (excerpt)
In the market for a Mahler Symphony No. 2? There are now more than 100 recordings to choose from — and some very good ones. But this release from young conductor Vladimir Jurowski and the London Philharmonic might just top them all. In a symphony lasting more than 80 minutes, there's so much that can go awry, especially in a live performance like this, but Jurowski and his musicians nail all the issues, big and small. In the electrifying opening movement, Jurowski perfectly blends all the interior neuroses (whiplash fortissimos and angst-ridden double basses) with Mahler's heavenly vistas, built on lustrous strings and plaintive winds. This is Jurowski's fifth year at the head of the LPO and with this recording you might wonder if he can make his orchestra sound any better.
Los Rakas, 'Chancletas Y Camisetas Bordada'
If Calle 13 is keeping Latin rap alive, then Oakland-based Panamanian duo Los Rakas gives it something to look forward to. Cousins Raka Rich and Raka Dun sound fresh and intelligent on their new EP, Chancletas Y Camisetas Bordada. The comparison to Calle 13 is inevitable, but this is an altogether different beast: Calle 13 has evolved into a pair of political Latin troubadours, but many fans miss the sex-crazed, irreverent duo we got to know years back. Although they have depth ("Vengo De Panama" is a fine piece of storytelling), Los Rakas' members still want to party hard, possibly with your girlfriend. (Jasmine Garsd)
Miguel Zenón, 'Alma Adentro: The Puerto Rican Songbook'
Miguel Zenón is on a quest. Since receiving his MacArthur Genius grant three years ago, the alto saxophonist has become even more determined to investigate the music of his roots. His Jíbaro and Esta Plena projects revealed the intricacies of Puerto Rican folklore. Now, on Alma Adentro: The Puerto Rican Songbook, Zenón takes classic Latin American torch songs — once intended for crooners with the biggest vibratos — and flips them with an entirely different feel. Guillermo Klein's arrangements for a woodwind ensemble inject new life into otherwise melodramatic and dated material, transforming slow-trotting boleros by Puerto Rican composers Rafael Hernández, Pedro Flores, Tite Curet Alonso, Bobby Capó and Sylvia Rexach. The songs serve as points of departure for Zenón and his quartet, who launch flights of improvisation. (Simon Rentner, WBGO)
PJ Harvey, 'Let England Shake'
Polly Jean Harvey turned her focus outward for Let England Shake, meditating on a century's worth of war and its many costs. From the title to the characters, the subjects are specifically and thoroughly English, yet the prevailing themes are universal and timeless. Let England Shake is an anti-war record without being a protest record. It may not seethe as obviously upon first listen as some of her past work, but it's still awash in blood — the blood that binds a nation and the blood spilled in its name. It's also a political record that still feels personal: Harvey's indignation isn't entirely expressed as anger, as she mourns for the country she loves. In that strange way, this is her ode to England. Twenty years and eight albums into a stellar career, Harvey has created a work unlike anything she's done before. That, as much as anything, is a testament to her achievement. (Jeremy Petersen, opbmusic.org)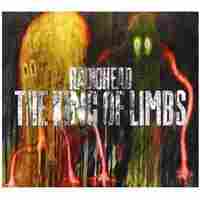 Radiohead, 'The King Of Limbs'
How does Radiohead love MF DOOM and Madlib's Madvillainy? Let the band count the ways. Its members have made their affinity for the metal-faced Mysterio and his blunted buddy abundantly clear, but this bromance blooms once the drunken bassline tiptoes onto the album's first track. Radiohead is known for its experimentation, so this record's forays into sampling are unsurprisingly surprising for the band; what is surprising about The King of Limbs, however, is how the legendary Oxfordshire quintet lets its influences stand out, Madvillain included. The bouldering bass and 6/8 clave bridge of "Morning Mr. Magpie" bring Radiohead as close as it's ever come to Latin music, while the gorgeous finger-picked outro of "Separator" could have been plucked from a lost early Jimmy Page ballad. Man, does this band know how to end records — not to mention how to steal from the best while sounding like nothing but itself. (Charlie Kaplan)
The Roots, 'undun'
The release of The Roots' 10th studio album, Undun, has little to do with luck. The project is a fresh brick laid in a career path that's beginning to spell out CULTURAL INSTITUTION via bird's-eye views. From the jazz grit of street-hop sessions on Philly sidewalks to the pop glitz of late-night television, the band remains focused on creating powerful musical experiences for a thinking audience that wants hip-hop records to be maximized as product and art, rather than treated as disposable. Undun unfolds as an expertly composed ghetto-noir film score, as a semi-fictional protagonist named Redford Stephens — young, gifted, black, dead — serves as the anchor that steadies lyrical meditations on lifestyle, free will and death, set against some of The Roots' most mature, bright and effective instrumentation thus far. (Garth Trinidad, KCRW)