50 Favorites: From Shabazz Palaces To Wye Oak
Musicians new and familiar gave us exciting sounds in 2011. We witnessed the ascent of the mighty Merrill Garbus, a.k.a. tUnE-yArDs. We reveled at the return of Ishmael Butler, formerly known as Butterfly from jazz-rap greats Digable Planets, whose debut with Shabazz Palaces gave off a dark buzz. Wilco moved even farther away from its alt-country roots and managed to sound even more like Wilco. The list of our 50 favorite records of 2011 wraps up here, with album Shabazz Palaces, Sonny Rollins and more artists from S to W.
Are you... Can you... Were you? (Felt)
Shabazz Palaces, 'Black Up'
Song: Are you... Can you... Were you? (Felt)
This year brought about the timely re-emergence of a master, Shabazz Palaces' MC/producer Palaceer Lazaro — a.k.a. Ishmael Butler, whose voice and rap even your grandmother probably knew as part of the wonderful, Grammy-winning Digable Planets. Cold and dark as space, but still breathing, beating and organic, Black Up's squelching and boom (aided by ace percussionist and vocalist Tendai "Baba" Maraire) is the sound of being digested by a black hole, then funkily excreted into a dimension populated by a particularly persistent species of earworm. Its beats communicate electrical impulses to neglected muscle groups, to the point where Palaceer Lazaro's impressionist revolt mantras bounce around the listener's skull like a .22 slug that reshapes everything it touches. (Larry Mizell, Jr., KEXP)
Sonny Rollins, 'Road Shows, Vol. 2'
When saxophonist Sonny Rollins improvises in a song, he attacks it. He seems to explore all its crevices, its layers, its infinite possibilities. Start, stop, go, wait, repeat, repeat, okay, start again. This live album captures him doing that with both his regular band and some other folks he's known for decades: That's pretty hip in itself. Then there's the never-before-accomplished duet with Ornette Coleman, a man whose ideas about organizing sound are unique to this world. The two come from different approaches, but share a certain childlike curiosity about the possibilities of the blues; here's an opportunity to witness that at play. (Patrick Jarenwattananon)
St. Vincent, 'Strange Mercy'
The music and persona of St. Vincent's Annie Clark are packed with fascinating contradictions. Clark dresses with impeccable fashion sense and sings with a pristine, seductive voice, yet her lyrics practically seethe with anxiety and unsettling imagery. St. Vincent's music is elaborately arranged with ornate instrumental flourishes, yet it also explodes into ornery, lip-curling cacophony and dissonance. And her dexterous guitar work is as skillful as anyone's, yet she's not afraid to pile on the distortion and get loud. Clark juxtaposes these elements with perfection on Strange Mercy, St. Vincent's third and finest album. Amid textured layers of guitar squall and bouncy riffs, Strange Mercy's songs are haunting and complex, addressing alienation and dysfunctional relationships. Even in the album's catchiest song, "Cruel," she expresses dark feelings of fragmentation, discontent and uncertainty with the sinister, knife-twisting line, "Bodies can't you see what everybody wants from me / If you could want that too, then you'd be happy." Strange Mercy is a cohesive, stunning masterpiece from an artist who continues to surprise and provoke. (Michael Katzif)
STS, 'The Illustrious'
Song: Here Tonight (feat. Tony Williams)
It's been a banner year for hip-hop, with blockbuster releases surpassing high expectations and newcomers upending cliches left and right. Every flavor of fan got a taste this year. STS hasn't yet hit the national stage, but he already has everything I love most in rap: in-the-pocket flow, heart-on-the-sleeve storytelling, jokes, word choice that values rhythm and sound as much as meaning, beat selection that promotes dancing. On his debut full-length, The Illustrious, the rapper formerly known as Sugar Tongue Slim introduces himself with subject matter and approaches that are both varied and purposeful. He's laughing, but he does not ramble. STS began as a poet, competing in slams for extra cash, then took a detour and landed on rapping as an occupation, a career path he lays out in "The Interview." His confidence is evident throughout The Illustrious, partly because he's not that scared of what most labels have been selling as hip-hop in recent years. From "This Is For You": "They told me dumb it down a bit, the listeners ain't that smart / I got a public education, so don't pull that card / And I'm a fan first — I really feel they disrespectin' y'all." STS sounds like he smells blood in the water, and that hunger has made him a contender. (Frannie Kelley)
This album is available for free download, and a deluxe version is on iTunes and Amazon.
Tim Hecker, 'Ravedeath, 1972'
As you might suspect of an album built around a trio of suites with the titles "In the Fog," "In the Air" and "Hatred of Music," Tim Hecker's Ravedeath, 1972 is ambient music. What you might not bet on is the way Hecker anchors the drone, pulse and static — the shades of gray on any good ambient composer's palette — to more familiar sounds, in particular a few hesitant piano melodies and the airy hum of a church organ he recorded on a single day in Reykjavik. Hecker's finished product could be described simply as the digital manipulation of "organic" sounds. But it's more than that: Ravedeath, 1972 is an extreme close-up on a conversation between the two forces, which at any moment on this beautiful album seem to push the music toward both tension and resolution. (Jacob Ganz)
Tom Waits, 'Bad As Me'
Tom Waits cavorts through a wonderful set of ramshackle, gut-bucket rhythm and blues, rockabilly romps and woozy ballads on Bad As Me. With longtime collaborator Marc Ribot on guitar, Flea and Les Claypool on bass, Augie Meyers on keys and guest spots from Keith Richards and David Hidalgo, the album is at times primal, playful and deranged, and at others wistful, poetic and vulnerable. Waits and co-writer/co-producer Kathleen Brennan span the full emotional spectrum, with a characteristically unusual set of oddball characters, twisted mariachi and carny sounds, and cinematic, apocalyptic imagery. But what really makes Bad As Me exceptional comes from what might not be expected from Waits — the versatility of his voice, his frequent restraint and the album's cohesiveness, which combine to make Bad As Me a magical listening experience. (Kevin Cole, KEXP)
Tommy Guerrero, 'Lifeboats And Follies'
Song: 6 Feet For 6 Figures
Tommy Guerrero's Lifeboats and Follies is a groovy statement of how well Afro-Caribbean music mixes with rock, jazz, soul and skateboarding. Yes, skateboarding: Guerrero started making his mark in the 1980s among the handful of skateboarders who took the sport to new levels of recognition. He's since put down his board and picked up a guitar, and has released a handful of albums and EPs. Guerrero is from San Francisco, and Lifeboats & Follies is a picture-perfect snapshot of that special Bay Area mix of Afro-Caribbean music combined with jazz and rock. Its songs aren't really songs so much as explorations of grooves, with his guitar adding sonic punctuation. (Felix Contreras)
tUnE-yArDs, 'w h o k i l l'
Connecticut native Merrill Garbus, known by the stage name tUnE-yArDs, burst into the public consciousness this year, with an album that sounds like nothing else. Looping her voice with syncopated drumbeats and electrified ukulele, Garbus creates a rich sound collage that borrows musically and lyrically from African music, hip-hop and roots reggae. The resulting album is not always an easy listen; it challenges, both with its cacophony and its socially critical lyrics. Garbus rails against political hypocrisy, violence and materialism in a voice that bounds from tender croon to ferocious roar, sometimes in a single sentence. It can be a lot to take in, but listen closely, and you'll recognize an artist who's pushing forward, both musically and socially. (Clare Flynn)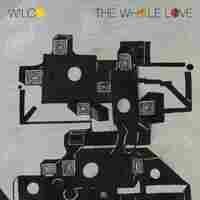 Wilco, 'The Whole Love'
Song: One Sunday Morning (Song For Jane Smiley's Boyfriend)
With its blistering, seven-minute opening track, "Art of Almost," The Whole Love lets you know right away that you're in for another challenging, polarizing roller-coaster of a Wilco ride. Musically stellar, lyrically compelling and a true album — the artful sequence matters — it's another step forward on one of rock's most fascinating paths. The band has, quite simply, done it right, with a successful tour, innovative videos and a singer in Jeff Tweedy who's now making a name for himself as a reverent producer of legacy artists like Mavis Staples. Another collection of experimental-yet-tight, hooky-yet-loud, broken-yet-whole, Americana-yet-electronica, endlessly adventurous music, The Whole Love honors the greats and comes close to describing the stars. (Rita Houston, WFUV)
Wye Oak, 'Civilian'
The Baltimore duo Wye Oak is accustomed to writing beautifully tormented rock songs about interpersonal conflict, but Civilian spends most of its time facing inward; it focuses largely on internal struggles, and on the many ways an unquiet mind can make it impossible to feel centered and whole in a world that feels forbidding. The album's title track, in particular, examines the machinations necessary for singer-guitarist Jenn Wasner to get through life — and keep up with its many demands and obligations — under a disguise of normalcy. Civilian undergoes a similar process in its own right, as it enshrouds its own seething, moody weirdness in alternately stormy and brooding beauty. (Stephen Thompson)