Rushina's 'Anna Rascalla' Potato Wedges
The tempering method here is a little different from the others: Indian cooking teacher Rushina Munshaw Ghildiyal heats the oil first and then pours it over the already toasted spices. The result is an excellent potato dish with a lovely crunch of sesame. Rushina said she thought anna rascalla, or "rascal man" — a term widely associated with the popular South Indian actor Rajnikanth's films — an appropriate name for a spice blend inspired by ingredients traditionally used to temper a South Indian stew but which brings a magical flavor even to simple potato wedges.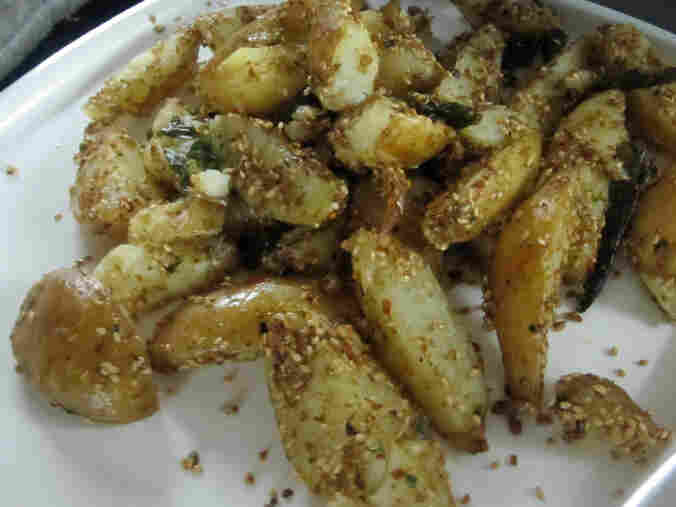 Makes about 1/2 cup masala (spice mix), and 4 to 6 servings potatoes
Masala
1 cup loosely packed fresh curry leaves*, washed and dried
1 tablespoon whole fenugreek seeds*
2 tablespoons coriander seeds
1 tablespoon cumin seeds
5 or 6 dried chilies
1/2 cup toasted sesame seeds
Potato Wedges
2 1/4 pounds potatoes, such as Yukon gold, skin on, scrubbed well
Salt
6 to 8 garlic cloves, crushed
1 tablespoon amchur powder*
3 tablespoons toasted sesame oil
To make the masala, toast the curry leaves in a dry skillet until they curl up, turn olive green and become brittle and aromatic. Transfer to a bowl to cool.
Toast the fenugreek, coriander, cumin and chilies individually until each darkens in color slightly and releases its aroma. Set aside separately to cool.
Using a mortar and pestle, spice grinder or blender, grind the fenugreek seeds alone. Add the cumin and coriander and grind to a coarse powder. Add the chilies and curry leaves and grind to a coarse powder. Stir in the sesame seeds and transfer to an airtight container.
Put the potatoes in a saucepan and cover with cold water. Add salt and bring to a boil. Simmer until almost tender, then drain and cool.
Preheat the oven to 400 degrees. Line a baking sheet with parchment paper.
Cut the potatoes into large wedges and place in a large bowl. Stir in the garlic.
In a smaller heatproof bowl, combine 3 tablespoons of the masala and the amchur. In a small pan, heat the sesame oil until quite hot. Stir it into the masala mixture. Pour the resulting paste over the potato wedges and toss to coat them well. Spread the potatoes in a single layer on the baking sheet. Bake for about 30 minutes, turning the wedges once or twice, until golden brown and crisp on the outside and cooked all the way through on the inside. Serve hot from the oven.
*Available at Indian markets
Clarification
Feb. 28, 2014
The original introduction to this recipe incorrectly attributed the term anna rascalla to the actor Rajnikanth.