Do-It-Yourself Marshmallows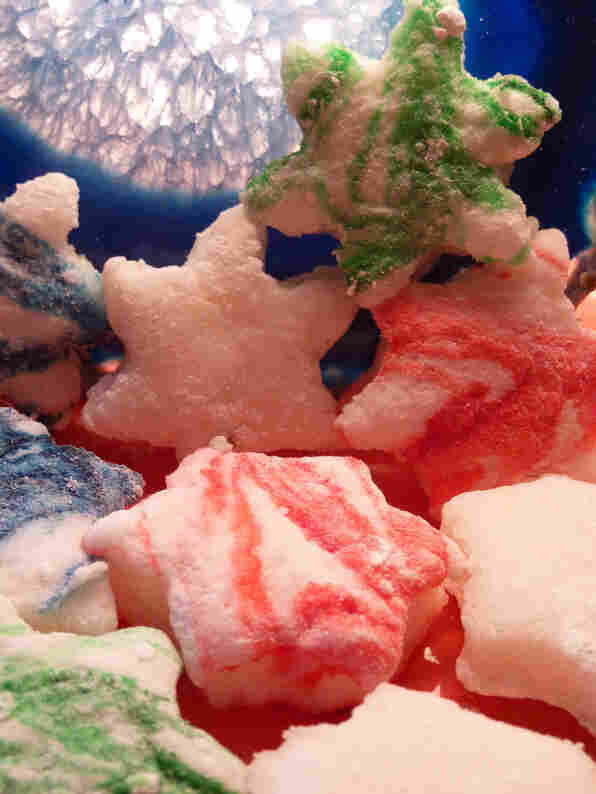 On dark winter nights, after a day of sledding and snow, I remember reveling in the heat from the crackling fireplace and anticipating the skewers of marshmallows and packs of graham crackers and chocolate that would become a sweet wintry sandwich. Marshmallows elicit other all-American memories — more s'mores on the Fourth of July, Thanksgiving candied yams topped with marshmallows, and hot cocoa with marshmallows around the winter holidays.
Yet, the origins of the sticky treat are far from American. I thought I'd find that marshmallows were a candy factory's grand invention, like on an episode of Unwrapped. It turns out that the marshmallow dates back to 2000 B.C., when Egyptians mixed mallow root with honey to create hard candies as offerings for the gods and royalty. Found in swampy marshes — hence "marsh mallows" — the root was known to have a variety of medicinal qualities including laxative and anti-inflammatory effects. The mallow root even appears in the Greek physician texts of Hippocrates and Dioscorides as a cure for insect bites and toothaches.
The current iteration of the marshmallow was not created until the early 1800s, when the mallow root was whipped together with egg whites and sugar, creating the meringue-like texture of the modern marshmallow. Yet, the medicinal use of the marshmallow continued until the marsh mallow root was replaced with the more cost-effective gelatin in the early 1900s. It was then that the marshmallow became mass manufactured. This surge in marshmallow production inspired several treats we still enjoy, such as Moon Pies, marshmallow fluff and the creamy center of the Twinkie. By 1955, there were 35 marshmallow factories in the United States, and a new manufacturing process was created, using piping and slicing of the marshmallow to speed up production.
About The Author
One can, however, make marshmallows at home. Homemade marshmallows have a silky, light texture uncharacteristic of the factory-churned versions. A few years ago, a contemporary marshmallow wave began in gourmet coffee and bake shops in some cities and online, offering homemade marshmallows flavored with vanilla, chocolate and strawberry, often selling for more than a dollar apiece. Today's marshmallows come in savory as well as sweet versions. In New York, the American grill restaurant Saxon + Parole offers a carrot, ginger and lemon soup topped with a toasted chili marshmallow. The Girl and the Goat in Chicago uses "foie fluff" as the savory note in its rich chocolate bouchon dessert. You can order marshmallows online in nontraditional flavors such as beer, avocado and horseradish.
I decided to give homemade marshmallows a try. Collecting the ingredients, I pictured myself covered head-to-toe in powdered sugar, the mixture having spun out of control. However, my fears of a goo-covered kitchen were unwarranted. The process was easy, not terribly messy and actually fun. I experimented with colors, creating red, blue and green swirls. I purchased mini cookie cutters and cut the marshmallows into snowflake, snowman and mitten shapes. I cut others into squares and dipped them in chocolate, topping them with sprinkles, peppermint or coconut. A process I assumed would be difficult turned out to be a cinch. My excitement in making them was rivaled only by my family's enthusiasm for eating them.
Popping one after the other into my mouth, I only wish I could convince myself that some medicinal benefit still exists.
Homemade Marshmallows Three Ways
Traditional Vanilla Marshmallows
These marshmallows are light and gooey. Pack them into a 13-by-2-inch pan for thicker, cubed candies or use a flatter 15-by-10-inch baking pan for thinner marshmallows. Yield will vary by candy thickness and size of cutouts. Also, feel free to use peppermint, cinnamon or coconut extract instead of vanilla to create a variation on the traditional snack. The recipe is adapted from Gourmet (December 1998).
1 cup powdered sugar
3 1/2 envelopes (2 tablespoons plus 2 1/2 teaspoons) unflavored gelatin
1/2 cup cold water
2 cups granulated sugar
1/2 cup light corn syrup
1/2 cup warm water
1/2 teaspoon salt
2 large egg whites (or reconstituted powdered whites)
1 teaspoon vanilla
Oil bottom and sides of a 13-by-9-by-2-inch rectangular metal baking pan or 15-by-10-inch baking pan and dust bottom and sides with a little powdered sugar. In a standing electric mixer or a large bowl, add the cold water, sprinkle with gelatin and let stand to soften.
In a 3-quart heavy saucepan, cook granulated sugar, corn syrup, warm water and salt over low heat, stirring with a wooden spoon, until sugar is dissolved. Increase heat to moderate and boil mixture, without stirring, until a candy or digital thermometer registers 240 degrees, about 12 minutes. Remove pan from heat and pour sugar mixture over gelatin mixture, stirring until gelatin is dissolved.
With a standing or hand-held electric mixer, beat mixture on high speed until white, thick and nearly tripled in volume, about 6 minutes if using standing mixer or about 10 minutes if using hand-held mixer. In a large bowl with clean beaters, beat egg whites (or reconstituted powdered whites) until they just hold stiff peaks. Beat whites and vanilla into sugar mixture until just combined. Pour mixture into baking pan and sift 1/4 cup powdered sugar evenly over top. Chill marshmallow, uncovered, until firm, at least 3 hours and up to 1 day.
Run a thin knife around edges of pan to loosen marshmallow. You may invert the tray and lay the marshmallow on a large board, or simply cut out shapes while still in the pan. Use cookie cutters or cut into strips and, lifting the strip out of the pan, use scissors to make several marshmallow rectangles or cubes. Sift remaining powdered sugar into a large bowl and add marshmallows in batches, tossing to evenly coat. Marshmallows keep in an airtight container at cool room temperature for a week.
---
Color-Swirled Marshmallows

Swirling colors on top of the marshmallows is a great way to make the candy more festive and unusual. If you prefer not to use artificial food coloring, natural food coloring is available from Nature's Flavors, India Tree, Seelect Tea or Chefmaster Natural Coloring. Of course, you can also take a crack at making your own with natural herbs and vegetables such as beets and tumeric.
1 teaspoon food coloring (color of your choice)
Prepare Traditional Vanilla Marshmallows up to the point of pouring the marshmallow mixture into the baking pan. Smooth the mixture and add small drops of the desired dye. Then, using a toothpick or edge of a knife, swirl the color on top. When the desired pattern is created, continue with the instructions for Traditional Vanilla Marshmallows above, sprinkling with powdered sugar and placing in refrigerator.
Later, once cut into shapes and covered with powdered sugar, wipe the marshmallows with a dry cloth to reveal the color underneath.
---
Chocolate-Covered Marshmallows
What could be better than adding chocolate directly to the marshmallow? Dipping your already-made marshmallows into rich chocolate makes these treats perfect for candy bowls at holiday parties or as gifts to package and send. Top with additional flavorings of your choice, such as shredded coconut or crushed peppermint, if you like.
12-ounce package semi-sweet chocolate chips
1/2 cup shredded sweetened coconut (optional)
Sprinkles (optional)
1/2 cup peppermint candy, such as candy canes or Starlight mints, crushed (optional)*
1 batch Traditional Vanilla Marshmallows
First, make sure all marshmallows are cut and covered in powdered sugar. Smooth off the sugar to be sure there are no bumps.
Cover a plate or cookie sheet with plastic wrap or parchment paper to set the chocolate-covered marshmallows on.
Create a double boiler by covering a saucepan filled with boiling water with a glass or metal bowl. Pour in the chocolate chips and stir continuously. When the chocolate is almost melted, turn off the heat and continue stirring. Do not let the chocolate burn. Dip the marshmallows into the chocolate. (I often balance the marshmallow between two spoons to dip and cover). Do this quickly, or the marshmallow will melt.
If you would like to add sweetened coconut or sprinkles, place the marshmallow on the plate or cookie sheet and add the desired topping. For peppermint topping, it is best to first place the crushed peppermint in a bowl. Dip the chocolate-covered marshmallow in the bowl so that the peppermint pieces stick to it, and then place it on parchment. This keeps the peppermint from sticking to your hands or utensils.
Chill for at least 1 hour or until hardened.
*To crush the peppermints, place the candy in a closed plastic bag on a sturdy surface. Using the bottom of a pot or pan, crush the candy until it is broken into small pieces, then place in a bowl for dipping.
Carrot Cardamom Soup With Aleppo Marshmallow And Pumpkin Seed Oil
If you would like to try a savory marshmallow dish, Saxon + Parole's carrot soup with Aleppo chili marshmallow is a good place to start. It's a perfect twist on a wintry meal. Saxon + Parole is at 316 Bowery in New York City. This recipe is adapted from Saxon + Parole's.
Makes 8 servings
Soup

1 1/4 teaspoon honey
1 can (16 ounces) coconut milk
3 1/2 cups hot water
Juice of half a lemon

2 green cardamom pods
1/2 fist-size white onion, peeled and sliced
2 cloves garlic, sliced
1 thumb ginger, peeled and finely minced (using a microplane is best)
2 ounces unsalted butter (or olive oil)
1 2/3 pounds carrots, peeled and sliced
Salt
1 1/2 teaspoons Aleppo* (Syrian dried chili flakes; may substitute crushed chili flakes)
Herb oil or pumpkin seed oil (optional garnish)
Fresh cilantro (optional garnish)
Aleppo Marshmallow
Follow the instructions for Traditional Vanilla Marshmallows except for adding vanilla. Instead, when combining gelatin and sugar mixtures, add the Aleppo chili flakes. Proceed with marshmallow recipe instructions.
Soup
Combine liquids (honey, coconut milk, water, lemon juice) and set aside. Combine cardamom, onion, garlic, ginger and butter in a pot and place over low heat. Sweat until everything is soft and translucent. Add carrots and turn heat to high. Cook 2 to 3 minutes, stirring, and then add liquids.
Bring to a boil, and then reduce heat to a simmer. Cook until carrots are soft, about 30 minutes. Remove the cardamom pods. Puree soup in a food processor until smooth. Add salt to taste.
To Finish
Reheat soup if needed and portion into bowls or teacups. Place a marshmallow in the center of each serving and toast (use a blowtorch or oven broiler). Drizzle oil, sprinkle chili flakes and seeds, and garnish with cilantro, if desired.
*Available at spice stores or specialty food stores
Butternut Squash Ravioli With Pepper Marshmallows
This recipe is inspired by a dish created on the Food Network's Iron Chef and adapted from Shefzilla: Conquering Haute Cuisine at Home by Stewart Woodman (Borealis Books, 2010).
Makes 4 servings
Pasta Dough
2 cups bread flour
1/2 cup all-purpose flour
1 teaspoon salt
4 large egg yolks
3 tablespoons extra-virgin olive oil
1/2 cup cold water
Place both flours and salt in the bowl of a standing mixer fitted with dough hook. In a separate bowl, whisk together yolks, oil and water. With mixer set to low, slowly add liquids, over the course of 6 to 7 minutes. Continue mixing on low about 15 additional minutes, or until ingredients are fully incorporated. Shape dough into a ball and wrap tightly with plastic wrap. Let rest 45 minutes. Cut the pasta into three equal chunks and wrap tightly in plastic. Store in the refrigerator for 1 to 2 days or in the freezer for up to 3 months.
Filling
1 1/2 pounds butternut squash, peeled, seeded and cut into 1 1/2-inch chunks
1/2 teaspoon salt
1/4 cup canola oil
1/4 teaspoon ground cinnamon
1/2 cup maple syrup
Heat a large oven-safe skillet in oven at 350 degrees for 10 minutes.
Toss squash chunks with salt.
Add oil to skillet and heat 5 minutes. Add squash and roast in oven 30 minutes until golden brown, stirring occasionally. Add cinnamon and maple syrup to skillet; return to oven 5 minutes. Remove squash from oven and cool slightly. Puree in a food processor 2 minutes until smooth. Refrigerate squash puree in an airtight container until completely chilled, at least 3 hours.
Ravioli
1 recipe pasta dough
Flour for dusting
1 recipe butternut squash filling
Cornmeal for storing finished raviolis
Using about 1/2 cup pasta dough at a time, lightly dust with flour and press into a 4-by-2-inch rectangle. Using a pasta machine or by hand, run dough through the widest setting three times, or the next smallest 1 time, and the next smallest 3 times (or roll with rolling pin), until the pasta sheet is about 1/8-inch thick. Repeat with remaining dough.
Trim dough sheet to about 5 by 18 inches. Along half of dough sheet, place about 1 tablespoon butternut squash filling at 2 1/2-inch intervals. Using a small amount of water, gently moisten a ring around each filling. Fold the dough sheet over and seal tightly around each filling using the side of your hand.
Using a 2-inch round cutter, knife or a pastry wheel, cut out ravioli shape (circle or square). Press edges to seal; discard pasta trim. Repeat process with remaining dough and filling. Store ravioli on cornmeal-lined baking sheet until ready to cook.
Pepper Marshmallows
Fresh ground black pepper
Follow the recipe for Traditional Vanilla Marshmallows, but leave out the vanilla extract. When the marshmallow mixture is poured into the pan, dust with a healthy dose of ground black pepper and proceed with marshmallow recipe instructions.
To finish
2 tablespoons extra-virgin olive oil
8 to 12 cubed pepper marshmallows
1/4 cup Italian (flat) parsley leaves
Bring pot of water to a boil; add a pinch of salt. Working in batches, add ravioli to pot and boil until pasta floats, about 3 minutes. Remove with slotted spoon, and repeat with remaining ravioli. Divide ravioli among 4 plates. Drizzle ravioli with olive oil and parsley leaves, and top each plate with 2 or 3 marshmallows. Serve immediately.