Toast Of The Nation Celebrates 2012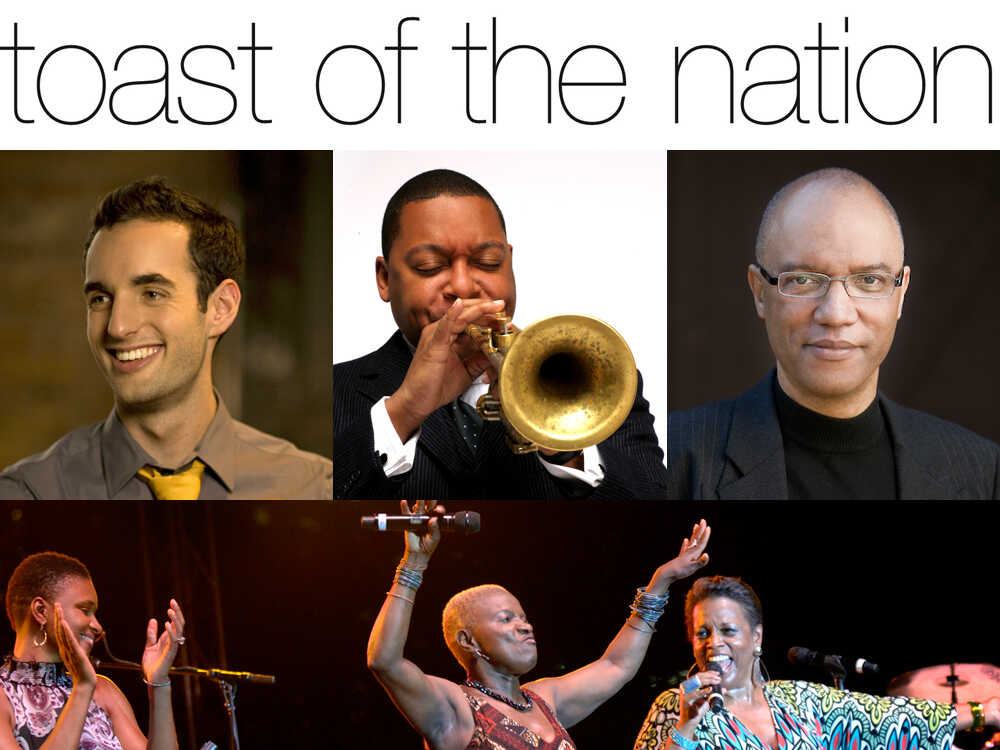 On New Year's Eve 2011-12, NPR Music, WGBH and WBGO once again presented Toast of the Nation, an all-night broadcast of live jazz from venues across the U.S.
The broadcast checked in with live music from Boston to Los Angeles, and celebrated midnight in four U.S. time zones. Many of the live performances were recorded and will be archived at NPR Music, via npr.org/toastofthenation. WBGO's Rhonda Hamilton anchored the broadcast, with additional voices along the way.
This was the schedule of performances:
8 p.m. ET: The Julian Lage Trio Featuring Larry Grenadier And Eric Harland, Boston
Hear The Concert
The young virtuoso guitarist breaks from his core ensemble for a date with two of jazz's greatest sidemen, live from his alma mater: Berklee Performance Center at the Berklee College of Music. WGBH's Eric Jackson hosts.
9 p.m. ET: Highlights From The 2011 Newport Jazz Festival
Hear More At NPR.org/newportjazz
Culled from NPR Music's full coverage of 20 sets over two days in August, featuring Regina Carter, Miguel Zenón and Trombone Shorty.
10 p.m. ET: A Tribute To Billy Taylor, Washington, D.C.
Hear The Concert
This all-star gathering, honoring the great pianist and musical ambassador, features pianists Geri Allen (musical director), Toshiko Akiyoshi, Cyrus Chestnut, Danilo Perez and Christian Sands, among other special guests. Recorded at the Eisenhower Theater of the Kennedy Center.
11 p.m. ET: Wynton Marsalis, New York City
Hear The Concert
The trumpeter leads a medium-sized ensemble in a celebration of the music of New Orleans pioneers Jelly Roll Morton and King Oliver. Live from Dizzy's Club Coca-Cola at Jazz at Lincoln Center.
12:30 a.m. ET: Sing The Truth! Angelique Kidjo, Dianne Reeves & Lizz Wright, Detroit
Hear The Concert
Three awesome voices sing songs of empowerment and love for a huge crowd on the opening night of the 2011 Detroit Jazz Festival. Hear music by Miriam Makeba, Mahalia Jackson, Abbey Lincoln, Odetta, Tracy Chapman, Ani DiFranco, Ike Turner and Mick Jagger and more, with musical director Terri Lyne Carrington.
1:30 a.m. ET: The Junior Mance Quintet, Denver
Hear The Concert
The veteran bluesy pianist and his young group play at the Boppin' at the Vineyards celebration for KUVO Jazz 89.
2 a.m. ET: The Billy Childs Quartet, Los Angeles
Hear The Concert
The winner of three Grammy Awards and a Guggenheim Fellowship, just off a fall 2011 European tour with his jazz/chamber ensemble, the pianist rings in 2012 in Pacific Time with a group of friends: Bob Sheppard on saxophones, Tim Lefebvre on bass and Gary Novak on drums. Live from The Blue Whale.
3:30 a.m. ET: Miguel Zenón, Newport
Hear The Concert

The alto saxophonist, his quartet and a 10-piece wind ensemble interpret music from his Grammy-nominated album, Alma Adentro.