'Intergalactic Nemesis': From Radio To Page To Stage
'Intergalactic Nemesis': From Radio To Page To Stage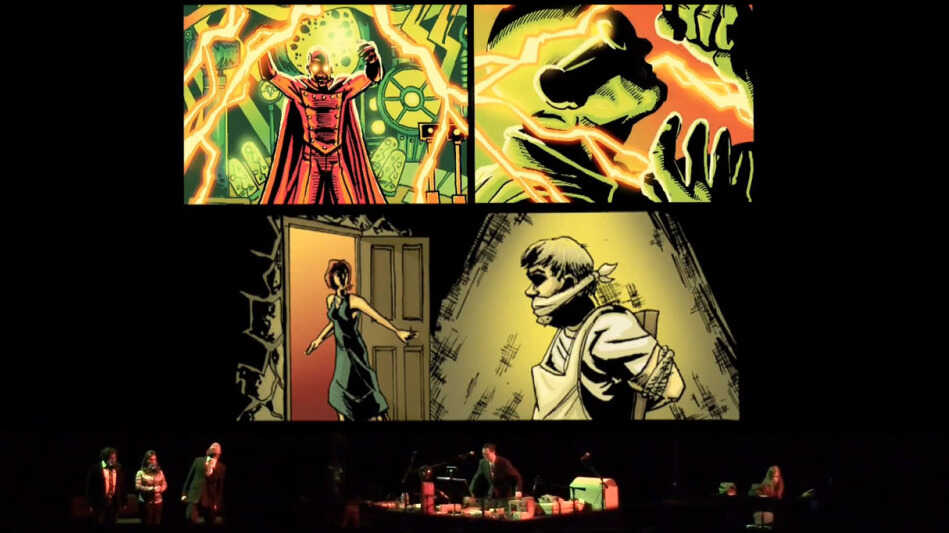 What began in the 1990s as a traditional radio play at a coffee shop in Austin, Texas, has morphed from a radio play, to a graphic novel, to a live performance. The Intergalactic Nemesis is now traveling around the country with three actors, one foley artist, one keyboardist and 1,200 graphic novel images. Audiences show up not quite sure what to expect — but they often leave smiling.
To set the stage: It's 1933, there's a Pulitzer Prize-winning reporter, an evil hypnotist, a time-traveling librarian and alien sludge monsters. The radio play, says producer and director Jason Neulander, started simply, with scripts, a few actors and some crazy noises.
See The Live-Action Graphic Novel Performed
"There was literally a sound for everything," Neulander says — for example, the sound of hypnotism, which the foley artist creates by whirling around two toy plastic tubes.
Eventually the Intergalactic Nemesis crew teamed up with a graphic artist. Neulander says it was fun mixing two old forms originally created in the '30s — radio plays and comics — but he says, "without contemporary technology this production would not be possible." He recently had to buy a new computer because the old one did not have the processing power to run the slide show.
Chris Gibson plays nine characters in the show. He has four death scenes. He says he loves being encouraged to overact and go "as far as you possibly can." And he does — putting on outrageous accents and creating hellish, horrific voices.
Tim Keough, who is studying acting, recently saw the show at the East Village Cinema in New York. He says his girlfriend, a comic illustrator, bought the tickets to surprise him. "I had no idea of what I was walking into," Keough says. "[It] kind of blew my mind. The sound effects — you could feel you were in the cave; it felt like an alien planet with sludge on the walls."
It's not often audiences get the chance to see sound effects being made in front of them, and show-goers were riveted by foley artist Buzz Moran. "I absolutely loved the use of children's toys for the sound effects," says Jason Arias, who also saw the show in New York.
Moran coaxes surprising new sounds from familiar old toys. He takes a child's slide whistle and blows into a different area to create a gas jet for an alien planet. He takes a toy that allows children to change their voices and makes the microphone feed back into the speaker, creating a laser effect. A child's train whistle coupled with a box of macaroni and cheese makes for a very convincing approaching train.
Neulander says The Intergalactic Nemesis connects with his inner 12-year-old. His favorite movie is (still) Star Wars, and and he loves pulp science fiction from the 1930s and '40s. He's not bothered by the critique that there's no deep purpose or moral in the show.
"Sometimes it's important to just have an escape," Neulander says. "Life can be hard, and I feel like right now, in the times we are in, it really can't hurt to have an opportunity for a couple of hours — for people from 7 to 70 and older — to go in the theater and escape from their daily lives and go on a pure, unadulterated adventure."