Bread Redux: Don't Throw Out Those Stale Loaves
In our home, the start of the New Year represents a fair amount of house cleaning. It's an opportunity to pare down and give away unused or outgrown clothing, toys and objects. In the kitchen it means cleaning the refrigerator and cupboards, discarding items with passed use-by dates and refreshing the spice cabinet. It's a cathartic ritual our family knows well and in which everyone participates. They also know that when they are tossing out old food, under no circumstances are they allowed to throw out the stale bread. Neither should you.
Days or even a week old, stale bread is the faded belle of glorious loaves past: golden-hued breads, piping hot from the oven, furiously steaming when broken apart, simply yet luxuriously dressed with a pad of butter or a drizzle of olive oil. The aroma and pleasure of eating freshly baked bread is sublime and fleeting.
About The Author
Lynda Balslev moved to Paris to study cooking in 1991. She returned to the U.S. 17 years later with a Danish husband, two children and previous addresses in Geneva, London and Copenhagen. She had worked as a freelance food writer, caterer, cooking instructor and food editor for the Danish magazine Sphere. Now she lives in California's Bay Area, where she writes about food and culinary travel on her blog TasteFood, teaches cooking and is relieved to be speaking English again.
Once the fragrant loaves are exposed to air and cool down, they begin to lose their moisture, drying out and hardening as time passes. Within a day or two, the steamy fresh loaf is looking more like a has-been, banished to the corners of the bread tin or the back of the refrigerator, ignored or forgotten.
But before you consider using that wedge of week-old sourdough as a doorstop or smashing yesterday's baguette into bird food, have another think. Stale bread still has a few culinary tricks up its sleeve. Not only are these tricks sensible and frugal; they also are smart and delicious.
Perhaps nothing showcases the opportunities for dried bread better than European cuisine. Daily bread is a table staple in Europe and the Mediterranean, and you can be sure that old bread is never wasted. And why should it be? For every cuisine that embraces bread you will find recipes that deliciously incorporate dry, day-old bread.
Without stale bread we wouldn't have toast, puddings, trifles and stuffings, which would spell tragedy for British cuisine. Italian panzanella salad without stale bread would be a mere tomato salad. How would we gratinee cheese in French onion soup without a crouton to grate it on? And a baked strata without any bread to absorb and elevate the eggs to a crusty breakfast souffle might be mistaken for a frittata.
Of course these might be fine dishes without any bread at all, but what truly defines them and captivates us is the comforting squidginess of stale bread gallantly absorbing or providing a vessel for the juices, flavors, custards and cheese in dishes we love.
So don't throw out that old bread just yet. It's the new year, after all — a time for renewal, recycling and a second chance. Pull out the fondue pot, slice dry baguettes into crostini or crumble them into breadcrumbs.
If you are undecided or simply too busy recovering from the holidays, freeze any old bread in a zip-close bag until it can be put to use. After all, when it comes to bread, sometimes the best things in life are stale.
Recipes With This Story
French Onion Soup Au Gratin
A classic French onion soup is not complete without its crown of bread and gratineed cheese. This method has the onions slow-cook in the oven, which, while time intensive, requires little effort. The onions cook throughout the afternoon, and an hour before dinner the soup is ready to finish.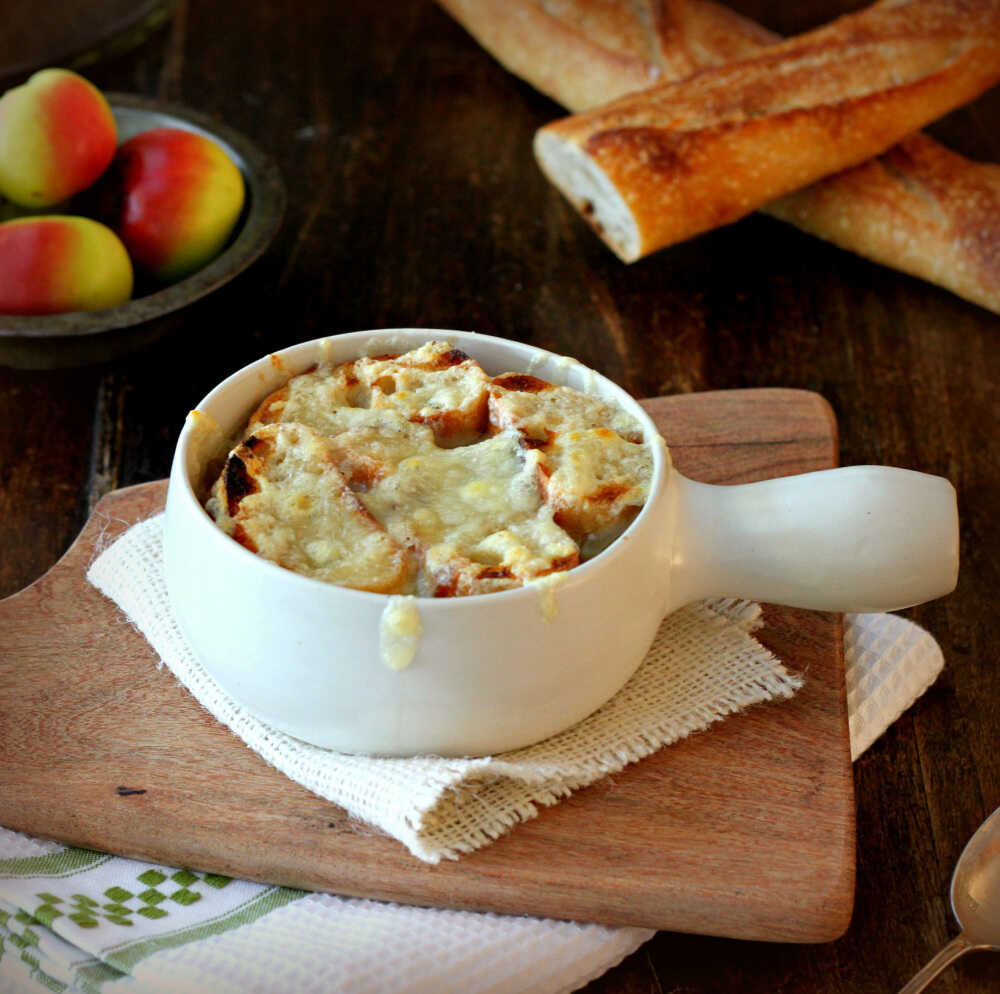 Makes 4 to 5 servings
4 tablespoons unsalted butter
5 large yellow onions, about 3 pounds, halved lengthwise and thinly sliced
1 teaspoon salt
1/2 cup dry white wine, divided
1/2 cup sherry or Calvados
5 cups beef stock or an equal combination of beef and chicken stock
4 thyme sprigs, tied with kitchen string
1 bay leaf
Salt and freshly ground black pepper
12 to 15 baguette slices, cut 3/4-inch thick
1 cup grated Gruyere cheese
Preheat oven to 400 degrees. Melt butter over medium heat in a large Dutch oven or heavy ovenproof pot with lid. Add onions and salt. Cook, stirring, 5 minutes. Cover pot and transfer to oven. Bake 1 hour.
Remove pot from oven. Stir onions and any collected browned bits on sides and bottom of pot. Partially cover and return to oven. Cook until onions are soft and golden brown, about 2 hours, checking and stirring up browned bits after 1 hour.
After 2 hours, remove pot from oven and transfer to stovetop. Simmer, uncovered, over medium heat until liquid evaporates and onions turn brown, stirring and scraping up any browned bits on bottom and sides of pot, about 20 minutes. Continue cooking to allow a crust to form on the bottom of the pan without burning, about 5 minutes. Add 1/4 cup white wine to deglaze pan and loosen crust. Continue cooking until wine evaporates and another crust begins to form. Deglaze a second time with remaining 1/4 cup wine. The onions should be dark brown at this point.
Add sherry or Calvados and cook, stirring until alcohol evaporates. Add stock, thyme and bay leaf. Stir and scrape up any browned bits on bottom and sides of pot. Bring to a boil, reduce heat and simmer, covered, 30 minutes. Discard thyme and bay leaf. Season with salt and pepper to taste.
While the soup simmers, make the croutons. Lightly brush bread slices with olive oil. Place on a baking sheet and bake in 400-degree oven until light golden and crisp, 5 to 8 minutes. Remove and set aside.
Divide soup evenly among 4 to 5 ovenproof bowls or crocks arranged on a baking sheet. Gently lay croutons in one layer to cover most of the surface of the soup. Sprinkle cheese evenly over croutons. Place baking sheet in oven under broiler. Broil until cheese is bubbling and golden brown, 2 to 3 minutes. Remove from oven and serve immediately.
Fattoush Salad
A fattoush salad is the Middle Eastern version of an Italian panzanella salad. Pieces of stale or toasted pita bread are tossed in the salad, soaking up extra moisture and flavors from the vegetables and dressing.
Makes 6 servings
Vinaigrette
1 small garlic clove, minced
2 tablespoons freshly squeezed lemon juice
1 tablespoon red wine vinegar
1/2 teaspoon salt, or to taste
1/2 teaspoon freshly ground black pepper, or to taste
1/4 teaspoon ground cumin
1/4 teaspoon sumac (a Middle Eastern spice found in specialty markets or the supermarket spice department)
1/2 cup extra-virgin olive oil
Salad
2 large pita breads
Olive oil
Salt
Freshly ground black pepper
1 head romaine lettuce, washed, leaves torn in pieces
4 cups arugula leaves
1 small bunch Italian parsley leaves
1 small bunch fresh cilantro leaves
1 small bunch fresh mint leaves, torn in pieces
1 small red onion, thinly sliced
1/2 English cucumber, quartered lengthwise, thinly sliced
1 cup halved cherry or grape tomatoes
1/2 cup pitted Kalamata olives
1/2 cup crumbled feta cheese, plus extra for garnish
To prepare the vinaigrette, mix all of the ingredients, except the olive oil, together in a small bowl. Whisk in olive oil in a steady stream until emulsified.
Preheat oven broiler. Lightly brush pita bread with olive oil. Sprinkle with a little salt and pepper. Cut each pita circle in 6 triangles. Toast in oven, turning once, until crisp and beginning to color. Remove from heat and cool. Break into shards. Toss the pita pieces with the romaine, arugula, parsley, cilantro and mint in a large bowl. Scatter the tomatoes, cucumber, onion, olives and feta over the salad. Drizzle with half of the dressing and toss to combine. Add additional vinaigrette to taste and toss again. Serve garnished with extra feta.
Linguine With Cherry Tomatoes And Breadcrumb Gremolata
Toasted breadcrumbs are a satisfying topping to fresh and baked pasta. Incorporated into a lemony gremolata, the breadcrumbs add texture and bright flavor to the linguine and tomatoes.
Makes 4 servings
Gremolata
1/2 cup fine breadcrumbs
1/4 cup finely chopped parsley and/or basil
2 tablespoons finely grated pecorino Romano
1 teaspoon lemon zest
1/2 teaspoon pepper
1/2 teaspoon salt
Toast the breadcrumbs in a dry skillet until light golden. Transfer to a bowl and cool completely. Add remaining ingredients and toss to combine.
Pasta
1 pound linguine
1 tablespoon olive oil
1 clove garlic, minced
1/2 teaspoon red pepper flakes
1 1/2 pounds cherry tomatoes
1/2 teaspoon salt
1/2 teaspoon freshly ground black pepper
Bring a large pot of salted water to a rolling boil. Add linguine and cook per package instructions until al dente. Drain.
While the pasta is cooking, heat olive oil in a skillet over medium heat. Add garlic and red pepper flakes. Cook, stirring, until fragrant, about 1 minute. Add tomatoes. Cook, stirring occasionally, until tomatoes begin to break down, but don't completely dissolve, about 15 minutes. Remove from heat. Add salt and pepper and taste for seasoning.
Add linguine to skillet and toss to coat. Divide among serving plates and sprinkle with the gremolata. Serve immediately.
Cheese Fondue
Stale country-style bread is perfect for dipping in fondue, since it retains its shape in the hot cheese bath. Have all of your ingredients ready before you begin. Once you start, the fondue will come together quickly, and during this time it must be constantly stirred and must not come to a boil.
Makes 4 servings
3 tablespoons Calvados or Poire William liqueur
3 tablespoons cornstarch
1/2 teaspoon salt
1/2 teaspoon freshly ground black pepper, plus extra for serving
1/4 teaspoon nutmeg
2 cups dry white wine, such as sauvignon blanc
1 small garlic clove, minced
1 pound alpine cheese such as cave aged Gruyere, Emmental or Comte, grated
1 loaf stale country style bread, cut in 3/4-inch cubes
Combine liqueur, cornstarch, salt, pepper and nutmeg in a small bowl, stirring to dissolve the cornstarch. Set aside.
Add wine and garlic to a large heavy saucepan or fondue pot. Heat over medium heat until tiny bubbles form, giving the wine a fizzy appearance, without bringing to a boil.
Add cheese one handful at a time, stirring constantly until each handful is melted before adding the next. Do not let the fondue boil. Once all the cheese is added, continue stirring 1 minute, still being careful not to let the fondue boil.
Stir in cornstarch mixture. Continue stirring until mixture thickens to fondue consistency. (If fondue remains thin, add 1 more tablespoon cornstarch diluted with 2 tablespoons white wine.)
Remove from heat. Pour cheese into a warm fondue pot if necessary. Serve immediately. Serve with additional freshly ground black pepper.
Chocolate Rum Raisin Bread Pudding
The success of this decadent bread pudding lies in the use of stale bread. The drier the bread, the more easily it will soak up the chocolate custard.
Makes 8 servings
1/2 cup golden raisins
1/4 cup dark rum
Unsalted butter
2 cups heavy cream
1 cup whole milk
10 ounces dark (70 to 72 percent cacao) chocolate, finely chopped
6 large eggs, lightly beaten
1 cup light brown sugar
2 teaspoons vanilla extract
1 teaspoon ground cinnamon
1 stale 10-ounce baguette, cut in 1/2-inch slices, each slice halved
Combine raisins and rum in a small bowl. Let stand at room temperature for at least 1 hour.
Lightly butter an 8-inch square baking dish. Heat cream and milk in a saucepan until hot but not boiling. Remove from heat and add chocolate, whisking until smooth. Whisk eggs, sugar, vanilla and cinnamon together in a large bowl until combined. Add chocolate to the eggs and mix well. Stir in raisins with the rum.
Pour the chocolate mixture over the bread. Let stand 1 hour, pushing down on bread to submerge.
Preheat oven to 325 degrees. Bake in oven until set and the top is crisp, about 1 hour.
Cool slightly. Serve warm with whipped cream.