Devils, Mushrooms And Foulmouthed Squirrels
English / Spanish
It wasn't our intention, but somehow this week we ended up doing a show featuring side projects — bands started by members of very well-known groups. After El Paso's At The Drive in splintered more than a decade ago, some of its members joined The Mars Volta. The drummer in my favorite band from childhood, Argentina's Los Piojos, went on to form El Vuelo de la Grulla. In this show, a faction of our beloved Puerto Rican garage rock band Davila 666 introduces their pet project Las Ardillas. And we have a much awaited new solo release from Colombian singer Li Saumet, lead singer of the celebrated Bomba Estereo.
And we've got other new releases, including an amazing mix of psychedelic Peruvian cumbia by DJ Jack Posada and an ode to psychoactive mushrooms by Argentina's Fauna. We also bring back our viral video segment with a parody of Facebook culture.
As always, the conversation carries on after the show is done. What are your favorite side projects? What's in your earbuds right now?
——————————————————————————————————————
English / Spanish
Esta Semana En Alt.Latino: Diablos Rojos, Hongos y Ardillas
No fue nuestra intención, pero esta semana terminamos haciendo un show acerca de proyectos alternativos: bandas no tan conocidas iniciadas por músicos de bandas reconocidas. Hace más de una década que At The Drive in, banda originaria de El Paso, Texas, se desintegró, y varios de sus integrantes formaron The Mars Volta. (Hace poco ATD anunció que volverá a reunirse). Algunos de los miembros de nuestra agrupación favorita de rock puertorriqueño, Davila 666, comenzaron a tocar en Las Ardillas. Y luego de desintegrarse, la banda favorita de mi adolescencia, Los Piojos, causó la formación de varios interesantes proyectos, incluyendo El Vuelo De La Grulla (liderado por el baterista de Los Piojos). Y como si todo esto fuese poco, esta semana les presentamos un nuevo single de la cantante colombiana Li Saumet, lider de la reconocida agrupación Bomba Estereo.
Por supuesto tenemos otros nuevos lanzamientos, incluyendo una increíble mezcla de cumbia psicodélica peruana creada por DJ Jack Posada, una oda a los hongos alucinógenos por la banda argentina Fauna, y además volvemos a nuestro segmento sobre videos virales - esta vez una parodia de la cultura del facebook.
Y como siempre, la conversación continua aún cuando los micrófonos se apagan. ¿Que músicos te encantan, aún luego de que dejaron de tocar en la banda en la cual se hicieron famosos?
This Week On Alt.Latino: Red Devils, Mushrooms And Foul Mouthed Squirrels
El Guapo
from Cumbiambero Loco 3 Side B
by Los Diablos Rojos
Coming at you from: Peru
Find out more about DJ Jack Posada on SoundCloud.
It's Time
from One Tribe Nation
by One Tribe Nation
Coming at you from: Los Angeles
Te Borro del Feisbuh
from No Eres Gorda, Eres Ancha De Caderas
by La Ogra Que Todo Lo Logra
Coming at you from: Spain
Find out more about La Ogra Que Todo Lo Logra on her blog.
One Armed Scissor
from One Armed Scissor
by At the Drive-In
Coming at you from: El Paso, Tex.
Find out more about At The Drive-In here.
Wake Up
from The Forests Have No Name
by Wilhelm and The Dancing Animals
Coming at you from: Spain
Find out more at their Bandcamp page.
Todo Es M**rda
from La Ardillas
by La Ardillas
Coming at you from: Puerto Rico
Find out more here.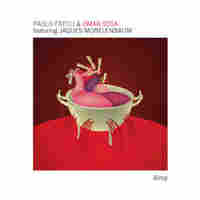 Mate A Mi Novio
from Mate A Mi Novio
by Li Saumet
Coming at you from: Colombia
Find out more here.