How To Get Your Goat
Many years ago in a small town in Mexico, I ate cabrito al pastor. Which is to say, goat. Specifically, roasted on a spit. It was meltingly tender with a slightly sweet, slightly musky flavor. I returned home to the U.S. and went on with my life.
A decade or so later, I met a lovely Jamaican woman with whom I talked a lot about food, and we fairly quickly got to curried goat. She took me to a Jamaican market inconveniently far from my home and showed me around.
In the following years, I ate a lot of goat cheese and goat milk products. Not the meat of the animal, though. Then, a few weeks ago at my neighborhood butcher, there it was — cubes of goat meat in the display case.
About The Author
Goat is the most widely eaten red meat in the world, accounting for about 70 percent of global consumption, according to Bruce Weinstein and Mark Scarbrough in their book Goat. No so much in the U.S., though.
That may be changing. The U.S. Department of Agriculture reports that the country's goat industry is growing, largely because of increasing ethnic diversity among consumers. Goat is common in the cuisines of Mexico, India, Jamaica, Greece and Asia, among others. Demand now exceeds the supply from the two largest exporters of goat meat to the U.S. — Australia and New Zealand. So more Americans are raising goats.
In addition to growing consumer demand, farmers and their customers are attracted to the idea that goat is good for our health and good for the planet. Goat meat is leaner than pork, beef and even chicken. In their book Goat, Weinstein and Scarbrough write that "goat is a nutritional wonder" with fewer calories than chicken, with half the fat and a third the saturated fat.
Environmentalists like the small impact goats have on the Earth. There are no goat factory farms. The average herd of meat goats in the U.S. has about 30. I had a friend in Texas who was considering a goat as an alternative to a lawnmower. They keep the weeds under control and don't pull the grass up by the roots — excellent for keeping a tidy lawn.
Goat meat, however, is still not readily available outside urban centers or goat farms. It is carried by some high-end butchers and often in Caribbean and Latino markets. It is also available from kosher or halal markets and can be purchased online. My local butcher only had frozen cubed meat from Australia. So I ordered meat from a halal butcher who got it freshly slaughtered from a nearby farm and butchered it according to my specifications. The most tender meat is from kids 6 to 9 months old.
Goat is extremely lean, so it can be tough. I found long cooking and stewing the most effective methods. I tried marinating small chunks, then threading them on skewers and grilling, but the meat was tough. Friends who have lived in goat-eating countries say toughness is to be expected for grilled meat.
Long cooking is something altogether different. Curried goat, one of the national dishes of Jamaica, melds piquant curry with the slightly earthy taste of goat that has been marinated and cooked long enough to be meltingly tender. Ditto for Mexican mole. You also can cook goat leg in the manner of the French seven-hour leg of lamb, with meat-falling-off-the-bone results. Ground goat can be used in stews, burgers, meatballs or as a lamb substitute in moussaka.
Goat meat is likely to become more common in both markets and restaurants as Americans discover a culinary secret long known by much of the world. Home kitchens are a good place to start the journey.
Jamaican Goat Curry
Goat curry is a common dish at festive occasions in Jamaica. It usually is served with white rice. Jamaican curry powder is available at many supermarkets. I used the mild curry because the peppers are so hot. For more heat, use the hot curry powder.
Makes 6 servings
4 tablespoons Jamaican curry powder (mild)
2 fresh Scotch bonnet or habanero chili peppers, seeded and minced
3 garlic cloves, minced
1 large onion, diced
2 teaspoons fresh thyme leaves
1 bunch scallions, chopped (white and pale green parts only)
Salt and freshly ground black pepper to taste
3 pounds bone-in goat meat (from leg) cut into 1-inch cubes
2 tablespoons butter
2 tablespoons vegetable oil
3 cups chicken broth
1 bay leaf
4 boiling potatoes, cut into 1-inch chunks
In large bowl, mix 2 tablespoons curry, peppers, garlic, onion, scallions, thyme, salt and pepper. Add meat, and mix to coat. Refrigerate and marinate at least 1 hour and up to 12.
Heat butter and oil in a large saucepan. Cook remaining 2 tablespoons curry, stirring constantly, until it darkens slightly. Remove meat from marinade (reserve marinade) and brown on all sides, in batches if necessary. When all the meat is browned, add the marinade, chicken broth and bay leaf. Bring to a simmer, cover and cook 1 hour.
Add potatoes and cook until sauce thickens, meat is fork tender and potatoes are cooked, 30 to 40 minutes. Taste for seasoning.
Serve with white rice.
Goat Mole Rojo
Red mole is not as complex as black mole with its chocolate and blend of chilies, but oregano and thyme give this a wonderful herby flavor. The plantains add a sweetness. Ripe plantains are not yellow. Look for ones with lots of black splotches across the skin. This recipe is adapted from Goat by Bruce Weinstein and Mark Scarbrough (Stewart Tabori & Chang 2011). If you make this a day ahead, it's even more tender and flavorful the next day.
Makes 4 servings
6 ancho or dried New Mexico red chilies, stemmed and seeded*
Boiling water
4 tablespoons rendered bacon fat, divided
1 small yellow onion, chopped
4 medium garlic cloves, chopped
1 1/2 pounds boneless goat stew meat, cut into 1-inch cubes
1 tablespoon Worcestershire sauce
1 teaspoon dried thyme
1 teaspoon dried oregano
1/2 teaspoon ground cloves
1/2 teaspoon freshly ground black pepper
1 bay leaf
1 cup chicken broth
1 tablespoon red wine vinegar
2 ripe plantains, peeled and cut into 1-inch pieces
Tear the chilies into large pieces, then cook in a dry skillet over medium heat until lightly browned and aromatic. Transfer to a large bowl, cover with boiling water and set aside for 20 minutes.
Meanwhile, melt 2 tablespoons of the bacon fat in a large Dutch oven over medium heat. Add the onion and garlic and cook, stirring often, until wilted, about 3 minutes.
Push the onion and garlic to the sides of the pot, then add the meat chunks in batches, browning them well in the residual fat. As they brown, transfer them to a plate.
Take the pot off the heat. Scoop out the onion and garlic and place in a blender or food processor fitted with the chopping blade. Drain chilies and add to blender or food processor. Add Worcestershire sauce, thyme, oregano, cloves, pepper and bay leaf. Puree until smooth.
Melt remaining 2 tablespoons bacon fat in the pot over medium heat. Scrape the chili paste into the fat and fry for 3 minutes, stirring almost constantly.
Return meat and any juices on the plate to the pot. Add broth and vinegar. Bring to a simmer, stirring occasionally. Cover, reduce heat to low and cook, stirring occasionally, for 1 hour.
Add the plantains to the pot and continue cooking, stirring occasionally, until meat is falling-apart tender, 1 to 1 1/2 hours.
Seven-Hour Leg Of Goat
This take on the fabled French seven-hour leg of lamb is a perfect way to cook leg of goat. The meat is cooked for a long time on low heat and is tender enough to eat with a spoon.
Makes 6 to 8 servings
2 garlic cloves plus 1 whole head garlic, cloves peeled and halved
4-pound leg of goat
Olive oil
Salt and pepper to taste
3 medium onions, quartered
4 carrots, peeled and quartered
1 tablespoon minced fresh rosemary leaves
1 bunch fresh thyme
1 tablespoon minced fresh sage leaves
3 bay leaves
1 cup dry white wine
1 cup chicken broth
2 pounds boiling potatoes, quartered
Preheat oven to 425 degrees.
With a paring knife, make small incisions in leg and insert slivers of garlic. Rub meat with olive oil. Salt and pepper to taste.
Layer the herbs and vegetables (except potatoes) in bottom of heavy roasting pan with tight-fitting lid. Lay goat on top and pour in wine and broth. Place on stove and bring liquid to a boil.
Cover and place in oven. After 30 minutes, turn heat down to 300 degrees. Braise until meat is so tender it's almost falling off the bone. This will take 5 to 7 hours, depending on size of leg, roasting pan and oven. Check from time to time, basting with liquid and adding more if liquid evaporates too much. With about an hour to go before the goat is done, bury potatoes around meat.
Billy Goat Meatballs
These meatballs, adapted from The Meatball Shop Cookbook, were inspired by the ingredients often found in a goat cheese tart — pungent chevre, fresh thyme and caramelized onions. Like most gamier meat, goat is so lean that it is important to add fat to avoid dryness. Here the goat cheese provides both fat and flavor. These can be served with a tomato sauce, but I prefer them as is.
Makes about 2 dozen, 1 1/2-inch meatballs
4 tablespoons olive oil
1 onion, chopped
2 teaspoons salt
1 tablespoon fresh thyme leaves
1 teaspoon sweet paprika
1/4 teaspoon crushed red pepper flakes
1/2 cup goat cheese
2 pounds ground goat meat
1/2 cup bread crumbs
2 large eggs
Preheat the oven to 450 degrees. Drizzle 2 tablespoons of the olive oil into a 9-by-13-inch baking dish and use your hand to evenly coat the entire surface. Set aside.
Heat the remaining 2 tablespoons olive oil in a large frying pan over medium-high heat. Add the onions, 1 teaspoon salt and the thyme. Lower heat to medium and cook, stirring frequently, until the onions are soft and nicely browned, 10 to 15 minutes. Transfer to a bowl and place in the refrigerator to cool completely.
Combine cooled onion mixture with remaining ingredients in a large mixing bowl and mix by hand until thoroughly incorporated.
Roll the mixture into round, golf ball-sized meatballs (about 1 1/2 inches), making sure to pack the meat firmly. Place the balls in the prepared baking dish, being careful to line them up snugly and in even rows vertically and horizontally to form a grid. The meatballs should be touching one another.
Roast for 20 minutes, or until the meatballs are firm and cooked through. A meat thermometer inserted into the center of a meatball should read 165 degrees.
Allow meatballs to cool for 5 minutes in the baking dish before serving.
Helado De Cajeta (Cajeta Ice Cream)
I have long had an affection for goat cheese but only recently started experimenting with goat's milk. This ice cream, adapted from My Sweet Mexico by Fany Gerson (Ten Speed Press 2010), is one of the happy results. Cajeta is a sweet caramel made from goat's (or cow's) milk and sugar cooked down to syrup. Store-bought versions are available, but it's easy to make your own. You can add nuts, cookie pieces or chocolate to the ice cream.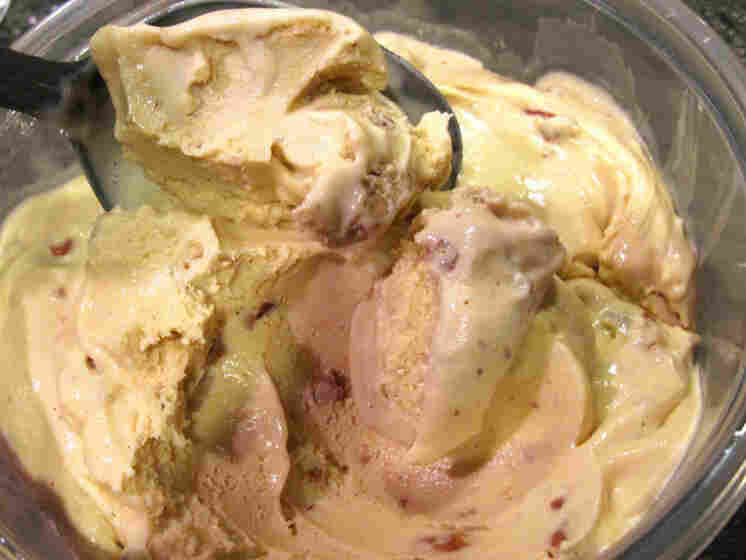 Makes about 5 cups
2 cups goat's milk
1/3 cup sugar
1 cup heavy cream
Pinch of salt
7 egg yolks
2 teaspoons pure vanilla extract
8 to 10 ounces cajeta, homemade (recipe below) or store-bought
3/4 cup coarsely chopped toasted pecans or hazelnuts, 1 cup broken pieces galletas marias (cookies found in many Latin markets) or 3/4 cup chopped dark chocolate (optional)
Combine milk and sugar, 1/2 cup heavy cream and salt in a pot and bring to a boil over medium heat.
Whisk the egg yolks in a large heat-proof bowl, slowly pour about half the hot milk mixture into the yolks, whisking continuously, then return the mixture to the pot. Cook over medium heat, stirring continuously until it thickens and coats the back of a spoon or spatula, 10 to 15 minutes. Stir in the vanilla extract.
Place the cajeta in a bowl. If you are using a store-bought version in a glass jar, unscrew the lid, screw it on again lightly, place in a pot and fill the pot three-fourths of the way up the sides with hot water. Warm over medium-low heat and let simmer about 5 minutes, then carefully remove the jar from the hot water with a towel. This will allow you to pour the cajeta much more easily.
Strain the milk mixture into the cajeta. Add the remaining 1/2 cup heavy cream, stir to combine and chill over an ice bath, stirring continuously. Refrigerate, covered, until completely cool, about 3 hours. Freeze in an ice cream maker according to the manufacturer's instructions. Incorporate any nuts, cookies or chocolate by hand once the ice cream has finished churning. Freeze until fully set.
---
Cajeta
Makes 1 cup
4 cups goat's (or cow's) milk
1 cup sugar
1/4 teaspoon salt
1 vanilla bean, split lengthwise, or 1 tablespoon pure vanilla extract or 3 tablespoons brandy
1/4 teaspoon baking soda, dissolved in 1 tablespoon cold water
Combine milk, sugar and salt in a medium, tall, heavy-duty pot. Scrape the vanilla bean into the pot and add the pod (if using vanilla extract or brandy, do not add yet). Bring to a boil over medium heat, stirring occasionally so it doesn't stick to the bottom. Remove from heat, add baking soda and stir carefully, as it will bubble and steam up. When the bubbling has stopped, return to heat.
Adjust heat so mixture is at a constant simmer, stirring often so it doesn't stick to the bottom of the pot. Once it has turned a golden color, stir more often.
Cook until thick and a dark caramel color, about 1 hour. (It will get thicker and stickier as it cools.) If using vanilla extract or brandy, add it now, being careful not to burn yourself because it may steam a little.
Allow to cool before using. Remove the vanilla bean.
If you think it has thickened too much once it's cooled, just stir in a little warm water.