Baking Without Flour Brings Sweet Results
Visiting my brother and sister-in-law in Maine this winter, the talk turned to baking. Specifically, flourless baking.
"These cookies are so good," Emily said, munching on an almond-butter round packed liberally with chocolate chips but no flour. I'd brought them in my carry-on from San Francisco; they were surprisingly sturdy for having such a delicate texture. They were also slightly addictive.
I dipped another one into my cup of tea and wondered aloud at the peculiar chemistry that goes into baking sweets without flour. I noted that during my recent experiments I'd been delighted to discover it wasn't so difficult to bake gluten-free if one devotes a little more care and attention to the endeavor. Then: Does one even need wheat flour? Can other substances, such as egg whites or ground nuts, suffice instead?
As their cat Fotis nosed around our feet for crumbs we debated the merits of various gluten-free flour mixes — Emily makes her own — while my brother Kurt cooked dinner (polenta with vegetable ragout, also flour-free), and discussed whether or not you can ever incorporate too many hazelnuts into a chocolate cake (unlikely). We pondered cornmeal cakes (with lemon zest), flourless ginger cookies (with fresh ginger), and how flour derived from chickpeas is an acquired taste.
In short, we became slightly obsessed.
For me, talking about cooking and how to fine-tune our creations so that they are as good as they can possibly be is a good obsession. This past year Emily, already an accomplished cook, went gluten-free for health reasons, thus turning her attention to baking without flour. I've been similarly inspired.
About The Author
It's estimated that 1 out of 133 people in the U.S. must cut out gluten because of celiac disease, according to the Celiac Disease Foundation. Other people might prevent different health conditions by avoiding gluten, a protein found in wheat, barley and rye. But they can continue to enjoy a myriad of favorite treats by substituting gluten-free flours made from nuts, seeds, legumes and rice (technically these would be called "meal" but are usually referred to as "flour") such as brown or white rice flour, amaranth, corn, millet and quinoa flours, among others. A combination of gluten-free flours substituted in recipes that call for all-purpose flour produces the best results. There are many commercially produced gluten-free blends, but many bakers prefer to develop their own recipe through trial and error to meet their specific tastes.
For gluten-free folk, it's best to look for oats and cornmeal that are labeled gluten-free on the package. Oats, for example, do not contain any gluten but may be manufactured on equipment that also is used to process wheat flours that could trigger an allergic reaction. An issue to keep in mind if you don't keep a strictly gluten-free kitchen but are baking for someone who is gluten-free is cross-contamination from regular flour. Make sure to carefully clean all utensils and equipment so as to avoid inadvertently including gluten.
If you're intimidated by the unfamiliar flours or are an infrequent baker, you could try recipes that are naturally flour-free. I've made many flourless recipes that are appealing for their simplicity and spare ingredient list, and which are gobbled up by flour abstainers and embracers alike.
When I sent off my annual holiday package to the East Coast filled with assorted homemade items — fruit and nut candies, cranberry jam and the like — I also added some gluten-free treats. I needed to atone for the awful gluten-free banana bread I presented Emily with last July when she visited us (though it must be said the brownies I also baked then were wonderfully fudgy and silky smooth). It could have been a bad combination of gluten-free flours or my own ineptitude — either way, the banana bread was pretty awful.
This winter I made up for it. My offerings weren't especially fancy — just peanut butter cookies, chocolate chocolate-chip cookies and gingersnaps. But they were delicious — I sampled as I baked — and were a snap to put together.
As I pored over my cookbooks and the Internet searching for flourless baking recipes, I found myself drawn to those that were more naturally flour-free, such as a simple flourless chocolate cake that called either for ground nuts or none at all, and which relies on fluffy egg whites and a stint in a water bath to bring it together. And while I used brown rice flour to make a batch of cookies that turned out not bad at all, I found I preferred the taste and texture of a flourless peanut-butter cookie made of the simplest ingredients: 1 egg, 1 cup of peanut butter, 1 cup of sugar and 1 teaspoon of baking powder.
More On Gluten-Free Eating
Throughout my attempts to find the perfect flourless cookie, it's been a revelation to find that these naturally flour-free sweets are among the easiest to master. Many of my creations rely on cornmeal, lots of eggs, chocolate, an assortment of nuts and a food processor rather than an all-purpose gluten-free flour blend. From a spare ingredient list — egg whites, a little lemon extract, some sugar — come airy meringues that are perfect with morning coffee. And those almond butter cookies — I've made them at least once a week for the past month, and while I firmly believe the spirit of adventure is imperative when cooking, I can't regret my repetition. I've played around with adding slivered almonds, a handful of semisweet chocolate chips, a hint of maple syrup, which surely is all the adventure I need. I certainly never miss the flour.
I hold myself to a high standard when baking — meaning it must be nearly perfect or I'll do it over, and yes, I have ditched a batch of cupcakes that rose insufficiently even though it meant another hour of work — and baking gluten-free is no different. That banana bread disaster will live on in my mind as my lowest point. The lemon-cornmeal cake served with a dollop of whipped cream and cherry compote may be the current high. (I won't mention the flourless chocolate "cake bites" that turned into flourless chocolate cookies to my chagrin, though they still were delicious.) Through trial, error and slight adaptations of some of my standards, I'm coming closer to understanding the peculiar alchemy that goes into flourless baking (and baking in general).
The next time I visit Maine, I'll ask Emily to show me her particular all-purpose gluten-free flour, a mysterious blend she developed that includes sorghum and rice flours. (She substitutes it in a favorite recipe to produce the most delectably light buttermilk biscuits I could eat nearly every day.) As I'm still dipping my toes in the flourless baking waters, I'll stick with baking naturally flour-free desserts for now. And I'll savor every bite.
Recipes With This Story
Almond Butter Cookies
All I can really say about these cookies is that they are addictive. It's impossible to eat just one (well, you can try). If you prefer peanut butter, feel free to swap in the equivalent amount and instead of slivered almonds try 1/2 cup of roasted peanuts or a nut of your choice.
Nicole Spiridakis for NPR
Makes about 2 1/2 dozen cookies
1 cup almond butter
1/2 cup light or dark brown sugar
1/2 cup granulated sugar
1 large egg
1 teaspoon baking soda
2 tablespoons maple syrup
1 teaspoon vanilla
Pinch of salt
1/2 cup slivered almonds
1/2 cup semisweet chocolate chips
Preheat oven to 350 degrees.
Grease a baking sheet with butter and set aside.
In a large bowl, stir almond butter and sugars together until well combined.
Add egg, baking soda, maple syrup, vanilla and salt and mix well. Stir in the almonds and chocolate chips.
Using a teaspoon, scoop out small, walnut-sized amounts of dough and roll them in your hands to form a ball. Place on cookie sheet about 1 inch apart. Bake 10 to 12 minutes, until lightly browned. Cool for 5 minutes.
Lemon Cornmeal Cake
This cake is simple to make and utterly delicious. Light and fluffy from the butter, not too sweet and redolent of lemons, it's the perfect finish to serve at a winter lunch party — with a generous helping of whipped cream and perhaps a spoonful of fruit compote — or with a cup of tea anytime.
Nicole Spiridakis for NPR
Makes 12 servings
1 cup (gluten-free) cornmeal
1/2 cup ground almonds (about 2/3 cup whole almonds ground to a meal in a food processor)
1 1/2 teaspoons baking powder
1/2 teaspoon salt
1/2 cup (1 stick) butter
2 tablespoons finely grated lemon peel
1 cup sugar
2 large eggs
1/2 cup sour cream
2 tablespoons lemon juice
1 teaspoon vanilla extract
3 tablespoons coarse sugar, such as turbinado or organic sugar
Preheat oven to 350 degrees.
Butter a 9-inch cake pan with 2-inch-high sides (I used a springform cake pan). Dust pan with cornmeal, tapping out excess.
Sift cornmeal, ground almonds, baking powder and salt into a medium bowl. Using an electric mixer, beat butter in large bowl until smooth and fluffy. Beat in lemon peel. Gradually add sugar and beat until light and fluffy, occasionally scraping sides of bowl. Add eggs one at a time, beating well after each addition. Beat in sour cream, lemon juice and vanilla. Fold in dry ingredients in three additions until just incorporated.
Transfer batter to pan and smooth top. Sprinkle with coarse sugar.
Bake cake until tester inserted into center comes out clean, 25 to 30 minutes. Cool in pan on rack 10 minutes. Run knife around pan sides to loosen. Turn cake out onto plate, then turn onto a rack, coarse sugar side up. Cool completely.
Chocolate-Hazelnut Cake
Fair warning: This cake is decadently rich. You'll want to cut very thin slices. It also keeps well, so if you can't finish it off within a few days, slice and then freeze, defrosting a piece whenever you need a shot of chocolate. If hazelnuts aren't your thing, substitute 1 cup of ground almonds for good results.
Nicole Spiridakis for NPR
Makes 12 servings
12 ounces bittersweet chocolate, chopped
3/4 cup (1 1/2 sticks) unsalted butter, cut into chunks
6 large eggs
1 cup (packed) dark brown sugar
1/4 cup strong coffee
1 cup finely ground hazelnuts (about 5 ounces raw nuts ground in a food processor)
1 teaspoon salt
Position rack in center of oven and preheat to 350 degrees.
Butter 9-inch-diameter cake pan, and line bottom with parchment paper round. Wrap outside of pan tightly with 3 layers of heavy-duty foil.
Combine chocolate and butter in medium metal bowl set over a saucepan of simmering water. Whisk until mixture is melted and smooth. Remove bowl from over water.
Whisk eggs, brown sugar and coffee in large bowl to blend. Add chocolate mixture and whisk until smooth. Stir in ground hazelnuts and salt. Transfer batter to prepared pan. Place pan in a large roasting pan. Pour enough hot water into roasting pan to come halfway up sides of cake pan. Place in oven and tent pan loosely with foil.
Bake until cake is set in center and top is dry to touch, about 1 1/2 hours (top of cake will remain shiny). Remove cake from roasting pan and remove foil from top and outside of pan.
Cool cake in pan on rack, then chill until cold, about 3 hours.
Salted Caramel Pots De Creme
These little custards are plushy and smooth, winding flavors of deep caramelized sugar across your tongue — rich, but not overly so. You probably also have most of the ingredients in your fridge right now for a quick pick-me-up dessert. Save the egg white to make meringue cookies, another flourless treat.
Nicole Spiridakis for NPR
Makes 6 servings
1 cup sugar
1/3 cup plus 1/4 cup water
1 1/2 cups heavy cream
1 1/2 cups milk
8 large egg yolks
1 teaspoon coarse salt
Preheat oven to 325 degrees. Have a pot of boiling water ready.
Place the sugar and the 1/3 cup water in a heavy saucepan over medium-high heat. Cover and bring to a boil. Uncover and cook until the sugar turns golden amber in color, 8 to 12 minutes.
Meanwhile, combine the cream and milk in a large saucepan over medium-high heat and warm until small bubbles appear along the edges of the pan. Remove from heat.
When the caramel is ready, add the remaining 1/4 cup water and whisk vigorously until the bubbles subside. Pour the caramel into the hot cream mixture and whisk together until mixed.
Let cool for about 10 minutes.
In a bowl, whisk together the egg yolks. Slowly add the caramel mixture to the egg yolks, stirring constantly with a wooden spoon until mixed. Strain through a fine-mesh sieve into a bowl.
Pour the custard into six 2/3-cup ramekins. Place the ramekins in a baking pan. Pour boiling water into the pan to reach about 1 inch up the sides of the ramekins. Bake until the edges of the custards are set, 40 to 50 minutes. Remove the baking pan from the oven and transfer to a rack to cool for 10 minutes.
Remove the custards from the water bath and let cool. Sprinkle the salt across the top of the custards. Refrigerate for several hours or overnight until well chilled. Serve chilled.
Pear-Apple Crisp
This crisp is unfussy, laden with fruit and extremely quick to put together. If you would like a less soupy filling, add 1 teaspoon of cornstarch to soak up some of the liquid. If you choose, and are using organic fruit, leave peels on for more texture. A bit of grated fresh ginger and a little vanilla extract added to the filling would also be nice here.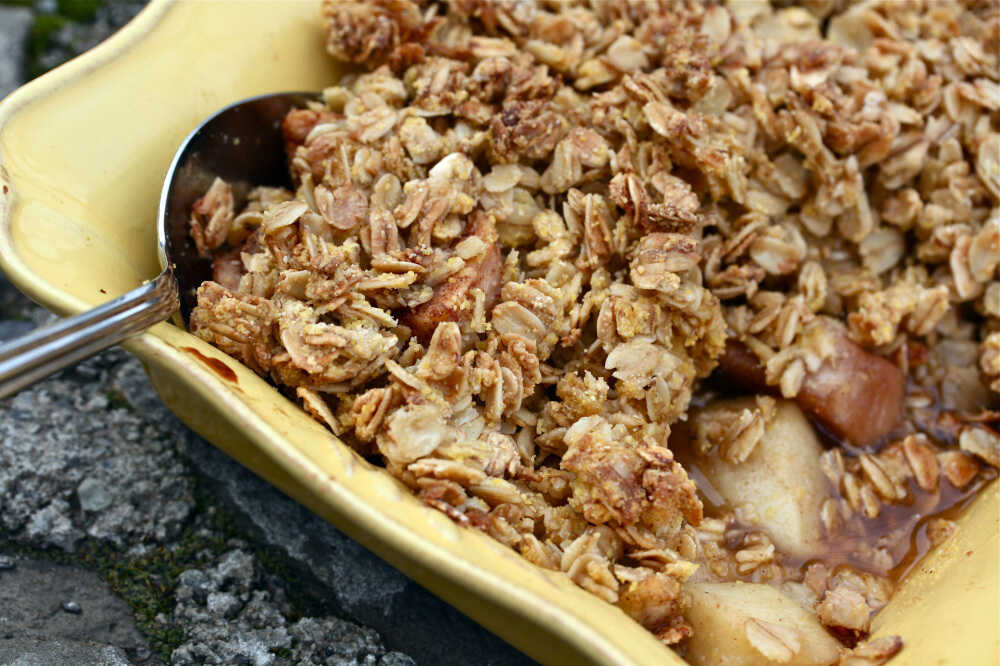 Nicole Spiridakis for NPR
Makes 6 generous servings
Filling
1/4 cup (or less) brown sugar
1 teaspoon ground cinnamon
1/2 teaspoon ground ginger
1/2 teaspoon ground nutmeg
Pinch salt
3 pears (any kind), peeled and thickly sliced
3 Granny Smith apples, peeled and thickly sliced
1/4 cup chopped walnuts (optional)
Topping
1 1/2 cup (gluten-free) oats
1/4 cup olive oil
1/4 cup maple syrup
Preheat oven to 350 degrees.
For the topping, combine the oats with the olive oil and maple syrup in a bowl, stirring to form a kind of oatmeal paste.
In a bowl, combine the brown sugar, cinnamon, ginger, nutmeg and salt and whisk to blend. Add the pears, apples and walnuts, if using, and stir lightly to coat the fruit.
Spread the fruit in an 8-by-5-inch baking dish. Sprinkle the topping evenly across, and bake for about 30 minutes until topping is crisp and fruit is tender and slightly bubbling.