Pear-Apple Crisp
This crisp is unfussy, laden with fruit and extremely quick to put together. If you would like a less soupy filling, add 1 teaspoon of cornstarch to soak up some of the liquid. If you choose, and are using organic fruit, leave peels on for more texture. A bit of grated fresh ginger and a little vanilla extract added to the filling would also be nice here.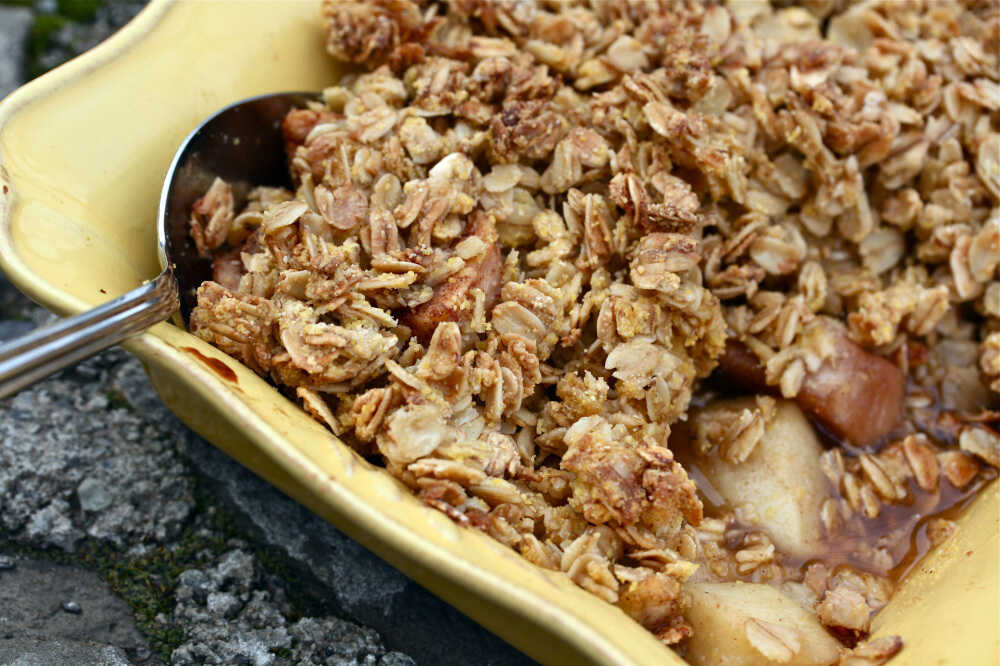 Nicole Spiridakis for NPR
Makes 6 generous servings
Filling
1/4 cup (or less) brown sugar
1 teaspoon ground cinnamon
1/2 teaspoon ground ginger
1/2 teaspoon ground nutmeg
Pinch salt
3 pears (any kind), peeled and thickly sliced
3 Granny Smith apples, peeled and thickly sliced
1/4 cup chopped walnuts (optional)
Topping
1 1/2 cup (gluten-free) oats
1/4 cup olive oil
1/4 cup maple syrup
Preheat oven to 350 degrees.
For the topping, combine the oats with the olive oil and maple syrup in a bowl, stirring to form a kind of oatmeal paste.
In a bowl, combine the brown sugar, cinnamon, ginger, nutmeg and salt and whisk to blend. Add the pears, apples and walnuts, if using, and stir lightly to coat the fruit.
Spread the fruit in an 8-by-5-inch baking dish. Sprinkle the topping evenly across, and bake for about 30 minutes until topping is crisp and fruit is tender and slightly bubbling.