A Little Bit Hip Hop And A Little Bit Rock And Roll
Hear The Songs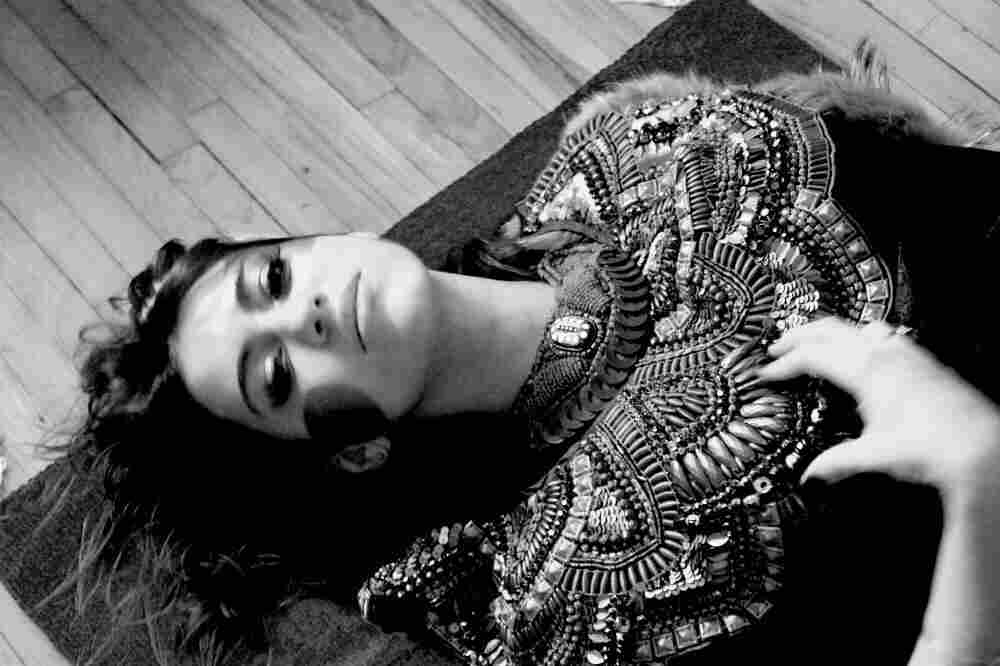 English / Spanish
A few days ago listener Sean Priest described us on Twitter as follows: "Great music and will-they-or-won't-they chemistry."
"Will they or won't they what?" I asked my co-host Felix Contreras jokingly when he showed me the tweet. "Kill each other?"
But Sean is onto something. One of the great pleasures of doing Alt.Latino is discussing music with Felix, a brilliant and experienced musician himself, whose taste in music is quite different from mine. We often talk about the fact that I acquired my love of music through dancing, and he fell into it as a player. Those two experiences make for pretty interesting conversations and a very eclectic music mix.
This week on Alt.Latino, we've really got a little something for everyone: the lovers, the nostalgic, the sad — even the angry. We start off urban in Mexico with Niña Dioz's new mixtape and then move up to the California Bay Area, with a mashup of Los Rakas, Ladybug Mecca and E40 that had me bouncing in my seat.
Since both Felix and I call California home we decided to linger there and party a little longer with Bang Data's Maldito Carnaval. Pretty soon we head back into Latin America, with stops in Mexico, Puerto Rico, the Dominican Republic and Chile.
We also have an installment of our occasional From The Vault series, in which we revisit an artist, band or song that changed Latin music forever. This week we pay tribute to Luis Alberto "El Flaco" Spinetta, the Argentine rock pioneer who truly paved the way for other South American rockers.
Our conversation is much better when you, our listeners, participate. Which is why we're counting on you to share your thoughts and musical discoveries in the comments section below.
————————————————————————————————————
English / Spanish
Algo Nuevo, Algo Viejo: 10 Canciones De México, Rep. Dominicana, Y Más
Hace unos días nuestro oyente Sean Priest nos describió de la siguiente manera en Twitter: "Muy buena música y excelente química entre los dos. ¿Lo harán o no lo harán?"
"¿Si haremos que?" Le pregunté bromeando a mi colega Felix Contreras cuando me mostró el tweet. "¿Matarnos entre los dos?"
Sin embargo, Sean ha tocado sobre un tema importante. Para mí uno de los grandes placeres de hacer Alt.Latino es poder hablar sobre música con un brillante y experimentado músico como Felix, cuyos gustos son muy distintos a los míos. Frequentemente hemos charlado acerca de como Felix y yo nos metimos en la música a través de caminos muy distintos. Yo me enamoré de la música por medio de las danzas, y Felix como músico. Esas son dos experiencias tan distintas, y el resultado es una conversación interesante y una mezcla musical bastante única.
El programa de esta semana es un buen ejemplo de esta diversidad. Tenemos algo para todos: música para los nostálgicos, canciones para los enamorados, y mucho más. Comenzamos el programa en México con la rapera Niña Dioz y su nuevo mixtape, y luego nos vamos a la bahía de California, con una increíble mezcla de Los Rakas, Ladybug Mecca y E40 que me puso a bailar en mi silla.
Ambos Felix y yo somos de California, entonces decidimos quedarnos ahí un ratito mas junto a la banda Bang Data y su álbum Maldito Carnaval.
Después de un rato en California, volvimos hacia América Latina, pasando por México, Puerto Rico, República Dominicana y Chile.
Esta semana también tenemos nuestra ocasional serie "From The Vault" ("La Boveda") en la cual escuchamos a un artista, una banda o canción que cambió la música latina por siempre. Esta semana le hacemos un tributo a Luis Alberto "El Flaco" Spinetta, un pionero del rock argentino que realmente abrió las puertas para los músicos de rock en español.
Por supuesto que nuestra conversación siempre es mejor cuando participan ustedes, nuestros oyentes. Por eso esperamos que compartan sus ideas y nuevos descubrimientos musicales con nosotros en la sección de los comentarios.
New And Old Friends: 10 Songs From Mexico, Dominican Republic And Beyond
Nina Dioz (feat Toy Selectah)
Song: Prefiero El Asfalto (feat Toy Selectah)
from Nueva Escuela: El Mixtape 3
Coming at you from: Mexico
Find out more about this artist here.
Los Rakas, Ladybug Mecca & E40 remixed by J Boogie
Song: Motto Moombah
from Motto Moombah
Coming at you from: Panama
Bang Data
Coming from: Bay area, USA
Find out more about this artist here.
Trio Andrea Balency
Song: Lover
from Lover EP
Coming at you from: Mexico
Find out more about this artist here.
Karakoram-Mekong
Song: Historias Suicidas
from Mekong
Coming at you from: Chile
Find out more about this artist here.
Holograms
Song: Coma Night
from Coma Night EP
Coming at you from: DominicanRepublic
Find out more about this artist here.
Mursego
Song: Zuek Zarete Za
from Mursego Bi
Coming at you from: Spain
Find out more about this artist here.
Luis Alberto Spinetta
Song: Muchacha Ojos de Papel
from Genios del Rock Nacional
Coming at you from: Argentina
Find out more about this artist here.
Victor Manuelle
Song: Busco un Pueblo
from Busco un Pueblo
Coming At You from : Puerto Rico
Find out more about this artist here.