A Frothy Oscar Fashion Follow-Up
Jason Merritt/Getty Images
Michael Buckner/Getty Images
Frazer Harrison/Getty Images
Michael Buckner/Getty Images
Michael Buckner/Getty Images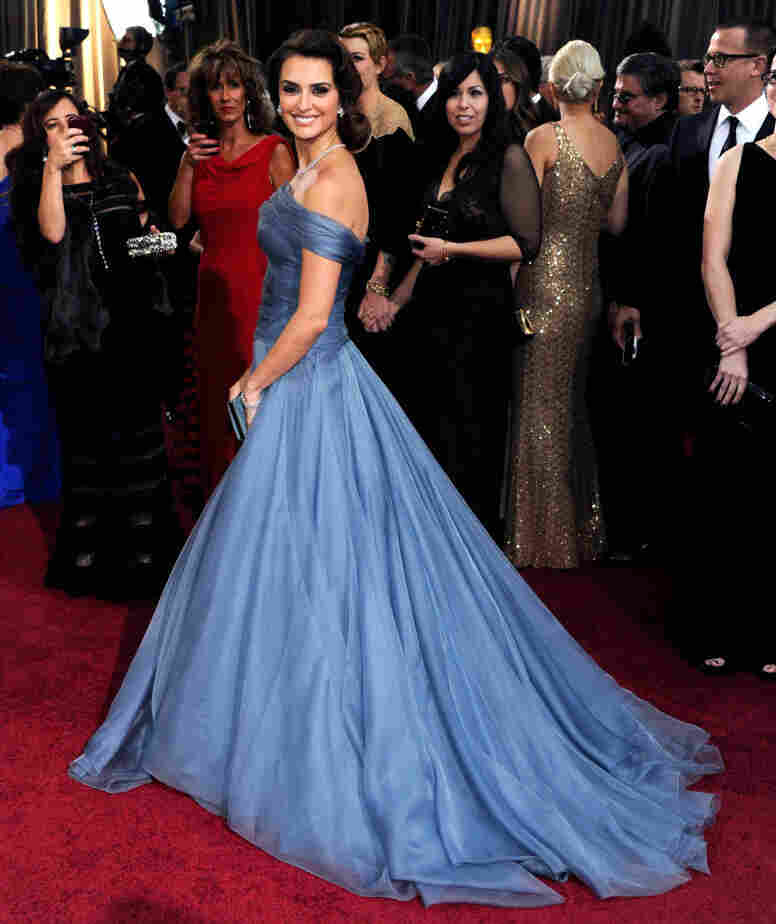 Ethan Miller/Getty Images
[NPR Digital News editor Tanya Ballard Brown helpfully offered to talk about Sunday night's fashions. To see some of the gowns not pictured here — check out our photo gallery and the blog at Wait Wait ... Don't Tell Me!, where they covered the fashions last night as well.]
Sunday night's Academy Awards ceremony may have been a little ho-hum, but the red-carpet fashions certainly were not. Let's chat about a few, shall we?
Take, for example, the lovely Giambattista Valli Haute Couture dress worn by Emma Stone. No help needed with that one, right? And it was red! On a redhead! That's not always easy to pull off.
Her co-star from The Help, Octavia Spencer, wore a Tadashi Shoji gown that was perfectly fit to her figure, with draping and gathers in all the right places. Minny don't burn fried chicken, and she knows how to pick the right designer, too!
Actress and comedian Tina Fey kept the jokes going with the poofy peplum of her Carolina Herrera gown.
"At first I feared the peplum," she said during a red-carpet interview.
I kept wondering when Fey would whip a prop out from under the peplum and do an impromptu skit. That crazy kid.
There was a peplum on Michelle Williams' coral Louis Vuitton gown, too, but not a puffy one. On Williams, it seems, peplums are a girl's best friend.
Angelina Jolie! I'll say it again — Angelina Jolie! Always a trendsetter, it's almost like she took a Project Runway approach and went to Mood to buy some velvet fabric, tied it with string at the waist, and wallah!
But there was no string holding Oscar nominee Viola Davis' dress together.

"She did right by me," Davis said about the strapless jewel-green gown Vera Wang hooked her up with.
I agree. Thanks, Vera. You is kind. You is smart. You is important.
Penelope Cruz in that flowy chiffon strapless Giorgio Armani: It was like a fluffy blue-ish flower floating about in an anime cartoon. Sigh.
Rooney Mara complained of the chilly air on the red carpet, but she was ready for her post-awards meal, thanks to the dinner napkins making up her bodice. I missed the dragon tattoo, though.
Finally, Gwyneth Paltrow wore a cape. A white cape. That is all.
But I'm sure there were gowns you loved that I hated and vice versa, so talk among yourselves down in the comments.