Pintxos: The Flavors Of Spain, On A Toothpick
Years ago when I lived in Barcelona, I took my mother to a concert at the modernist Palau de la Musica. I remember the tall stained-glass roof above me, undulating and sparkling as the hall reverberated with sound. I remember seeing the awe on visitors' faces as they first beheld the magnificent imagination of architect Lluis Domenech i Montaner — the majestic chandeliers, muses emerging from the wall playing instruments and the ethereal faces and flowers puzzled into the kaleidoscopic glass ceiling.
I also remember the pintxos sitting on the counter of the cafe as we left, perfectly sculpted pieces of art, the only food, in my mind, that could match the beauty of the building: bright red peppers floating atop a pillowy mound of tuna and green chives popping out on top; perfectly battered bacalao (salt cod) resting on a slice of fresh bread, smothered with orange-hazelnut Romesco sauce; Serrano ham, marbled in swirling white and pink with a light cheese beneath it. Each pintxo was arranged in bite-sized petals, spinning out in a circle on each plate like the ceramic flowers etched into the cafe pillars.
In the northern Basque region of Spain, any small plate is considered a pintxo (pronounced peen-tcho). Throughout the rest of Spain, most small plates are called tapas, with the word pintxo reserved for any tapa that is skewered or can be eaten in only a few bites. The term pintxo comes from the verb pinchar, meaning to skewer or puncture.
Pintxos embody everything I love about food: beauty, flavor, imagination, fresh ingredients and community. You do not eat pintxos alone. You eat them in a bar filled with people just off work, hungry and eager to share the day's gossip. You eat pintxos with friends or new acquaintances, following the traditions of txikiteo (pronounced chee-kee-tay-oh), a pintxo pub crawl, eating one or two pintxos in each bar and paying by toothpick on the way out (each toothpick representing one pintxo) before moving to the next destination. In pintxo bars, plates of these skewered delicacies, croquettes, small sandwiches or montaditos (miniature, open-faced sandwiches) are organized on bar tops, so diners can revisit the counter every few minutes to choose a new bite, return to their tables to indulge, sip beer or txakoli (a sparkling Basque wine), count toothpicks and move on.
About The Author
The art of pintxos first developed in the Basque region, specifically in the town of San Sebastian, as a take on the traditional Spanish tapa while incorporating French nouvelle cuisine traditions, emphasizing presentation. The town still reigns as Spain's pintxo center, though today faces stiff competition from a nearby town, Hondarribia, now the host of the annual regional pintxo competition.
Pintxos are an opportunity for imagination and creativity. While some pintxo bars maintain the more traditional combinations of chorizo and manchego or dates with blue cheese and bacon, others reflect the influence of the Michelin-rated Basque chefs cooking nearby, expanding the repertoire of flavors and appearance. Banderillas, a subset of pintxos, are the easiest to assemble, simply combining a pickled vegetable, marinated fish or olive on a toothpick. These strong flavors create a piquant start to a meal. Some of the most common ingredients on banderillas include anchovies and boquerones, vinegar-cured, pearly white anchovies. Guindilla peppers (long, neon green, spicy and pickled) are also popular, and often paired with a salty sardine or olive. All you need for banderillas are the pre-pickled ingredients.
The beauty of pintxos lies in the possibilities. There are no set rules or parameters. The goal is to create something flavorful and beautiful on a toothpick: wrap anchovies around olives, fold guindilla peppers up and over another ingredient before securing it to the pick, or stack colors and flavors into a bite-sized tower.
You don't have to go to a pintxo bar, either. These little bites facilitate mingling, talking and sharing at home, as dinner or hors d'oeuvres. Wherever I am, they always remind me of the fanciful surroundings of our first meeting.
Recipes With This Story
Banderillas
Inspired by the colorful darts used in bullfights, banderillas are an easy party hors d'oeuvre that require no cooking, but some creativity. Many of these ingredients are available online or in a specialty foods store.
Anchovies
Boquerones
Pickled herring
Pickled garlic
Marinated artichoke hearts
Green olives with or without pimiento
Piquillo peppers
Cornichon pickles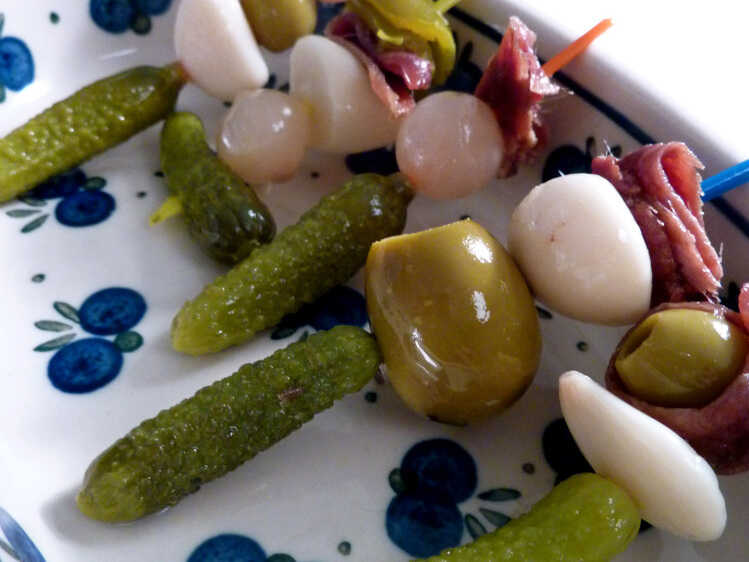 Pickled guindilla peppers
Cherry peppers
White meat tuna
Marinated pearl onions
Simply place combinations of the pickled vegetables, olives and/or marinated fish on a toothpick, creating colorful patterns and explosive flavors in one bite.
One traditional combination is the pintxo gilda (meaning lollipop) with a green olive, anchovy and 1 to 4 guindilla peppers (depending on desired spice).
Pintxo De Boquerones Y Tomate (Anchovies And Tomato)
Inspired by a dish available at Despana, a Spanish foods store and cafe (408 Broome St.) in New York. Available at specialty food stores or online, boquerones are vinegar-cured anchovies and a traditional delicacy of Spain. This pintxo is simple yet exceptionally flavorful.
Makes 12 servings
French baguette or other white, crusty bread, cut into 1/2-inch slices
24 boquerones (to prepare your own, see recipe below)
2 small tomatoes, each sliced into 6 wedges
Olive oil
White vinegar
Layer one slice of bread with one wedge tomato and two boquerones. Top with a drizzle of olive oil or white vinegar.
---
Boquerones
Many like to eat boquerones marinated with garlic and parsley. Native Catalonian Chef Marc Vidal from Boqueria in New York recalls watching his mother clean boquerones. "I remember my mouth watering," he told me. "Heaven."
7 ounces boquerones, packaged
2 to 3 garlic cloves, minced
1/4 cup finely chopped parsley
High-quality white vinegar
Drain the packaging vinegar and add enough vinegar to barely cover the boquerones. Add chopped garlic and parsley on top of the boquerones and let marinate at least 10 minutes.
Serve on their own with toothpicks or use in prepared pintxos like the one above.
Pintxo De Sardina Picante (Spicy Sardines)
Presented on the menu at Despana, a Spanish foods store and cafe (408 Broome St.) in New York, this pintxo combines heat, salt and the sea in one bite. Easily put together from prepared foods, it is a sure dinner party hit in flavor and style. Many of these ingredients are available online or in a specialty foods store.
French baguette or other white, crusty bread, cut into 1/2-inch slices
Sardines packaged in hot sauce
Cherry tomatoes
Pickled guindilla peppers
Simply pile ingredients atop one another, bread, then sardine, tomato and pepper. Secure with a toothpick. Serve chilled.
Datiles Con Beicon (Dates With Bacon)
A traditional northern Spanish pintxo, this recipe is adapted from the restaurant Boqueria in New York City, soon to open in Washington, D.C. (171 Spring St., New York, NY; 1837 M St., Washington, D.C.). The dish consists of dates stuffed with almonds and Valdeon (a strong Spanish blue cheese), wrapped in bacon. The flavor is surprising, reminiscent of a burnt marshmallow. Serve as the restaurant does, three on a skewer, or individually, one per toothpick.
Makes 16 servings
16 Medjool dates, pits removed
8 teaspoons of Valdeon cheese, or other strong blue cheese
16 Marcona almonds
16 strips of streaky bacon or raw ham such as Serrano, each approximately 5 inches long
Canola oil for frying
Remove date pits by slicing into one side, so that the date resembles a clamshell. Take out the pit. Place 1/2 teaspoon cheese and one Marcona almond inside the date. Wrap the date with one slice of bacon and skewer the date with a toothpick.
Once all dates are prepared, add ample oil for frying to a pan. The amount will vary depending on the size of the pan; the oil should be about 1 inch deep. Heat the oil to 350 degrees. If you do not have thermometer, stick a wooden spoon into the oil. If bubbles form around the spoon, the oil is ready for frying. Carefully drop the dates in and fry for about 2 minutes, or until bacon browns. Remove from oil and place on a paper towel to drain. Let cool and serve.
Higos Con Miel Y Queso (Figs With Honey And Cheese)
For a lighter take on datiles con beicon, stuff a fig instead, serving it fresh and at room temperature.
Makes 16 servings
16 Mission figs
8 teaspoons soft goat cheese
1/4 cup basil, cut in thin strips, chiffonade
Honey
16 strips of Serrano ham cut into 4-inch pieces (may substitute prosciutto)
Cut the stems off each fig and slice in half lengthwise. Cut a small indent in the middle. Place 1/2 teaspoon of soft goat cheese in the center. Place 2 or 3 strips of basil and a dollop of honey on top of the goat cheese. Wrap the fig in one layer of ham. Skewer with a toothpick to hold it together. Serve at room temperature.
Pintxo De Chorizo Y Manchego
This is the most traditional Spanish pintxo you can find. This is an adaptation of a pintxo created at Despana, a Spanish foods store and cafe (408 Broome St.) in New York. A staff member at Despana suggested the addition of tomato and salt, which proved to be delicious, and the addition of membrillo (quince paste) mimics a similar dish at the cafe. Ingredients available online or in a specialty foods store.
French baguette or other white, crusty bread, cut into 1/2-inch slices
Equal parts manchego and chorizo, each sliced thin
Tomato(es) (optional)
Salt (optional)
Membrillo (optional)
Simply layer bread, cheese and then chorizo and skewer with a toothpick.
If you want to add salt, first slice a tomato, rub it pulp side down on the bread and sprinkle the bread with kosher salt before adding the chorizo and manchego.
Alternatively, add a little sweetness by spreading the bread with membrillo before adding the meat and cheese.
Pintxos Morunos (Lamb)
With seasonings from Northern Africa, Spaniards often prepare pintxos morunos with pork. This is a more traditional halal recipe: seared lamb marinated in lemon and cumin with salsa verde. The recipe has several steps, but most need to be done ahead of time, making serving at a party a cinch. Be aware, the meat ideally needs two days to marinate. The combination of flavors and tenderness of the meat is well worth the work. This recipe is adapted from Boqueria in New York City, soon to open in Washington, D.C. (171 Spring St., New York, NY; 1837 M St., Washington, D.C.). You will need 16 wooden skewers.
Makes 8 servings
1/2 cup Pickled Shallots (recipe below)
1 cup Salsa Verde (recipe below)
20 ounces lamb top round, skewered and marinated (recipe below)
1 filone loaf (Italian bread) or other white, crusty bread
Remove fat and veins from the lamb top round. Dice into 2-inch cubes. Place 3 or 4 cubes on a skewer, depending on size. Place skewers in marinade and leave for 2 days, refrigerated.
When ready to serve, place a pan over medium-high heat with a thin layer of oil. When hot, season each marinated lamb skewer with salt and sear each side on the pan, rotating until browned on each side and medium rare inside.
Meanwhile, heat a half slice of filone toast also in the pan, if there is space, or in a toaster oven, until it is lightly crisped. Place 2 skewers of lamb on top of the bread, 1 tablespoon of pickled shallots on top and 2 teaspoons salsa verde. Eat immediately.
---
Pickled Shallots
Makes 1/2 cup
1/2 cup thinly sliced shallots
1/8 cup red-wine vinegar
1 1/2 tablespoons extra-virgin olive oil
Pinch of sugar
Pinch of salt
Place sliced shallots in a container. Bring vinegar, oil, sugar and salt to a simmer in a small saucepan. Pour the liquid over the shallots. Cool, cover and refrigerate at least 30 minutes, up to several weeks.


---
Salsa Verde
Makes 2 cups
1/4 bunch chives, finely minced
1/4 bunch flat parsley, finely minced
2 sprigs thyme, finely minced
2 sprigs rosemary, finely minced
2 shallots, finely sliced
2 1/4 teaspoons pickled guindilla peppers, finely minced (may substitute other pickled peppers)
1 cup canola blended oil (equal parts canola oil and olive oil)
1 teaspoon lemon juice
1 teaspoon sherry vinegar
3/4 tablespoon olive oil
Pinch kosher salt
You may mince spices by hand or with a food processor. Once chopped, mix chives, parsley, thyme, rosemary, shallots, guindilla peppers and oil together in a container. Refrigerate. Before serving, mix in the lemon, sherry vinegar, olive oil and kosher salt.
---
Moruno Marinade
Makes 4 cups (a quarter-gallon)
2 teaspoons black cumin
1 teaspoon coriander seed
1 teaspoon black peppercorn
2 teaspoons fennel seed
4 tablespoons pimenton (Spanish smoked paprika)
2 teaspoons kosher salt
1 cup salsa verde (recipe above)
1/2 cup fresh lemon juice
4 cups blended oil (canola and olive oils)
Toast cumin, coriander, peppercorn and fennel seed by placing the spices in a bare pan over medium heat. When the spices become fragrant, in 1 to 2 minutes, remove spices from the pan to avoid overheating. Let the spices cool and then grind, using a mortar and pestle, coffee grinder or spice mill. Add remaining ingredients. Store in an airtight plastic bag or box, large enough to fit the skewered meat.