'Napoleon' Returns To Conquer — The Screen
'Napoleon' Returns To Conquer — The Screen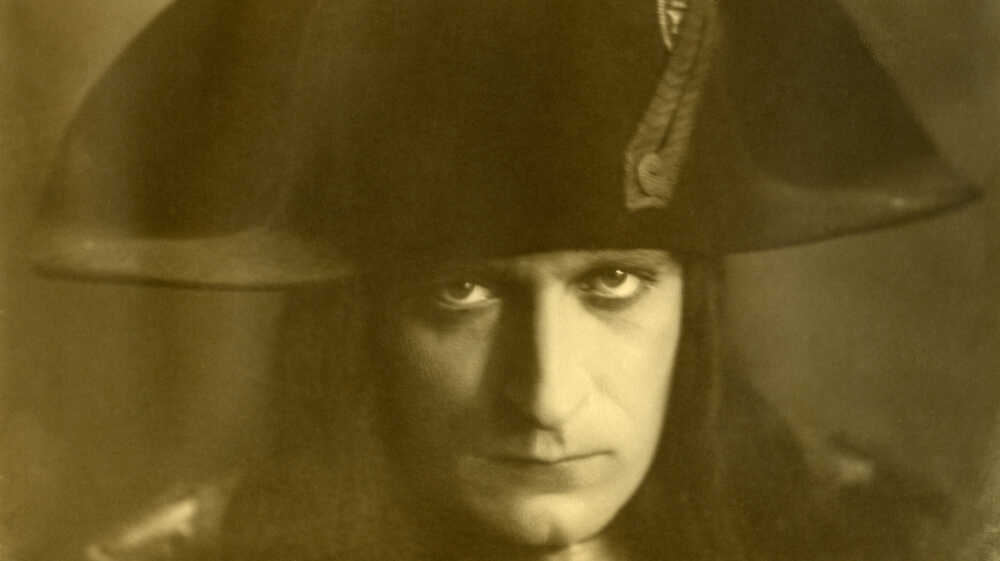 There have been a lot of films about Napoleon, but the most famous one of all is also the hardest to see.
Abel Gance's Napoleon premiered 85 years ago, a silent epic about the childhood and early career of the French leader. The original was thought lost or destroyed until a restored version was finally screened in the early 1980s. Now the San Francisco Silent Film Festival is bringing the complete restoration to the U.S. for the first time March 24.
It's no wonder that Napoleon is seldom shown. It's 5 1/2 hours long plus three intermissions, and it has a finale that requires three synchronized projectors — not to mention a 48-piece orchestra and an orchestra pit to seat them in below the screen.
The film is epic not only in length, but also in imagination and ambition. Filmmaker Gance used hand-held cameras long before they were commonplace. He had engineers devise camera mounts for horses and sleds, and even a pendulum that swings back and forth over a revolutionary assembly to illustrate the waves of politics and danger that accompanied the French Revolution.
Gance anticipated widescreen films and projected multiple images on the screen simultaneously. He even experimented with 3-D, although that footage has yet to be recovered. All of this excited a lifelong passion when teenage film collector Kevin Brownlow bought a few fragments of Napoleon in the 1950s.
Brownlow is now the pre-eminent historian of the silent era, and his books and documentaries were cited by the Academy of Motion Picture Arts and Sciences it awarded him a 2010 honorary Oscar. His admiration for Napoleon knows no bounds.
"The film has more innovative moments in it than any other film I can think of, including Citizen Kane, which is ... claimed as the greatest film ever made," he says. "I think this one tops it and should be acclaimed as the greatest film ever made, except not enough people have seen it."
So Brownlow set out to let more people see Napoleon by restoring it. Along the way he got to know Gance.
'The Face Of A Medieval Saint'
"He had the face of a medieval saint with his hair swept back and an aquiline nose. But he was very friendly, very charming, very funny. Meeting him, each time, you felt you were going to see Victor Hugo. In fact, people who worked with him, they would refer to him either as Napoleon or Victor Hugo, completely accidentally. And that's how they thought of him."
Brownlow interviewed Gance for a documentary television series on European silent film titled Cinema Europe. The director recalled devising Napoleon's triptych finale, in which three projectors sometimes featured different images side by side, and sometimes one gigantic panorama. He did it, he said, because he felt "a lack of space on the screen, that the images were too small."
For the giant finale the image opens to three times its normal width — Gance called it Polyvision. It's just one of the reasons that Napoleon failed commercially. The film could not be shown in conventional theaters in 1927 — or now, for that matter.
Patrick Stanbury, Brownlow's partner in a business that provides silent films and the services needed to show them, is handling the technical demands of the upcoming Napoleon showing. Having been an accountant, he says, gives him a unique perspective on resurrecting this era in all its glory.
Interview Extras
Brownlow: "He Was Going to Make Six Films"
Davis On Writing Napoleon's Musical Theme
"I'm the one who knows how expensive silent films are," he says with a heartfelt laugh.
Stanbury says they're building three synchronized projection booths, with three specialized projectors, for the showing at a restored movie palace, the Oakland Paramount. The Napoleon screening also requires putting up a new winged screen that's bigger even than the one that's already in the Paramount. It will be an event that's probably too expensive to repeat, Stanbury says with a sigh.
"Well north of half a million," he says. "Silent film performances never make money. They always rely to some extent on sponsorship and goodwill. You may cover your costs, but you don't expect to earn a fortune from this sort of thing."
'The Music Stands Collapsed'
The profits may be small, but everything else about Napoleon is big, including the musical score. Literally big, says Brownlow, recalling one performance with a live orchestra.
"They turned the page and the music stands collapsed." He chuckles now, but it must have had everyone sweating at the time.
In the score for the restored Napoleon, composer Carl Davis combines his own music with themes from Napoleon's contemporaries — including Beethoven, whose Eroica symphony was first dedicated to Napoleon. Then, famously, the composer scratched out the dedication when Napoleon turned from liberator to dictator. Davis, who will conduct the Oakland East Bay Symphony at the upcoming screenings, says he felt it was appropriate to use Beethoven, because Gance's young Napoleon is still the liberator.
"I thought it would be valid to use Beethoven there, because he wrote it with the dedication in mind still, and not crossed out. ... But there's another reason as well, which is that the chief dynamic and appeal of Napoleon was very strong, very heroic, very direct. You could say, 'What are the characteristics of Beethoven's music?' It's in that way: very strong, very direct, and emotional."
The current score has never been heard with the film in the U.S. When a shorter version of Napoleon — made even shorter by running it at a faster speed — premiered here in 1981, it had a score by Carmine Coppola. (He's the father of Francis Ford Coppola, who owns the U.S. theatrical rights to Napoleon with preservationist Robert Harris.)
That premiere, at Radio City Music Hall, is now legendary. On the second night, someone backstage decided to phone the ailing 91-year-old Gance in Paris. The late publicist Renee Furst recalled the moment for NPR in 1981.
"We held up the phone for him to hear ... and the audience realized who it was," she said. "There was just this screaming ovation."
San Francisco Silent Film Festival
Gance died later that year. Throughout his life the filmmaker was always tinkering with Napoleon, cutting and re-editing, even adding sound footage in the 1930s and again in the 1970s. That's made the restoration of this celebrated silent epic even more difficult — and essentially endless.
For instance, Brownlow has found a few minutes more of Napoleon that are not in the current version, but he's waiting for some new footage that's "more substantial" to come along before he asks Davis to adjust his musical score — and asks the British Film Institute and other funders for more money.
But you can tell he's itching to put that few minutes into the film. "Yes," he says, the enthusiasm bubbling up in his voice. "Yes, absolutely."
Money is also the reason there is no DVD yet or in the near future. The expense of recording the music is especially prohibitive. But Brownlow wants more people to see the film, and so he persists — meaning he may end up spending more time with Napoleon than Gance did.
"Well," Brownlow says, "there are times when I think I made it myself."
In a way, he has.