'Goon': A Wrecking Ball With A Heart Of Gold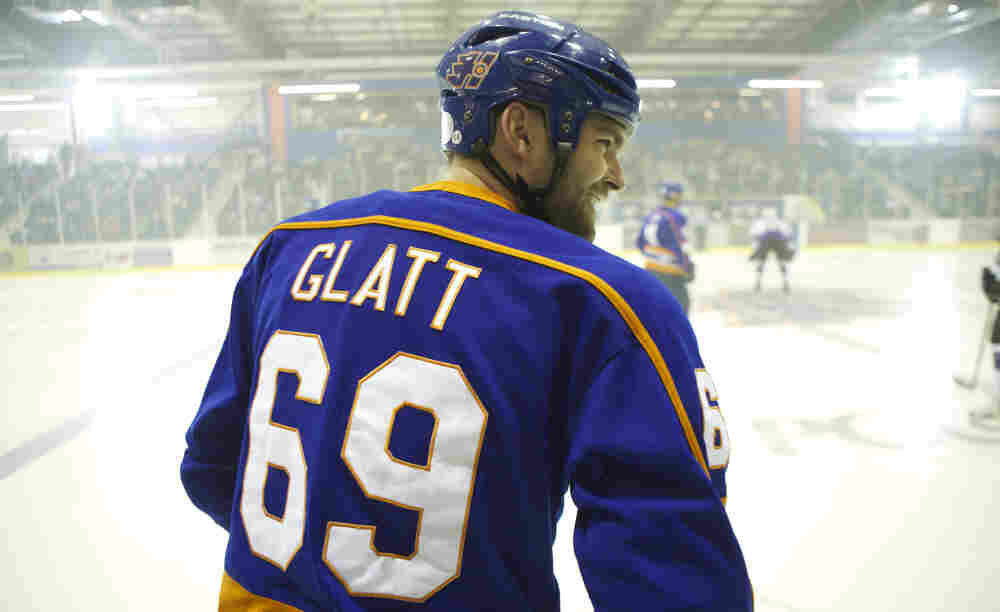 Goon
Director: Michael Dowse
Genre: Sport Comedy
Running Time: 128 minutes
Rated R for brutal violence, nonstop language, some strong sexual content and drug use
With: Seann William Scott, Jay Baruchel and Alison Pill

Watch Clips
From 'Goon' - 'An Offer'
'An Offer'
From 'Goon' - 'Assassins'
'Assassins'
From 'Goon' - 'The Team'
'The Team'
A brief history of Sean William Scott characters: He was the sidekick to the guy who uttered the immortal phrase, "Dude, where's my car?"
As Stifler in American Pie, he suffered the twin humiliations of ingesting beer tainted with bodily fluids and witnessing his oversexed mother deflowering a teenage virgin.
Of the pair of energy drink salesmen in Role Models, he's the one tasked with dancing around in a furry minotaur outfit.
He was the lesser Duke brother in The Dukes of Hazzard, twice played second banana to Dwayne "The Rock" Johnson, and was cast as the title character in a straight-to-DVD raunch comedy called Balls Out: Gary the Tennis Coach.
In other words, Scott has made an art — or at least a career — out of playing the affable dimwit. And with Goon, a salty Canadian comedy about the rise of a minor league hockey enforcer, Scott finally has his Hamlet, a role that calls for every blank, uncomprehending look in his toolbox while accessing the cuddly puppy within.
Whenever the film threatens to get too puerile on one end or too sentimental on the other, Scott steadies it with a performance that's open and innocent, and blessed with crack comic timing. Years of typecasting have made him the master of a very narrow craft.
Written by Jay Baruchel and Evan Goldberg, whose resumes are burnished by frequent work with Judd Apatow — Baruchel was the lead actor in the short-lived/much-loved sitcom Undeclared and a supporting player in Knocked Up; Goldberg served as Seth Rogen's writing partner on Superbad and Pineapple Express — Goon belongs to the rough-and-tumble tradition of '70s sports comedies like Slap Shot and The Longest Yard, though it's softer in the belly.
For inspiration, Baruchel and Goldberg have turned to the autobiography of Doug Smith, a professional ruffian who spent the '80s slugging his way through the NHL and the minors, despite not learning to skate until he was 19 years old.
Playing a man with a head of stone and a heart of gold, Scott stars as Doug Glatt, a Massachusetts bouncer who takes sheepishly to the task of pummeling drunken miscreants and tossing them out the door. One night, his obnoxious hockey buddy (Baruchel) takes him to a local club game; a fight breaks out in the stands and Doug's gift for delivering bloody beatings is discovered.
He soon lands a spot on the Halifax Highlanders, a Scottish-themed minor-league team that hires Doug as protection for its prima donna star Xavier Laflamme (Marc-Andre Grondin), who has never mentally recovered from a concussion he sustained at the hands of notorious enforcer Ross Rhea (Liev Schrieber, all mustache). This sets up a climactic confrontation between Doug and the soon-to-be-retired Rhea, who wants to get his licks in before skating out of the spotlight.
Baruchel and Goldberg add an obligatory love interest in Eva (Alison Pill), a promiscuous hockey groupie who tries and fails to resist Doug's earnest charms, but Goon could do just fine without it: The best scenes are inside the locker room and on the rink, where Doug and a team of has-beens, never-wases and never-will-bes trade more devastating insults and blows among themselves than against their opponents.
Things turn around, of course, but throughout it all, Doug stands out as the serene center of team and movie, aroused from a Zen-like state only when called upon to defend his buddies — and even then, Scott plays him like a man protecting the peace more than a thug committing violence.
Though it comes along at a curious time in the sport's history, when concussions are the biggest story in the NHL and several former enforcers have committed suicide owing to the long-term effects, Goon has a throwback quality that willfully casts all that ugliness aside.
It's made with affection both for the ritual of hockey fights and the strain of sports movies that care more about wisecracks and pranks than winning the big game. The film is a hockey fan's affectionate nod to a two-fisted, no-holds-barred culture that's currently pinned to the boards.